Maybe you're just starting out in the world of plumbing, or perhaps a seasoned veteran looking to up your game. Either way, having the right tools is crucial. The plumbing trade demands precision and reliability. Without the proper equipment, you might find yourself in hot water (pun intended).
Whether fixing a leaky faucet, installing new pipe, or tackling a more complex project, let's look at 10 must-have plumbing tools to help you get the job done right.
1. Pipe Wrenches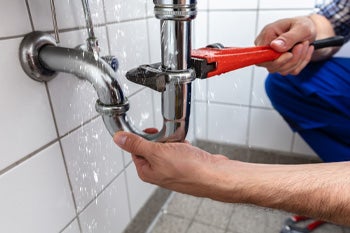 Adjustable wrenches are versatile devices with an adjustable jaw that accommodates various bolt and nut sizes, eliminating the need for multiple tools. They're durable, easy to use, and provide precise control, making them ideal for professionals and DIY enthusiasts.
One type of adjustable wrench is a pipe wrench, the workhorse of a plumber's toolkit. Available in various sizes, they are designed to grip and turn pipes and fittings. Their adjustable jaws provide a strong grip and make loosening or tightening threaded pipes a breeze.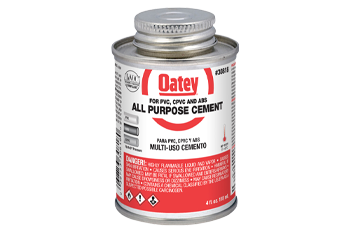 2. Solvent Cement and Primer
The chances are pretty high that solvent welding will be required in many plumbing jobs you tackle, so having some on hand, like Oatey® All Purpose Cement, is essential.
Cement is a permanent application that conducts chemical welding of two PVC, ABS, or CPVC pipe surfaces together. Once the cement is applied to the top layer of a pipe surface and inside the fitting, the layer softens and dissolves. When cured, the surfaces fuse into one, creating an air-tight seal.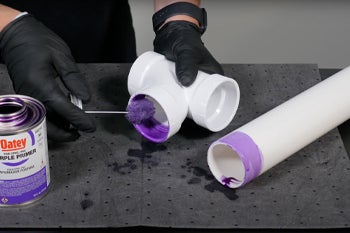 And don't forget to prime the pipe! Before the cementing process can begin, first apply a primer like Oatey® Purple Primer. It removes surface dirt, grease, and grime while also softening the pipe surface so it becomes more porous, allowing for a fast and secure solvent weld.
Check out our Oatey 101: Solvent Cements blog for the full rundown on cements and primers.
3. Pipe Cutter
A pipe cutter is indispensable for cleanly cutting pipes to the desired length. Whether you're dealing with copper, PVC, or steel, this tool ensures accurate pipe cuts without the need for saws. Pipe cutters typically feature a sharp cutting wheel or blade rotated around the pipe to create a clean and accurate cut.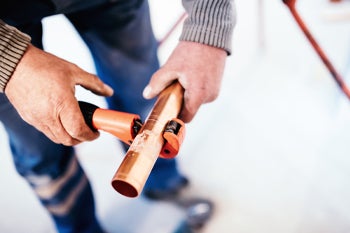 4. Pliers
Pliers offer leverage and allow you to move and grip small objects, as well as stabilize, loosen, or tighten pipes. They can also be used to bend and shape wires and small rods. Common pliers include slip-joint pliers, needle-nose pliers, locking pliers, and diagonal pliers.
Whether it's gripping wires, bending metal, cutting bolts, or holding objects firmly in place, pliers offer a practical and efficient solution. This Knipex plier wrench features a grip handle that won't have you slipping on the job.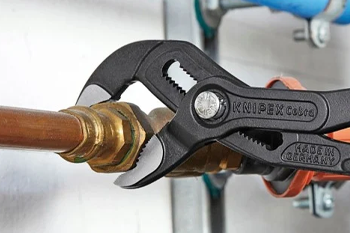 5. PTFE Tape
PTFE (polytetrafluoroethylene) tape, also known as thread sealant or plumbers tape, is wrapped around pipe threads to help create a leakproof seal between the threaded joint of a male pipe and a female fitting.
Oatey's thread sealant tapes provide exceptional versatility. They can be used on all threaded pipes, valves, and fittings carrying acids, solvents, alkalis, steam, hot and cold water, LP gas, natural gas, oxygen, and almost any chemical. They are weather-resistant, flexible, non-hardening, nontoxic, nonstick, and nonflammable.
Read all you need to know about thread sealant tape here.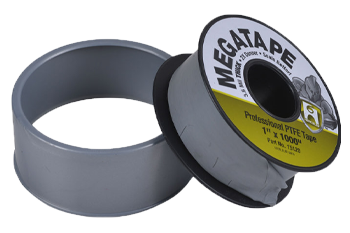 6. Plumber's Putty
Plumber's putty is a malleable, clay-like compound that creates a watertight seal by filling in the space under a flange to prevent water from seeping through. By preventing the migration of water between two rigid surfaces, it keeps your fixtures leak-free.
A product like Oatey® Plumber's Putty will guarantee a long-lasting, fixture-setting compound of frames, faucets, and basket strainers.
Learn how to properly use plumber's putty here.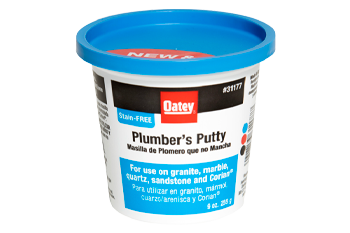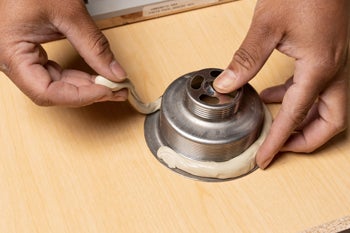 Pipe Thread Sealant
Pipe thread sealant, often called pipe dope, creates a tight, leak-free seal on threaded pipe connections. It's especially important for gas line installations. As threaded joints are tightened, they become harder to turn. These joint assemblies cannot achieve a watertight/air-tight seal on their own. An approved thread sealant like Hercules® Megaloc® or Hercules® Pro Dope® will help ensure a watertight seal.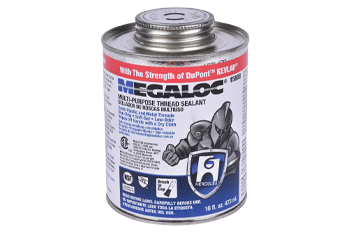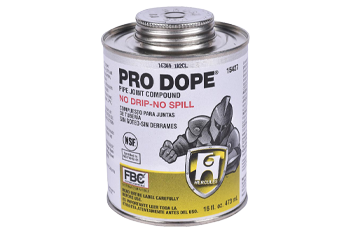 8. Hacksaw
A hacksaw is handy for cutting through pipe and other materials when a pipe cutter won't do the trick. A versatile tool that belongs in every plumber's toolbox, it consists of a sturdy frame with a handle at one end and a narrow, replaceable blade at the other.
With an adjustable tension mechanism, a hacksaw allows users to control the blade's tightness, resulting in efficient and accurate cuts. Its compact size and portability make it an indispensable tool in any plumber's toolkit.
9. Basin Wrench
A basin wrench is designed for reaching and tightening or loosening nuts located in difficult-to-reach locations behind sinks and faucets. It has a long handle and swiveling jaw that simplifies these otherwise hard-to-perform tasks. A basin wrench is spring-loaded, almost like a half-circle, where it can extend and come off the hook to get into tough places.
10. Pipe Inspection Camera
For more advanced plumbing work, a pipe inspection camera is a game-changer. It lets you see inside pipes to identify clogs, damage, or other issues, making troubleshooting much easier.
Having the right plumbing tools is essential for success. Investing in high-quality tools and products will pay off in the long run, as they'll help you work more efficiently and effectively. So, stock up your toolbox and tackle your next plumbing job with greater ease and confidence.