Plumber's putty is a small but important product in the arsenal of any DIYer. You've seen it at hardware stores or in your friendly plumber's toolbox. If you have to stop or prevent leaks around your faucet, sink, or tub drains, plumber's putty is the product you need.
What is plumber's putty?
Plumber's putty is a sealing staple for professionals, homeowners and DIYers alike. This easy-to-use product will prevent the migration of water between two rigid surfaces, keeping your fixtures leak-free. Plumber's putty is a malleable, clay-like compound that creates a watertight seal by filling in the space under a flange to prevent water from seeping through.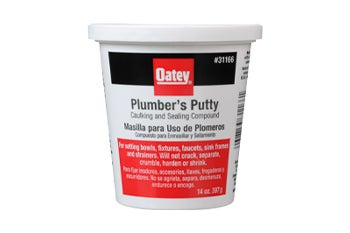 Where to use plumber's putty?
Plumber's putty is specifically designed for plumbing applications. It is ideal for setting faucets, sink basket strainers, shower and pop-up drains. It's easy to wipe away after installation and will not be visible from the outside of the plumbing fixture once installed. Oatey Plumber's Putty will last two years from the manufacture date if the lid is sealed properly.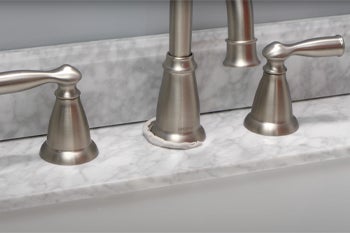 Because plumber's putty is oil-based, it can stain porous materials, such as granite, marble, quartz and sandstone. For application on these surfaces, use a stain-free plumber's putty, as this product is oil-free and will not stain the porous material.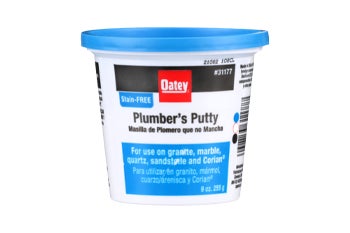 Plumber's putty vs. silicone
Silicone sealant or siliconized caulk is an adhesive and can't be remolded or replaced after it has dried. Plumber's putty is an easily workable, soft, pliable, fixture-setting compound. Unlike some other sealants, plumber's putty remains soft over time and can be easily modified after its first application.
Plumber's putty will remain pliable when not exposed to air and can be used as a bedding compound for strainers, faucets/tub waste and overflows once out of the container. If the putty is exposed to air for an extended period of time, it will harden and become brittle. Once the putty has dried, there is nothing that can be added to regenerate the putty without affecting the quality of the product.
Silicone sealant bonds to porcelain, ceramic, marble, fiberglass and most metals. Siliconized caulk can also be used for applications where weatherproofing is required because it is waterproof and UV-resistant. This feature protects against yellowing and allows a seal to last longer when exposed to direct sunlight. It's ideal for wet exterior applications because it's extremely weather-resistant and contains antimicrobial properties that will inhibit the growth of mold and mildew.
Plumber's putty is also easier to clean than silicone, because it does not stick to hands and requires no additional tools. Applying silicone can get messy, so many contractors carry additional products to make the application easier, such as a caulking gun or a silicone spray.
In contrast, when using plumber's putty, you need no more than a tub of putty to get the job done.
How long does plumbers putty take to dry?
Plumber's putty has no dry time, whereas silicone requires cure time. Typically, most siliconized caulk needs approximately 24 hours to cure completely or a minimum of eight hours before exposing it to water or moisture.
After plumber's putty has been applied and the fixture put in place, the latter can be used immediately. However, if putty is being used in colder applications, we suggest waiting 10 minutes after the initial installation to confirm the product does not need an extra turn to ensure it is properly secured.
When not to use plumber's putty
Plumber's putty is recommended only for setting bowls, fixtures, faucets, sink frames and strainers and is compatible with stainless-steel fixtures. Plumber's putty should not be used on plastics (Acrylic or ABS) because it will affect the integrity of the material and lead to product failure. Read manufacturer instructions and product recommendations to ensure best practices for safe and effective use.
Although this product creates a watertight seal, it is not an adhesive or glue. Thus, it should not be used in any pressurized connection, such as a gasketed fitting or on the thread of pipes.
Historically, plumber's putty was used to seal a leaky toilet or toilet bowl to a finished floor; however, we do not recommend it for these types of applications. That's because this product cannot support the weight of a toilet and is not waterproof. Cleaners and urine can also compromise the integrity of the putty if they come in contact with one another on the bathroom floor.
Plumber's putty has no adhesion value like caulk, which is used to help secure the toilet bowl to the floor. The putty will dry out when exposed to air and no longer fill the voids between the floor and bowl.
Plumber's putty may also stain finished floor surfaces.
Additionally, plumber's putty lacks any insulating qualities; therefore, it is not the right choice for sealing windows or doors.
Both stain-free and regular plumber's putty can potentially affect the finish of acrylic surfaces and should not be used when installing the drain on an acrylic tub and/or shower unit. Plumber's putty could have an adverse effect on the acrylic finish, similar to its effect on ABS (Acrylonitrile Butadiene Styrene) plastic materials. You should only use 100%-silicone for this application.
How to use plumber's putty
Plumber's putty is shaped by hand before it is applied to the plumbing part. Prior to using plumber's putty, ensure all surfaces are dry and free from hardened putty, dirt, wax, oil and grease. Remove debris by wiping with a cloth, scraper or wire brush as needed and dry the surface.
Follow these basic steps to apply plumber's putty:
Step 1: Establish the type of material you are working with to determine if it is compatible with plumber's putty. Then assess whether stain-free or regular plumber's putty is right for your particular application.
Step 2: After removing the desired amount of putty, be sure to seal the lid of the container to keep the unused putty clean.
Step 3: Knead the putty in your hands until soft and pliable. Then form it into a rope or a long cord-like shape (roughly ½" thick).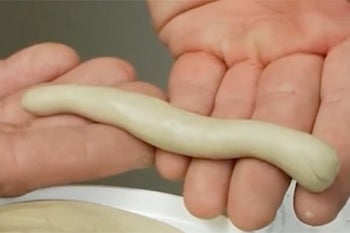 Step 4: Form a complete circle with the putty around the underside of the flange of the item you are installing, making sure to blend the two ends where they meet. If the rope is too short, start over and roll a longer one.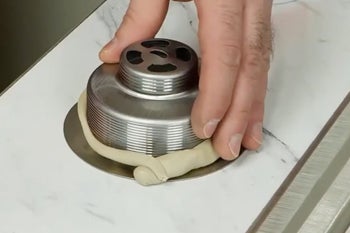 Step 5: Install your product, e.g., bath waste, shower drain, pop-up or basket strainer. As you secure your product in place, the excess putty will ooze out from under the flange and from around the fixture, ensuring sufficient putty has been applied, and a continuous seal has been made.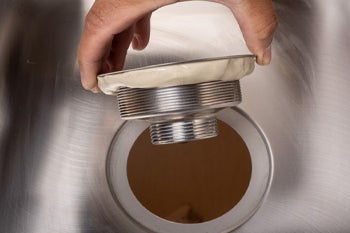 Step 6: Wipe away excess putty with a putty knife after the item is secured. Wipe clean.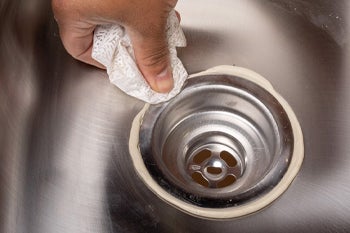 Step 7: If putty is being used in colder applications, wait 10 minutes after the initial installation and confirm the product does not need an extra turn to ensure it is properly secure.
Step 8: If the excess putty is clean and free of debris, it can be put back in the container. Be sure to seal the lid completely so the putty stays clean and isn't exposed to air. As previously noted, if the putty is exposed to air for an extended period of time, it can dry out and can't be reused.
The sink, faucet or shower can be used immediately after the part has been put into place. Run the water after installation to check for any leaks. If a leak is present, more plumber's putty can be added to remedy the situation.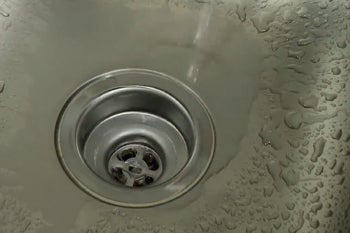 If in doubt or if you have any questions about using Oatey Plumber's Putty, contact our Technical Application Team here.