Drains are a vital component of any plumbing system, and selecting the right drain can make all the difference in a system's overall performance. Oatey offers a comprehensive range of drain offerings that cater to different plumbing needs. Whether you're looking for a shower drain, a floor drain, or a general-purpose drain, Oatey has you covered.
In this blog, we will provide an overview of Oatey drain offerings, their features, benefits, and installation instructions. By the end of this blog, you'll have a better understanding of Oatey's drain offerings and be able to make an informed decision when selecting a drain for your plumbing system.
What is the best drain for my space?
Oatey's drains are designed to improve the function, flow, and feel of any space. They are available in a variety of durable materials and connection types that anyone with basic DIY skills can install. Let's take a look at the most popular Oatey drains.
Shower Drains for Pre-formed Bases: If you are using an acrylic or fiberglass base, these pre-formed shower drains can be installed:
● Oatey 140 Series / 101 PNC Series Plastic No-Caulk Shower Drains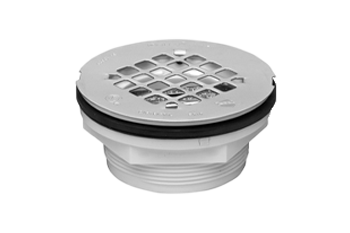 No-caulk drains are popular because they do not require PVC or ABS cement to connect to the pipe. Instead, a rubber gasket inside the drain seals to the outside of the pipe. But, keep in mind, it still requires a plumber's putty or silicone to seal it to the actual shower base itself. But it does save you installation time.
This drain comes with a universal 4-1/4 in.-round, snap-in strainer in stainless steel, polished brass, or plastic finish that will complement your existing bathroom décor.
● Oatey 103 Series Offset Shower Drains with Receptor Base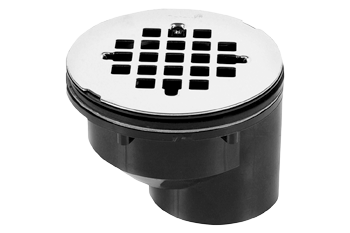 Our 103 Series Offset Drain provides an offset solution for when you are dealing with an obstruction, such as an imperfect slab penetration, and you cannot move the joists. The drain body provides a 1-1/2 in. offset to work around. It includes a universal 4-1/4 in.-round, snap-tite stainless steel strainer.
Shower Drains for Tile Bases: If you are constructing a shower base out of mortar or liner, here are a few tiled shower drains to consider: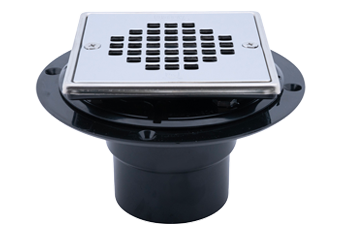 This three-part drain includes a base, a reversible clamp collar, and a threaded barrel. Configurations come in square or round, snap-in or screw-in — all with a tool-free test plug for testing. Finishes include polished stainless steel, brushed nickel, oil-rubbed bronze or matte black.
● QuickDrain's SquareDrain System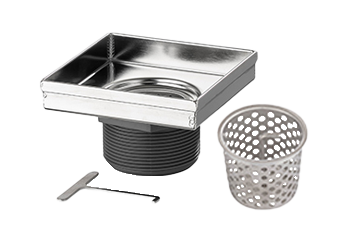 This point drain shower system offers versatility and design flexibility for curbed and curbless applications, as well as for new and retrofit applications, such as tub-to-shower conversions. Featuring site-sizable PET QuickSlope panels, universal compatibility with flange adaptors, and multiple waterproofing options, the system offers design flexibility so that it is job site-ready for both new as well as retrofit applications, such as tub-to-shower conversions.
Once installed, the drain system is easy to maintain, with a debris basket and cover key included. It comes in eight different finishes to accommodate a wide range of bathroom aesthetics — from stainless steel to matte black — to ensure consistency throughout your bathroom.
● Oatey Decorative Linear Drains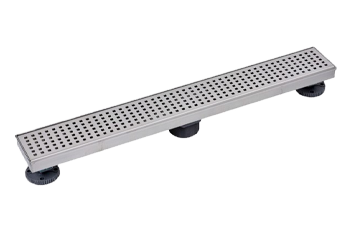 Oatey's decorative linear drains, including Designline and Vivante, come fully assembled and include leveling feet, enabling quick and easy height adjustment for easy installation. Available in 18 different variations, our decorative linear or square drains are made of 304 stainless steel. Designed to fit any aesthetic, two cover finishes are available: Matte Black and Stainless Steel, and three cover designs: Square, Tile-In, and Wave. Each will help achieve the best fit, form, and function in any tiled shower.
Can't decide between a square or linear drain? Here are five considerations to help drive your choice.
Shower Drains for General Purposes: For areas that don't require a waterproofing membrane, these Oatey general purpose drains are ideal for garages, basements, patios or utility rooms:
● Oatey Integral Floor Drain with P-Trap and Valves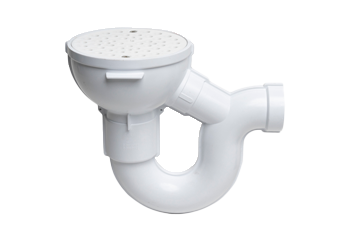 Installed as a basement floor drain when adding a bathroom, this floor drain is one of Oatey's most versatile products. It includes an integrated p-trap, a clean-out for easy maintenance and snaking, and an integrated backwater valve to prevent backflow in the event of a sewage backup.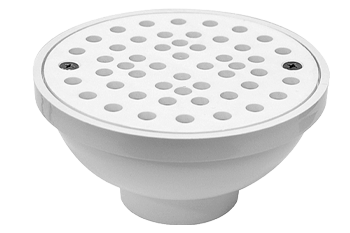 This is a PVC drain with a round screw-in drain cover. Compatible with most applications, it is designed for garages, patios, and utility rooms. This drain solvent-welds over 2-in. Schedule 40 DWV pipe or inside of 3-in. Schedule 40 DWV pipe and comes with a removable, plastic screw-in strainer.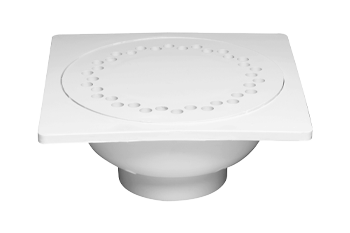 This type of floor drain is designed for outdoor areas, such as a garage or a patio. The 1-½-in x 2-in. model is solvent-welded over 1-½-in Schedule 40 DWV pipe or into a 2-in. coupling. The 3-in. x 4-in drain is solvent-welded over 3-in. or inside 4-in. Schedule 40 DWV pipe.
The water drains to a well in the unit that serves as a trap to contain sewer gas. A strainer snaps onto the drain body, and the drains come in PVC or ABS.
Installation and maintenance of Oatey drains
There's no single way to design a drain system for your home, but there are a few key components you'll need to include. Oatey suggests that homeowners follow the installation instructions provided with their drains.
Also, be sure to consult a licensed plumber if installing an entirely new drain system.
If you're trying to troubleshoot a problem or need a copy of any instruction sheet, contact our Technical Department at technical@oatey.com.
Pre-formed Shower Drains
Solvent Weld Shower Drains are designed for easy installation by sealing pre-formed shower stall bases with fiber and rubber washers. These drains can be installed with Oatey PVC or ABS solvent cement and Oatey Primer. The final solvent-cement selection will depend on the material of your drain assembly and pipe.
For no-caulk shower drains, refer to Oatey's detailed step-by-step guide for installation instructions.
To install, you will need the following:
Adjustable Pliers
Screwdriver
Tile Shower Drains
The Oatey Linear Shower Drain is compatible with both PVC and CPE waterproofing liners. The sloped channel design ensures that water constantly flows to the drain outlet. The included raising tool and removable basket allow you to lift the cover and remove debris without snaking. Waterproofing, bonding adhesive, and drain base are sold separately.
QuickDrain Linear Drains can be installed at the entrance to a shower, along the wall, or in the center of the floor. The slope allows water to flow through the drain into a trough or channel beneath the floor. The water flows via a single slope towards the drain. This system also has stackable spacers to adjust the height of the drain cover to ensure it is flush with the shower floor. You can follow these steps to ensure a proper installation.
Oatey 130 Series Shower Drains are designed for use with tile or marble showers where a shower pan liner is used. Refer to Oatey's detailed step-by-step guide for installation instructions.
To install, you will need the following:
General Purpose Drains
Installation for these drains will depend on the job, but you will want to know the material and size of the pipe you are working with and how you will attach it to the set pipe.
Drain FAQs
Can I replace a round shower strainer with a square one?
Yes. Square Snap-Tite strainers can replace round Snap-Tite strainers.
What designer finishes are available for shower strainers?
Polished brass, satin nickel, satin chrome, antique bronze, and rubbed bronze.
Where can I find step-by-step installation instructions?
Contact our customer service department; they will gladly send you a copy of the instruction sheet and an exploded-view drawing.
How do you remove a Snap-Tite strainer?
The easiest way to remove the strainer is to weave a string or small wire through two openings near the edge of the strainer and pull it straight up. It is not recommended that you pry the corner up because it could damage the shower-base surface. When you are ready to reinstall the strainer, line it up over the drain body and press down evenly.
Should I put Plumbers Putty or silicone under the shower drain flange?
A 100%-silicone caulk is recommended. There are many conditions where Plumber's Putty could cause product failure and finished-product staining. Please check with the fixture manufacturer to confirm which sealing method is safe for the finish.