The key to making a bathroom renovation a success is solid upfront planning. The more you plan, the more time and money you will save.
First, research what bathroom design trends interest you and decide how you envision the final look. Then take your ideas and sort them into an actual layout of the bathroom.
However, before you get started, here are three important factors to consider when planning your bathroom renovation, as well as an overview of what is involved in remodeling a bathroom.
1. Determine the magnitude of the project.
The first thing you'll need to consider is how extensive the remodel will be. Are you looking to update a couple of fixtures or completely change the layout of the space? Once you determine a general strategy of how you want to take on the project, you can decide on the smaller details.
If you are going the easy route, you are most likely keeping the layout, fixtures, and walls. Surface-level changes should not cost much and allow you to DIY a lot or all of the project. Simple updates should still be considered a remodel and thoroughly planned to avoid the urge to switch designs before it's too late.
The more advanced route is completely gutting the space, changing the layout, fixtures, and flooring, and possibly expanding a half-bath into a master bathroom. This will be much more involved, so you should have a solid floor plan in place before getting started.
You can either pay an architect to create your floor plan, or purchase a set of stock plans, or opt to make it yourself. There are tools online that can help you create your own remodeling plans. Having an understanding of the layout, budget, and design you want will help in drawing it out.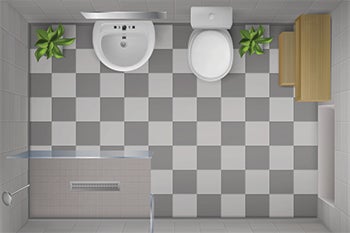 2. Set a budget.
The magnitude of your project will determine what the budget will be. Since bathrooms tend to be a pricey renovation, it's important to understand what everything will cost and what you are willing to pay.
Getting quotes and opinions from plumbers will help you determine a range. We suggest contacting multiple plumbing professionals to get more than one quote. Houzz is a great resource to find local home improvement professionals, or you can even ask for contacts at your local hardware store.
If you're looking for a standard guideline, you can reference the National Kitchen and Bath Association's cost breakdown, with each aspect expressed as a percentage of the overall project cost:
Design – 4%
Labor – 20%
Flooring – 9%
Walls & Ceilings – 5%
Doors & Windows – 4%
Faucets & Plumbing – 14%
Countertops – 7%
Cabinetry & Hardware – 16%
Fixtures – 15%
Lighting & ventilation – 5%
Other – 1%
We recommend looking into lead-time availability to get a better estimate of material costs and how long it will take to receive them. If a certain type of tile is unavailable for another couple of months, it might be better to go with a different design, one that could cost more or less.
Be prepared for surprise expenses, especially when tearing out the walls and floors. Once those get opened up, you might discover hidden damage that must be repaired. Assume you will have some unexpected costs and plan that into the budget.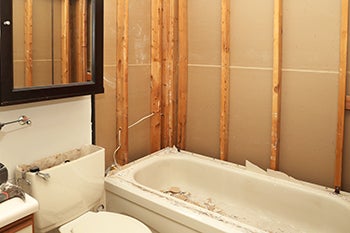 3. Decide if you need to hire a contractor.
You will need to decide who will do the work. Can you DIY the project to save money? Or should you hire subcontractors to handle different phases?
If it's a large enough renovation, you might consider having a general contractor manage the entire project.
Bathroom Remodel Overview
Whether you are completing the remodel or working with a contractor, it's good to know the major steps involved in the project. Once you have your plan in place, it's time for the rest of the project to begin. Below is a brief guide to help break down what is involved in remodeling a bathroom.
Demolition and clean up: For complete remodels, this is the time to relieve some stress and save in labor costs if you do it yourself. Since you are completely gutting the space, you will need to remove all the fixtures from the room including the shower, tub, sink, toilet, cabinets, countertops, and flooring.
If you are not comfortable handling the demo yourself, look into hiring a company that can assist the tear down and debris removal. Be sure to have a dumpster on hand for "easy" clean up.
Oatey tip: Before removing the toilet, solidify any remaining liquid with Oatey® Liquilock Gel to prevent drips and leaks. Simply pour into the bowl, wait 4-5 minutes, and remove. Remember to lift with your legs, not your back!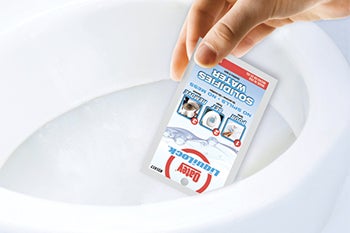 Rework plumbing and electrical: We recommend bringing in a plumber or an electrician who can plumb or wire the bathroom according to specifications. They will need to install the fan, light fixtures, switches, outlets, water and drains.
Set major fixtures: You'll want to install the bathtub or shower at the beginning of the process because it can take a couple of days to complete. Whether you are doing a prefabricated or custom design, there will be multiple stages for this step.
Oatey tip: If you are looking for a sleek and cost-effective shower drain, choose from Oatey's extensive drain options – including square and linear options. Choose from a range of finishes such as polished stainless steel, brushed nickel, or oil-rubbed bronze. Use a shower pan liner kit for a ready-to-use waterproofing membrane.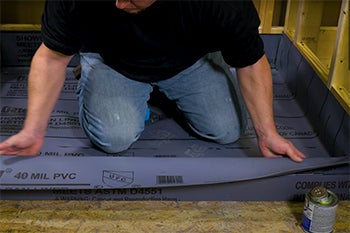 Drywall and paint: With the space opened up and cleared, you'll want to hang drywall and paint before adding more fixtures. Paint the walls with satin or semi-gloss paint that will protect against moisture.
Install the flooring, cabinets and countertops: Like the walls, whatever tile you choose for the floor should be moisture-resistant. Add in a counter and base cabinets for storage space.
Set smaller fixtures: The last thing to install is the smaller fixtures like the toilet and sink. The proper hookups will need to be connected and tested.
Oatey tip: When securing the toilet to the finished floor, opt for an Oatey® Toilet Flange and choose from a wide variety of sizes, materials and configurations. Add a wax ring to create a watertight seal between the bottom of the toilet and the toilet flange, preventing any leaks, odors or sewer gases from escaping the fixture.
The best way to go into any remodel is to think through the project carefully before doing anything. Keep in mind that unexpected things may come up throughout the process, but having a solid plan to refer to will help support your design goals.