Are you looking to make some quick changes in your home that won't drain your wallet and time? Whether you've just moved into a new home and are looking to make it more energy efficient – or a seasoned homeowner ready to make your space more design forward after years living with the same look – we suggest evaluating your current plumbing landscape as a starting point.
You may be surprised to find many of your fixtures are outdated, on the verge of failing or are simply not functioning efficiently – sneakily wasting water and skyrocketing your utility bills each month. In fact, the simplest upgrades can make the largest impact, while simultaneously increasing the value of your home.
Our experts have narrowed down a list that details cost-effective and hassle-free ways to upgrade your plumbing, many of which you can implement on your own without the help of a professional plumber or contractor.
1. Clean and protect drains
After moving into a new home, you may find the previous owners left behind a few clogged drains. The culprit of the blockages can be any combination of soap scum, hair, grease, food, dirt or other residue, depending on the location of the drain.
Our experts recommend flushing out these blockages with a chemical cleaner as soon as possible to avoid increased pooling around your drain or even potential flooding. There are a variety of chemical drain cleaners on the market today, but it's important to do your research to understand which products are formulated for different types of blockages. To open a clogged drain quickly and effectively, you should use a specific cleaner capable of dissolving each clog's unique collected matter. Knowing the severity of the clog will also tell you whether you need a fast-acting solution or one that is designed for routine maintenance.
Once you've put in the work to clear your drains and restore their performance, consider using a trap seal, like Oatey's Drain Seal, to protect drains from foul odors, sewer gas, insects and other harmful elements. The Drain Seal is a hassle-free solution that doesn't require the use of any tools for installation, making it a convenient way to promote a clean home and preserve everyday or infrequently used drains in locations, such as showers, basements, garages and laundry rooms.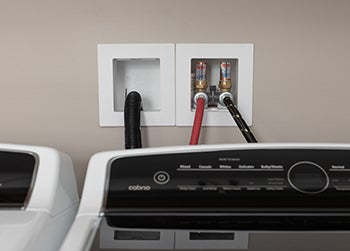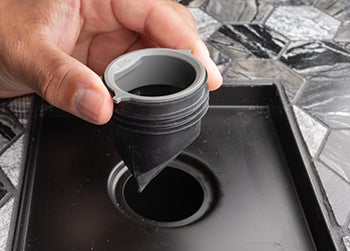 2. Remedy loud pipes
Do you hear a strange "banging" or "pounding" sound the moment you turn on the washing machine? That annoying sound is called water hammer, and it occurs when a hydraulic shock takes place due to a sudden change in water flow within a piping system. If left untreated, water hammer can harm different parts of your plumbing system, including pipe supports, faucets, valves and water heaters. A simple solution? A water hammer arrestor (or water hammer absorber). This product can be installed within minutes and doesn't always require cutting your drywall.
3. Update fixtures to modernize bathrooms
The smallest details can make the largest impact – keep this in mind when tackling a bathroom renovation. Replacing a dated drain, faucet or bath waste and overflow fixture with something that's on trend and versatile, can be a simple, budget-friendly way to give your bathroom a quick facelift. You'd be surprised how these minor design updates can instantly refresh and bring a completely different feel to a space – no matter your desired aesthetic. Oatey offers trim kits with various finish options that can be installed over existing drain and overflow plates, making it even easier to update finishes without having to remove existing bath waste and overflow assembly.
4. Replace water supply lines
Each year, it's important to inspect water supply lines throughout your home for any visible cracks or deterioration to avoid potential bursts that cause severe water damage and require costly repairs. Toilet water supply lines are at most risk for this type of burst because they are typically made of a plastic, a material prone to cracking when overtightened and exposed to constant vibration. Vibration can also cause the same issue for supply lines connected to washing machines.
5. Install rainwater collection system
Sustainable living is more important to modern-day homeowners than ever before due to its environmental and cost-saving benefits. One easy, yet impactful, way to begin making your home more eco-friendly is by conserving and recycling rainwater utilizing a rainwater collection system (also called a rainwater diverter). A collection system diverts rainwater from downspouts into a barrel for reuse in non-potable applications, such watering your lawn/garden, washing vehicles, cleaning windows, filling a fountain and more, which can significantly decrease your utility costs each month.