A clogged drain is a common problem in the bathroom. It can happen for several reasons, such as hair and soap scum buildup or be caused by something more serious.
If you notice your shower drain is clogged, don't worry — you don't need to call a plumber or spend hundreds of dollars on repairs right away! There are some easy solutions that will help you unclog your shower drain in no time at all.
Clogged shower drains can cause water to back up into other parts of your home (like sinks), which could lead to expensive damage if left untreated over time. This blog will take you through the best ways to unclog a shower drain fast, so you can be back to enjoying your shower in no time.
What Causes Shower Drain Clogs?
Over time, a variety of "gunk" can accumulate within shower drains, including hair, soap scum, skin, bath product residue, and mineral buildup from water. If left untreated, these types of buildup will significantly slow down a drain and result in unwanted standing water. Hair, dirt and other residue may also be visibly left behind, giving the shower an unpleasant appearance and smell.
You can block odors and gases from entering your home by installing a drain seal. The Oatey Drain Seal is specially designed to prevent smelly pipes while still allowing for the continuous drainage of water. Requiring no tools for installation, our Drain Seal works for showers or general-purpose floor drains in areas such as basements, garages, and laundry rooms.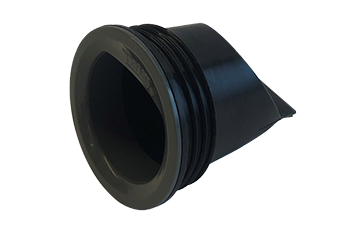 Four Ways To Unclog a Shower Drain
1. Liquid Drain Opener: Hercules Glug Bath Liquid Drain Opener works effectively on clogs common in lavatories, including clogged shower drains and bathroom-sink drains, because it contains bleach to dissolve hair and soap scum clogs.
To clear a clogged drain using liquid drain cleaner, take the following steps:
To open the container, place the bottle on a flat surface and, with one hand, carefully unscrew the cap, making sure not to squeeze the bottle.
Pour 16 fl. Oz of the solution down the drain.
Allow to stand for 30 minutes, then flush with warm water.
For best results, allow the drain cleaner to remain in the drain overnight.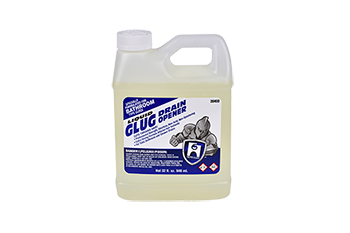 2. Crystal Drain Opener: Another great option for showers is Hercules Glug Crystals Drain Opener. It uses powerful crystalline flakes to quickly clear sluggish drains and dissolve hair, soap, other organic material and grease clogs.
To clear a clogged drain using crystal drain cleaner, take the following steps:
Run hot water to warm drain lines.
Pour one cup (4 to 6 net wt. oz.) of Glug drain opener into the drain opening. Do not exceed recommended amounts.
Run hot water until the chemical is dissolved.
Let stand for a few minutes, then flush again with hot water.
To keep drains clog-free, repeat the procedure monthly.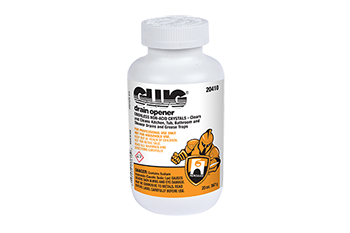 3. Homemade Mixture: Some individuals may prefer to try a natural mixture (baking soda, vinegar or hot water) versus a chemical drain cleaner. Our experts note that this natural remedy may open a blockage only partially, but never completely eradicate it. A chemical drain cleaner is a smart choice for a more long-term solution.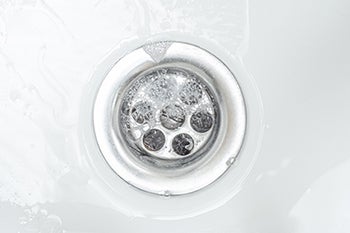 4. Mechanical Drain Openers: A plunger or drain snake can also be used as a quick fix to the clog. However, like the natural mixture solution, you risk not completely eradicating the clog and could push the problem further down the pipe. So proceed with these tools with caution.
To clear a clogged drain using a plunger, take the following steps:
Remove the shower drain cover and remove any visible debris that may be causing the clog.
Fill the shower base with enough water to cover the head of the plunger.
Place the plunger over the drain and make sure it creates a tight seal.
Push down on the plunger to create suction, then quickly pull up. Repeat this process several times, making sure to maintain the seal between the plunger and the drain.
After several plunges, remove the plunger and check the drain. If the water drains freely, you've successfully cleared the clog.
If the water is still draining slowly, repeat the plunging process or try using a drain snake to remove the clog. Stop immediately if the problem becomes worse, and call your local plumber for assistance.
Once the clog is cleared, run hot water down the drain for a few minutes to flush out any remaining debris.
To clear a clogged drain using a drain snake, take the following steps:
Remove the drain cover and insert the cable head into the drain.
Slowly feed the cable into the drain and turn the handle to rotate the snake within the pipe.
Once you feel the snake has reached the clog, rotate while moving back and forth, allowing the cable to either break it apart or pull it up.
Retrieve the snake back up while wiping it with a rag, with the possibility of pulling up the obstruction.
After removing the clog, flush hot water down the drain to wash away any remaining debris. If the drain is still slow, repeat the entire process until the clog is completely removed.
Note: With the exception of aluminum fixtures, Oatey drain cleaners will not harm porcelain plumbing fixtures, metal/plastic pipes or septic systems. Each product is formulated to deodorize drain odors and contains corrosion inhibitors to help prevent pipe and fitting damage.
Be sure to check the manufacturer's instructions before performing any of these solutions. Oatey does not recommend using chemical drain cleaners in standing water because the chemicals may splash on you or burn your skin.
How Do You Safely Remove a Blockage?
1. Put on rubber gloves and eye protection to ensure safety.
2. Turn on a fan or open a door/window to maintain good ventilation if you need a chemical cleaner to clear your drain.
3. Remove the shower drain cover and check for visible obstructions (like a large clump of hair) outside and within the drain. If an obstruction is near the surface and safely accessible, try pulling it out by hand.
4. If your drain is still not working properly up to this point, our experts suggest using mechanical means or a chemical drain cleaner – specifically formulated to remove blockages based on the drain location (bath or kitchen), the type of system (municipal sewer or septic), and pipe material (PVC, ABS, copper, cast iron or galvanized steel).
When Should You Call a Plumber?
If you've followed the steps above and your drain is still stopped up, it's time to call your local plumber or maintenance professional.
For the most severe drain blockages, Oatey recommends Hercules Clobber, the fastest and most effective drain-cleaning method. It's formulated to remove all organic matter.
In addition, Hercules Sizzle is a powerful scale remover that effectively eliminates scale, salts, mineral deposits, slime and corrosion. Both of these products can be used only by licensed plumbing and maintenance professionals.
Before using these acidic drain cleaners on metallic drain lines, Oatey recommends that the integrity of lines is confirmed to be in good condition to help prevent any pipe/joint damage during the cleaning process.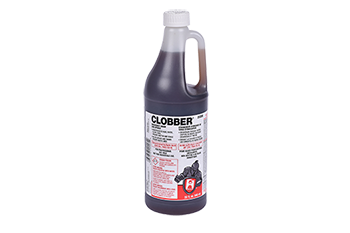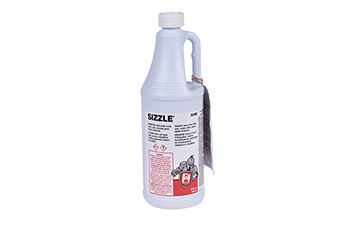 Preventative Measures
Clean the drain regularly with Hercules® Glug® to clear sluggish bath or kitchen drains and prevent clogs.
Use a drain cover or hair catcher.
Avoid pouring grease or oil down the drain.
Avoid pouring harsh chemicals down the drain, as they can damage your pipes and create clogs in them over time.
Now that you know how to unclog a shower drain, it's time to put your new knowledge into practice. The first step is being proactive about preventing clogged drains in the future. You should always know the signs of a clogged shower drain and know what solutions are available if this happens.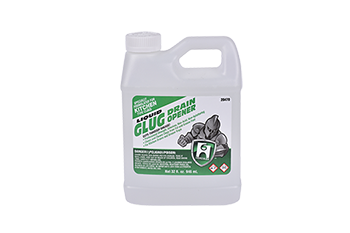 If you follow these tips, hopefully, your next experience with unclogging your shower drain will be much less painful!