Plumbing Drain-Waste-Vent systems, known as DWVs, consist of drainpipes that provide a network for the removal of waste, as well as vent pipes that prevent unwanted gas from escaping inside the building. Vent pipes also maintain the necessary balance of pressure to allow water to flow. In a simplified example, water in an inverted bottle without an air hole will glug and gasp when emptied. Adding an opening to the bottom of the bottle will turn the process into an efficient, steady flow because the bottle "breathes." This is what an AAV can do.
An Air Admittance Valve (AAV), which you may also hear referred to as a Sure Vent or quick vent is a one-way mechanical valve that is installed locally at the site of a plumbing fixture, allowing proper venting to occur without a connection to a larger venting system and stack vent.
To understand more about Air Admittance Valves, check out our blogs, Oatey 101: Understanding Air Admittance Valves and 3 Things You Should Know about Air Admittance Valves.

1.

Confirm local code and identify proper installation spot

First, check with your local municipality before installing to confirm the AAV will be approved. The AAV should be located:
Within the maximum developed length permitted for the vent
A minimum of 4 inches above the horizontal branch drain
6 inches above any insulation material
Within 15 degrees of vertical
2.

Remove plastic film

Remove the protective plastic film from the AAV. Be sure to use directional fittings when installing the drains and AAV extension.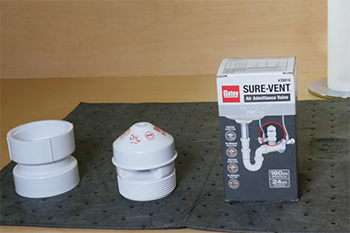 3.

Measure installation spot from branch

Ensure the AAV will be located a minimum of 4 inches above the horizonal branch it is serving

Note: AAVs must be installed vertically and must be accessible for inspection and service.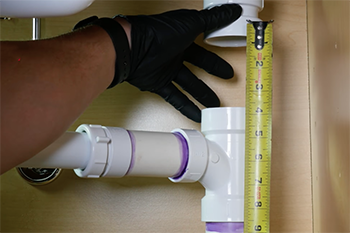 4.

Measure and cut pipe

Next, measure and cut the pipe with a plastic pipe cutter. Chamfer and debur to ensure a strong connection.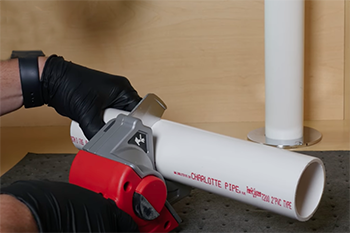 5.

Attach pipe to the adaptor

Solvent weld the pipe into the provided adaptor.

Note: If working with ABS: Oatey® ABS Medium-Bodied Black Cement and Oatey® Clear Cleaner. If working with PVC: Oatey® Regular Clear PVC Cement and Oatey® Purple Primer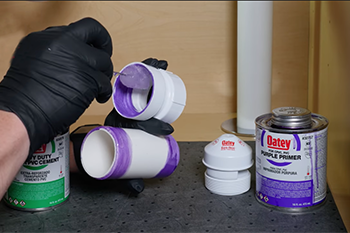 6.

Install AAV into adaptor

Wrap thread tape around the AAV and install into the adaptor by wrapping it around the male threads in a clockwise direction.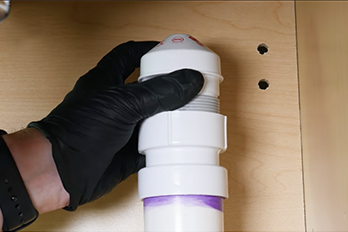 7.

Check for leaks

If installed under a sink, be sure to check for leaks by filling the sink.

How to tell if an air admittance valve is working

To see if the AAV is working properly, take the valve off and shake - if you shake hard enough you should hear the diaphragm rattling. If you hear no noise the AAV may have failed. Additionally, smelling sewer gas is another sign that the AAV has failed in the open position.