NIAGARA FALLS, ONTARIO — Kimbel Donayre is the skilled and passionate owner of Kimbel Donayre Plumbing, established in February 2022. With his Red Seal plumbing license and extensive experience installing, servicing, maintaining, and repairing plumbing systems, Kimbel has become a trusted expert in the Niagara Region and neighboring areas since 2018.
As the sole owner and operator of Kimbel Donayre Plumbing, Donayre mainly focuses on service work, such as repairing bathroom fixtures. From an early age, Kimbel possessed an innate love for hands-on work, connecting with people, and continuously expanding his knowledge. His journey into the trades began nine years ago as a laborer for a general contractor, where he collaborated with various trades and discovered his true calling in plumbing.
Above all, Donayre loves to contribute his expertise to enhancing plumbing systems. A native Peruvian, he hails from the small town of Alto Laràn, which lacked access to hot and clean water. Donayre hopes one day, he will have the chance to return to his hometown and spearhead improvements to its water system.
Never any callbacks:
Donayre says he grew up learning to use Oatey products while working for various companies throughout his career. As a result, he continues to reach for Oatey because of the brand's demonstrated reliability. "I have never had any callbacks or concerns when installing Oatey products over the years."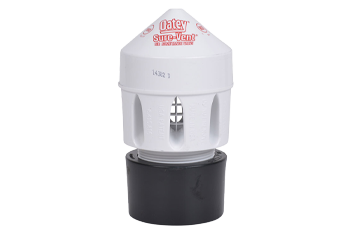 Among the products Donayre frequently installs is the Oatey® Sure-Vent® Air Admittance Valve (AAV), a venting solution for island sinks, remote bathrooms, and other remodeling projects. Designed to block sewer gases in DWV systems by opening and closing when the slightest change in pressure is detected, these valves eliminate the need for a conventional stack vent. Available with PVC or ABS adapters and fitting pipe two inches to three inches in diameter, Sure-Vent products are engineered to vent a Drainage Fixture Unit (DFU) load of up to 160 (branch) or 72 (stack).
On a recent repair project, Donayre worked on a newly constructed bathroom where the previous plumber had installed a new toilet, sink, and shower. Unfortunately, the homeowners quickly realized the new shower was not draining properly.
"It would drain very slowly, so that every time they used the shower, water would build up and overflow to the floor," explains Donayre, adding that his first step was to "put my camera down the P-trap to see what was going on."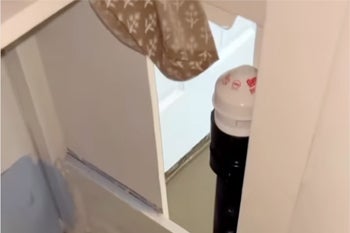 But it was difficult, literally, to see the problem, so Donayre decided to jackhammer the floor, cut the pipe, and add a temporary vent to see if it was a venting issue. Improper venting can cause slow drains due to a process known as an airlock.
In plumbing systems, proper ventilation is crucial to equalizing pressure and allowing air to flow smoothly through the pipes. When the venting is inadequate or obstructed, it can lead to a pressure imbalance that slows drainage.
After determining the issue was, in fact, venting, Donayre placed a Sure-Vent inside the linen closet, the most convenient place to install it. Since the shower was located in the basement, going with traditional venting would be too costly for the client. That is why Oatey's Sure-Vent AAV was a great alternative solution.
Easy installation:
While diagnosing the problem took about a week, Donayre says installation took only a few hours before he finished the bathroom. He was able to install the Sure-Vent Air Admittance Valve, and the shower became usable without any drainage issues.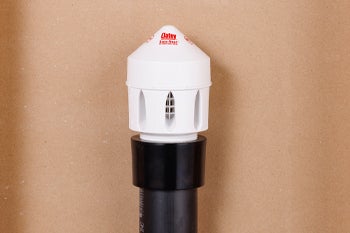 Donayre notes how easy it was to install because it's a two-in-one product that can accommodate any pipe size. Additionally, Donayre can obtain the widely available Sure-Vent products from any of his local suppliers.
Since the installation, there has been only positive feedback from the client. Donayre was able to diagnose the problem accurately and solve it quickly. That is why he routinely recommends Oatey's Air Admittance Valves to thousands of people on social media through his videos.