Research ways to renovate your bathroom, and you will likely see the term "'linear drain" pop-up in searches. What is a linear drain?
A linear drain is a rectangularly shaped drain installed at the entrance, along the wall, or center of the shower floor. Linear drains function by allowing water to flow through the drain and into a trough, or channel, beneath the shower floor. The water flows via a single slope towards the drain opening. It is different from a traditional square or circular center point drain, because it looks more sleek and nuanced while providing additional benefits to homeowners.
You might be wondering, "Do I need a linear drain? Do I have to rearrange how my shower works?"
Well, a traditional shower drain may be all you need in your bathroom. However, you might find that the following four linear drain benefits outweigh those of your current shower configuration and drain.
Below are four reasons why you should seriously consider linear drains:
1. Increased Safety and Accessibility for Any Homeowner
Linear drains are versatile for any situation and are the go-to solution for hospitality applications. Linear drains are a perfect solution for curbless showers or universally accessible wet spaces, easily accommodating universal designs under ADA (Americans with Disabilities Act).
A curb can be a hazard in a shower, creating a greater opportunity for a fall. Most showers utilize a curb system because they require a barrier to block water flow from leaking outside of the shower. Linear drains require no curbs because they are installed to capture water flow efficiently.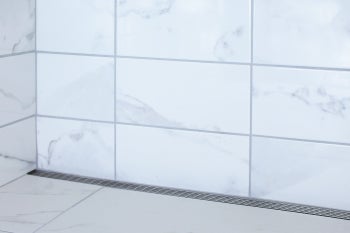 The linear drain should extend wall-to-wall in a curbless shower to ensure the most efficient and effective drainage. Opt for a linear drain that can be customized to provide wall-to-wall coverage and ensure that the linear drain has (1) integrated slopes to efficiently and effectively evacuate water from the drain body; also (2) select a drain that connects directly to the waste line.
You will benefit any time safety measures can be considered within an upgraded bathroom design. A linear drain more easily accommodates a freestanding bench, a wheelchair, or other mobility aids with no barrier to cross.
QuickDrain ProLine's marine grade stainless steel drain body, paired with an ADA-compliant cover, is ideal for hospitals and assisted living facilities. The roll-in shower is a hallmark of universal design, while providing a clean and expansive look from traditional to modern aesthetics.
Homeowners who struggle with mobility — people with disability needs, elders, or even those recovering from surgery — can use linear drains to make a positive change in their shower experience.
If you are looking to renovate your bathroom in your forever home, think about what you can do to increase its longevity and safety. Adding a linear shower drain can prove beneficial for decades.
2. Flexible Installation Makes Renovations Quick and Easy
The QuickDrain ShowerLine linear shower drain is the perfect choice for tub-to-shower conversions and projects that need to maximize return on investment while delivering sophisticated style. With its PVC body, the drain offers an affordable, efficient and flexible way to modernize a shower. Perfect for almost any existing plumbing application, stackable spacers allow installers to adjust the height of the drain cover to ensure it's flush with the floor.
The ShowerLine drain system's fully sloped trough allows water to exit through either a vertical or a side waste outlet, making it easy to accommodate existing plumbing. Additionally, homeowners can trim the trough extensions and covers after installing the body, providing wall-to-wall coverage.
QuickDrain's PET (polyethylene terephthalate) panels for a linear drain installation are made from 100%-recycled plastic bottles. They considerably reduce installation time and labor cost when used in place of a traditional, reinforced-mortar shower pan.
Contractors looking to install a linear drain system can view this tutorial video to learn how to install a complete linear drain shower system. With the right linear drain system, any homeowner can opt for a fashion-forward, functional linear drain.
3. Linear Drains Offer Design Flexibility
Thanks to the pandemic, you may have found yourself working from home more, spending significant amounts of time in spaces you haven't had the luxury to enjoy for longer periods. A well-appointed bathroom, for example, enables you to wind down after a long day. Ever-changing bathroom trends inspire you to add your unique design preferences into your space.
QuickDrain offers various decorative drain covers and finishes. Homeowners can choose from a range of styles: modern, farmhouse, traditional, and contemporary. Decorative drain cover finishes come in brushed or polished stainless steel, brushed or polished gold, matte or polished black, oil rubbed bronze, and polished rose gold.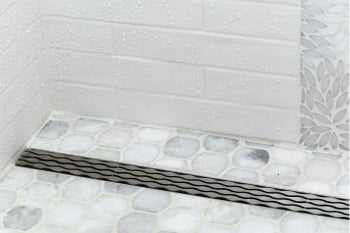 Homeowners can also choose from various linear-drain sizes that best suit their showers, including custom-made sizes to help the homeowner find their perfect fit.
Look at trend guides like this one offered by QuickDrain to gain inspiration. It makes the design process more seamless and allows homeowners to research what their showers can look like.
Using linear drains also offers cost and labor savings, as installers need to create only a single slope versus a conventional four-direction slope used with center point drains. Eliminating the compound slope in the shower pan also opens up new design opportunities, allowing users to create an uninterrupted flow from the bathroom to the shower, using beautiful, large-format tile and solid surface materials.
Your ability to choose from various cover-design options makes your selection process so much easier. Whatever the style you prefer, there will be a linear-drain design option for you.
4. Easy Maintenance
Whether you are a homeowner or a facility manager, ease of shower maintenance is a critical priority — not only for the time and cost savings, but also to enhance a remodeling project's longevity.
Linear drains can be quickly removed by hand and wiped down to eliminate soap scum, hair, and other obstructions to smooth, consistent drainage. In addition, a linear drain can be integrated with larger-format tiles. The latter reduces the number of grout joints and seams where mold, mildew, and grime can take hold.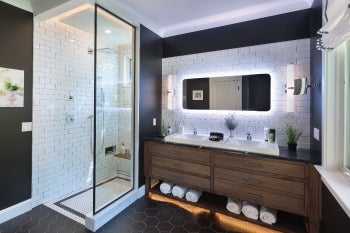 Linear drains can also extend the shower floor's square footage, promoting complete water evacuation in curbless enclosures. Consequently, there is less chance of water pooling and running out under the shower door into the bathroom. QuickDrain linear drain's fully sloped troughs promote efficient water drainage to minimize slip hazards and reduce mold, mildew, and bacteria growth.
Overall, linear drains are a great investment for anyone looking to upgrade showers in any type of bathroom, whether in a home, a hotel, a hospital, a health club or some other type of commercial facility. They can provide superior performance and safety for these applications through the use of curbless showers, while also allowing design-savvy consumers to select the style that best fits their unique bathroom décors, providing personal satisfaction for years to come.
Meanwhile, the ease of maintenance of a linear drain will go a long way to ensuring that these products remain in style — and in people's bathrooms — for years to come.