As with any construction or remodeling project, there are several key factors to keep in mind when selecting a drain system for a bathroom shower. Being mindful of these considerations will ensure you choose the right drain to meet your needs.
Before we dive into considerations that should drive your choice, let's look at some key features of linear and square drains.
Linear drains: A linear drain is a rectangularly shaped, long and narrow drain. It can be installed at the entrance, along the wall, or in the center of the shower floor.
Linear drains function by allowing water to flow through the drain and into a trough or channel beneath the shower floor. The water flows via a single slope towards the drain.
Linear drains are different from a traditional square or circular center point drain because of their sleek and nuanced appearance. But they also provide additional, functional benefits to homeowners, including increased safety, accessibility, and installation and design flexibility.
These drains are noted for their ability to be customized to fit wall-to-wall in a shower enclosure. QuickDrain's linear drain system offers trough extensions and covers may be trimmed onsite after the PVC body is installed. That makes it easy to provide wall-to-wall coverage. which helps minimize standing water or water traveling beyond the shower entry. This system also has stackable spacers that allow installers to adjust the height of the drain cover to ensure it is flush with the shower floor.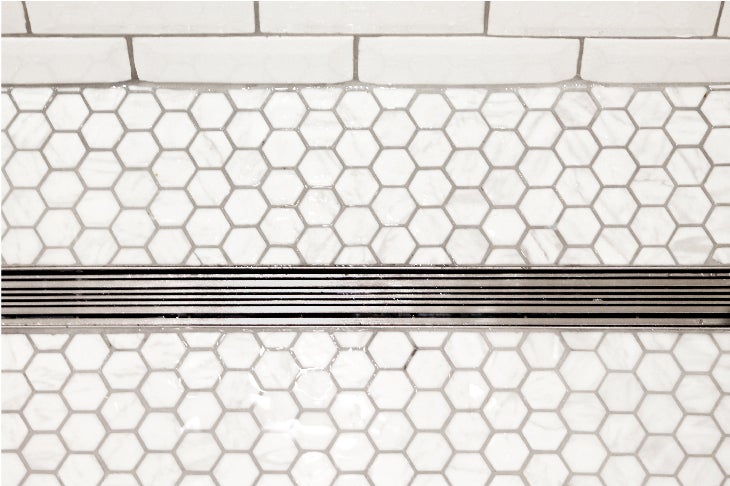 Center square drains: Square drains are typically located in the middle of the shower floor. Water flows via a conventional four-way, compound slope toward the drain. Square drains are typically available in 4-, 5-, and 6-inch sizes.
A cost-effective center point square drain option would be the Oatey 130 Series Shower Drain for tile shower bases. It is designed for use with tile or marble showers where a shower pan liner is used.
The three-part drain includes a base, a reversible clamp collar, and a threaded barrel. Configurations come in square or round, snap-in or screw-in. Finishes include polished stainless steel brushed nickel, or oil-rubbed bronze.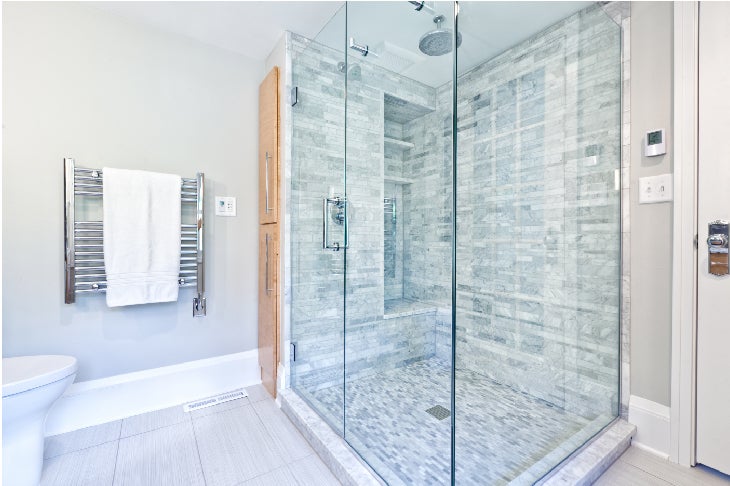 QuickDrain's SquareDrain is an elevated, point drain shower system that stands out for its design, ease of use and versatility. This complete shower system can be installed in just two hours, saving time and money.
The SquareDrain point drain system offers versatility and flexibility with features like its patented universal flange adapter, making it job-site-ready for new and retrofit applications, such as tub-to-shower conversions.
With this background in mind, let's take a look at five considerations that should drive your choice between a linear and a square drain.
1. Aesthetics
The choice between a linear or a square drain can be as simple as the look and shape you prefer. If you are looking for spa-like, luxury, high-end aesthetics, a linear drain would be the way to go. A linear drain is unique and an especially good choice if you want to make an impression.
A center square drain will be your best bet if you're looking for a more traditional look and feel. However, opting for a center square drain does not mean you must sacrifice style. Many square drains have elegant cover designs that appeal to every décor and need.
QuickDrain's expanded line of decorative covers and finishes are available for SquareDrain and complements all major design trends, including mid-century modern, industrial, contemporary, and modern farmhouse.
2. Cost
The choice between linear and square drain will likely depend on your project budget. While the cost of a complete shower system depends on the shower footprint, center square drains can usually be purchased at a fraction of the cost of linear drain systems. The installation and labor costs are also less because center point square drains require less material, customization, and onsite modifications.
However, the benefits of a linear drain might outweigh the cost advantages of a center point drain, especially if you are renovating or building to age in place, or if you are looking to create a wet room.
If you are simply looking to accomplish the look and feel of a linear drain without certain functionalities like a curbless entry, opt for an Oatey DesignLine linear drain.
Available in 18 different variations, DesignLine linear drains are made of 304 stainless steel. Designed to fit any aesthetic, DesignLine offers two cover finishes, Matte Black and Stainless Steel, and three cover designs, Square, Tile-In and Wave. Each will help achieve the best fit, form and function in any tiled shower.
DesignLine comes fully assembled and includes leveling feet that enable quick and easy height adjustment for easy installation.
3. Tile Choice
The single slope toward the linear drain opens up endless opportunities for tile choices while also minimizing grout lines. By eliminating the four-way slope in the shower pan, a linear drain allows tilers to create an uninterrupted flow from the overall bathroom to the shower with large format tile and solid surface materials.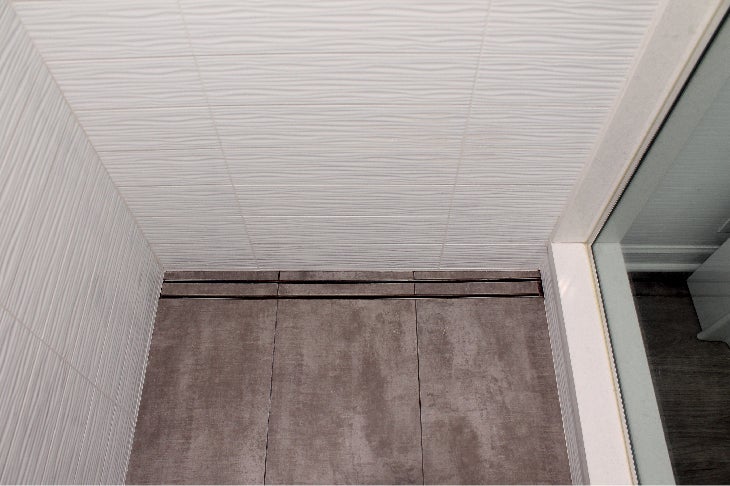 Using a square drain instead of a circular center drain will open up some tile options, because it will be easier to install, because most tile is also square-shaped. Consequently, the tiler will not need to cut a circular shape into the tile.
4. Maintenance
As noted above, by accommodating larger format tiles, linear drains will reduce the number of grout joints and seams where mold, mildew and grime can take hold.
Linear drains can also extend the shower floor's square footage, promoting complete water evacuation in curbless enclosures. As a result, there is less chance of water pooling and running out under the shower door into the bathroom. QuickDrain linear drain's fully sloped troughs promote efficient water drainage to minimize slip hazards and reduce mold, mildew, and bacteria growth.
A square drain means more grout lines where mold can accumulate, requiring a little extra cleaning and maintenance.
5. Application
The choice between linear and square drain will highly depend on your application. As mentioned, if you are remodeling to create a wet room or a curbless shower, a linear drain is the right choice.
Linear drains are the ideal solution for creating ADA-compliant showers and wet spaces that are universally accessible. With only one slope and no barrier to cross, the floor more easily accommodates a freestanding bench, a wheelchair, or some other mobility aid.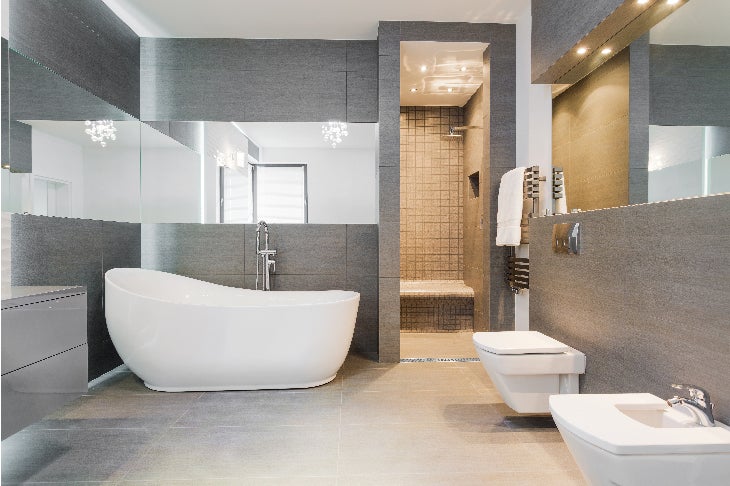 If you're looking to age in place, you will benefit anytime safety measures can be taken into consideration within an upgraded bathroom design. A single-sloped shower with non-slip surfaces and minimizing hazards, such as tall tub skirts or curbs, will provide increased safety.
If members of your family struggle with mobility, have disability needs, or are even recovering from surgery, a linear drain will positively change their shower experience. But again, if you prefer a more conventional, cost-effective drain solution, a center square drain is your best option.