Whether we're talking about a restaurant menu or a manufacturer's building-product line, having many options has benefits.
But when it comes to types of drains, the current wide array of options can make choosing the right product daunting, especially when the choice is crucial in ensuring proper drainage and preventing issues.
Seven Factors to Consider When Selecting a Drain:
1. Know the Pipe Material
When it comes to drains, steer your product selection in the direction of like for like. If you're using a PVC piping system, use a PVC drain, while an ABS system requires an ABS drain.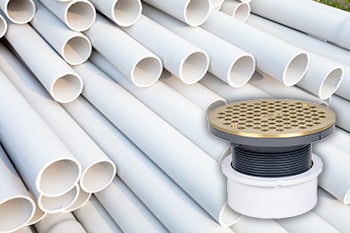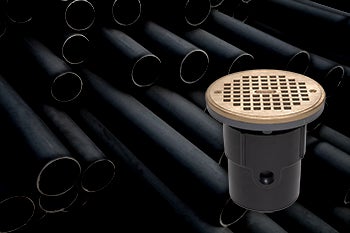 For general-purpose PVC or ABS usage, Oatey offers drains like the Oatey® Hub PVC General Purpose Drain and the Oatey® ABS General Purpose Drain. Both feature an adjustable barrel assembly to meet the finished floor height.
2. Match Your Pipe Size
Size does matter in terms of drains. Matching pipe size to the correct drain size is necessary to eliminate any mishaps down the line. Be sure to read the specifications on the product website page, submittals, and packaging, all of which provide details in pipe size.
For example, the Oatey® 101 PS Series Solvent Weld Shower Drain, designed for simple installation by sealing to pre-formed shower stall bases with fiber and rubber washers, can accommodate 4-¼"-inch universal snap-tite strainers but should be solvent-welded to a 2-inch pipe.
On the other hand, the Oatey® Testable 130 Series Drain, designed for use with tile or marble showers using a shower-pan liner, can fit over 2-inch pipes and fit inside 3-inch pipes.
3. Pay Attention to Surface Area
Staying within the theme of like for like, draining a larger surface area requires a larger drain. So, for drainage in a garage, patio, or other large outdoor areas, use the 6-inch by 6-inch Oatey® Utility Drain to accommodate the larger space. This drain is available for both ABS and PVC applications.
For a smaller surface area, such as a shower base, drains like the Oatey® Series Offset Shower Drains are the best options.
Also available for both ABS and PVC applications, this series allows for a 1-½-inch margin of error when roughing in the pre-formed shower stall base. This offset offers room to work around joists and imperfect slab penetrations.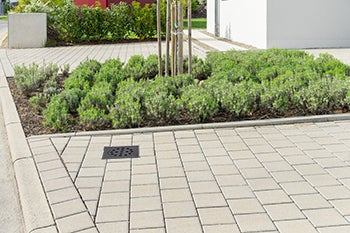 4. Pair Drain with Discharge Rate
It's important that the drain can adequately handle the anticipated volume of drainage. Drains are designed to handle certain discharge rates, measured in gallons per minute (GPM).
For example, a floor drain in a commercial kitchen may need to handle a higher flow rate than a floor drain in a residential basement. Consequently, it's important to know the discharge rate of whatever equipment you must connect to a drain.
In addition, choosing a drain with a higher flow rate than required can be unnecessarily costly, while choosing one with a lower flow rate can lead to clogs and other issues. In short, carefully consider the discharge rates of the application when selecting your drain.
5. Decide if Waterproofing is Incorporated
Drains don't always require a waterproofing membrane, so be cautious in selecting the appropriate drain. Basement floor drains fit into this category. Oatey offers an All Plastic Snap-In Drain that can be inserted into a Schedule 40 DWV pipe cut flush with the floor for easy removal.
For a more permanent installation, the snap-in drain can also be solvent-welded. It comes in just one piece, which prevents the cover from being removed.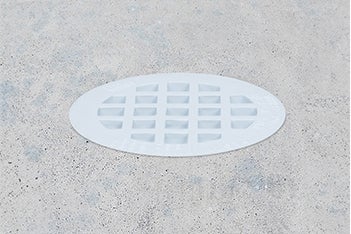 6. Consider Drain Profile
The drain profile is important in the overall aesthetic of the space and can also impact water flow into the drain. A prime example of a low-profile floor drain is the Oatey® Testable 130 Series ABS Round Low-Profile Drain, which allows for installation in tight spaces, like retrofits and renovation. This drain also contains double weep holes and weep channels that optimize and ensure proper drainage.
7. Factor in Aesthetics
Whether it be a utility floor drain or sifting through types of garage floor drains, consider the aesthetic options available to allow for the perfect blend into the environment. Drains come in various colors and finishes, from matte black and white to brass and stainless steel.
The Oatey® 101 PS Series offers shower drains with polished brass and stainless-steel strainers that can complement a bathroom's décor. This series can mechanically attach over a 2-inch DWV pipe.
The 130 Series drains have some beautiful color finishes and drain cover designs, such as tile-in, square/round etc.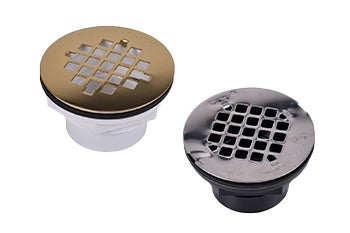 Additional Tip: Utilize a trap seal.
For drains that don't frequently see water, choosing a seal such as Oatey® Drain Seal can block odors, sewer gas, and other elements from entering the home or building through the floor drain while simultaneously allowing water discharge through the DWV system. Oatey's Drain Seal, designed in the shape of a duck bill, can be easily installed by pressing it into the drain base. It is used in shower drains and general-purpose floor drains.