The plumbing system within a house plays the most ingenious game of hide-and-seek. Hidden intricately behind the walls of your home, your plumbing system works to bring potable hot and cold water to and from different points of the house as quickly and efficiently as possible.
But what happens if the system requires repair, or if access is needed to perform work on the behind-the-walls system itself?
This is where a plumber's access panel comes into play.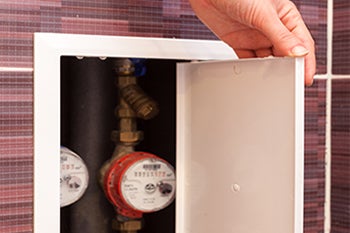 What is a plumbing access panel? When do you use it?
A plumbing access panel provides easy access to plumbing-system elements behind the wall, such as a shut-off valve, drains, etc., by way of a panel or door. This cost-efficient and time-saving panel or door can be easily opened or removed, eliminating the need to break through and repair the drywall each time access is needed.
This access is vital to keeping your plumbing system healthy — and not just when a repair or shut-off is needed. Regular plumbing maintenance is necessary for the system's health, and plumbing access panels allow ready access whenever the system needs a clean-out or inspection.
Installed between wall studs, plumbing access panels can be flush or surface-mounted within the drywall during construction or a rough-in. The panel can be located behind a bathtub, shower, or even in a closet.
The purpose, application, and area that needs access can determine the type of plumbing access panel required. Let's explore some of the more common options available.
Types Of Access Panels
Plastic access panels
Constructed with high-quality material, plastic access panels are one of the more costly options of the group. Rust- and fade-resistant, this type can be easily painted to match the room decor.
Oatey® offers a variety of plastic access panels in different shapes and sizes. All are made of ABS, a lightweight plastic with high-impact resistance.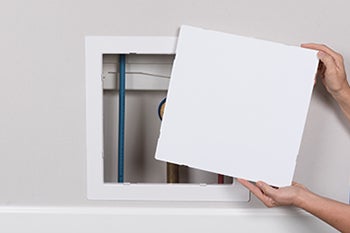 Metal Access Panels
Available in fire-rated and non-fire-rated options, metal access panels offer durability. Their makeup resists rust and corrosion, which is why they are frequently used in industrial and commercial buildings. Although this option is higher in cost, metal makes up for it in longevity and durability. This type also offers a level of security, because they cannot be easily opened.
Wooden Access Panels
Panels made of this more traditional material lack the longevity offered by their metal or plastic counterparts; however, they do offer a more rustic appearance. Like plastic panels, they can easily be painted to fit the room's aesthetic and are frequently used in residential applications.
Drywall Access Panel
Installed to align with the drywall surface, drywall access panels are easy to install and are perfect for hiding water valves. Plastic or metal panels are best for this type of application.
Plumbing Access Panel Door
True to its name, this panel type offers ease of access through an actual door. Commonly installed behind a bathtub, a shower or under a sink, plumbing access panel doors make repair and maintenance efficient.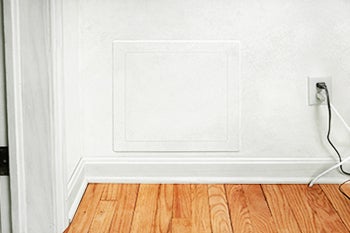 With various plumbing access panels, finding the right access panel to match your budget and application is easy. Access panels allow for long-term cost savings by reducing the chances of repairs with easy access for maintenance to your plumbing system and eliminating the need for breaking through the drywall to access the system.
Check out our project guide, How to Install an Access Panel: Safety Proof Your Home Without Having to Compromise on Aesthetic.