Do you have a rocking toilet, leaking around the base, or a sewer gas smell in your bathroom? These are all signs you may need to replace your toilet wax ring.
A toilet wax ring is a seal between the fixture and the closet flange on the floor. Its primary purpose is to prevent leaks from the bottom of the toilet and provide an odor-proof seal. These rings are durable and relatively simple to install.
Oatey offers a variety of wax rings to meet your bathroom needs. The most popular is the Hercules Johni-Ring®, a 100%-pure, high-grade petroleum wax that is soft and malleable enough to conform to rough and uneven surfaces. It features a clean release tray for no-mess handling and easy installation. Reinforced wax gaskets are also available.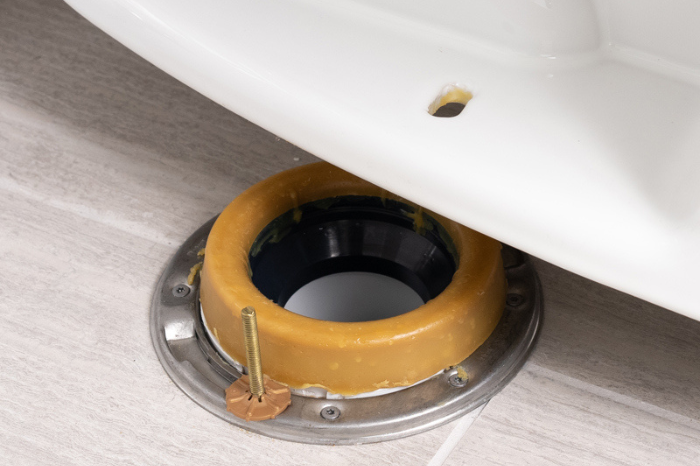 Used for over 100 years, wax rings are an inexpensive, yet vital, part of installing a leak-free toilet. In this blog, we cover how to choose the correct wax ring size, crucial installation tips, and other frequently asked questions.
How to Determine Toilet Wax Ring Size
Wax rings come in two diameters, 3 and 4 inches, to comply with the standard size for toilets in the United States.
Thickness is also a specification that should be considered. Again, you have two options: regular and extra thick.
To determine the wax ring size, remove the toilet to see the inside diameter of the waste pipe.
Diameter: When installing a wax ring, the diameter must be the same as the opening on the bottom of the toilet. All Oatey wax rings fit 3-inch or 4-inch waste lines. You will need a 2-inch diameter wax ring for a urinal installation. Once you have measured the diameter of the waste opening, you can then remove the old wax ring and replace it with a new one.
Thickness: Look at where the flange is set to determine how thick your wax ring should be. A regular wax ring is all you need if the flange is set on top of the finished floor. Oatey® Heavy Duty Wax Bowl Ring can be used to set any floor type closet bowl.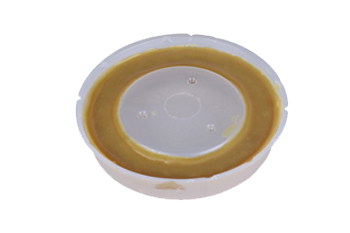 A thicker wax ring is used when the flange has already been set on the subfloor and is flush with the tile instead of sitting on top of it. This will help make up the height difference. Oatey® MaxWax Bowl Ring with Sleeve is 40% thicker than standard rings, so it's perfect for use when standard rings can't make a good seal. Wax rings with plastic sleeves are designed to extend the discharge opening, creating a more positive seal that ensures proper bowl alignment.
For instances where the flange is too low, you can raise it with a repair flange or Set-Rite Kit. It is not recommended to stack wax rings because they will not seal together and would leave a leak path between the two.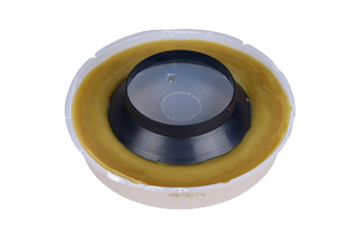 How to Replace a Wax Toilet Ring
You will need to replace the wax ring whenever you remove a toilet. But if the ring fails and your toilet starts to leak, you'll need to check if any other repairs are required — such as repairing a broken toilet flange.
You always want to start fresh when replacing a wax ring, so you must completely scrape off the old ring with a putty knife. From there, the installation is pretty simple. Place the wax ring on the flange and then drop the toilet into place.
When reinstalling the toilet, it's important to compress the wax ring to make the toilet sit flush on the floor before bolting it in. The best way to do this is to use a slight, side-to-side twist motion until the bowl is completely leveled. Then tighten the toilet bolts and hook up the water supply.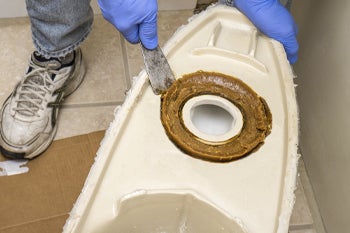 Here are a few additional installation tips:
We recommend keeping the wax itself between 70°-110℉. If you need to warm up your wax ring in a pinch, fill the sink with warm water and let it sit in there for a few minutes to bring it to the right temperature for installation.
To ensure a good seal, do not rock the toilet when setting it back in place; instead, as mentioned above, twist it from side to side.
Anytime a wax seal is replaced, you should replace the T-bolts that attach the toilet to the flange. Some wax rings come in a kit that includes new mounting bolts.
For more detailed, step-by-step instructions on replacing a wax toilet ring, check out our project guide to learn more.
FAQs
How long does a toilet wax ring last?
The shelf life depends on how the product is stored. If a wax seal is stored in a dry location exposed to temperatures between 70°F and 110°F, the shelf life is five years from the date of manufacture.
Once installed, a wax seal should last the life of the toilet, 20 or 30 years, without needing to be changed. There are times, though, when the wax ring needs to be replaced, such as when your toilet begins to leak around the base or starts rocking.
What ingredients are in wax gaskets?
Oatey and Hercules wax seals are a blend of Slack Wax (unrefined feedstock) and Micro Crystalline Wax (refined feedstock). These are used to control the properties and result in a premium, finished product.
Can wax rings be stacked on top of one another to compensate for the extra space between the toilet bowl and flange and still create a watertight seal?
As noted above, although a common practice, Oatey does not recommend stacking two wax seals on top of each other. Instead, we recommend using a jumbo or extra-thick wax ring. Also, consider raising the flange height with one of our spacer kits.
Contact our Technical Department for any questions regarding your project at technical@oatey.com.