Utility or Lavatory Valve Boxes
Utility supply boxes include kitchen, lavatory, toilet and dishwasher applications. The utility MODA supply box line is versatile and can be used for various fixtures: kitchen sinks, toilets, dishwashers, and bathroom sinks. These MODA supply boxes come with different outlet options, including a three-eighths compression outlet pre-installed in the PVC box, commonly used in many household fixtures.
Here is a breakdown of MODA Utility Supply Boxes:
Available in standard and fire-rated options, MODA Kitchen Supply Boxes include three 3/8-inch outer diameter compression valves pre-installed in dual boxes — one for the dishwasher and one for the faucet. MODA supply boxes are made of high-impact polystyrene and feature interlocking wing flanges that allow for on-stud and straddle-stud installations.
Available in standard and fire-rated options, MODA Lavatory Supply Boxes include two 3/8 -inch outer diameter compression valves pre-installed in a PVC box with sturdy interlocking brackets, allowing on-stud and between-stud installations.
The compact MODA Toilet and Dishwasher Supply Boxes include one 3/8 inch outer diameter compression valve pre-installed in a PVC box with sturdy interlocking brackets allowing on-stud and between-stud installations. Toilet supply boxes have a single valve connection because this fixture requires only a cold-water supply connection.
Gas Valve Boxes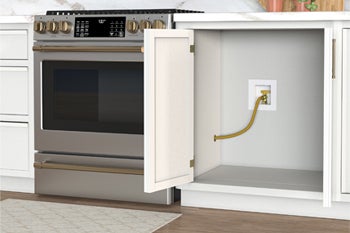 A gas supply box is a space-saving option for gas-line connections because gas fittings are typically larger. These boxes allow for a cleaner look and extra room when pushing appliances back against the wall.
Oatey offers MODA supply boxes for use in residential, commercial, and industrial direct-connect applications, including gas ranges, wall heaters, water heaters, garage heater supplies, furnaces, and dryers. These boxes come in half- and three-quarter-inch sizes with a quarter-turn valve for a threaded, mechanical connection to the gas supply.
Secondary Drain Boxes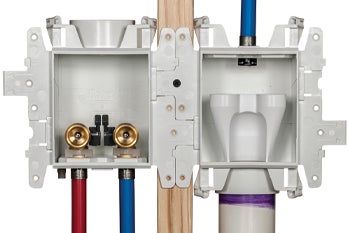 MODA supply boxes include a dedicated option for secondary drainage needs. These boxes are designed for water softeners, condensate lines, or any machinery requiring a separate drainage connection. They allow for concealed installation within walls, providing a clean and professional appearance.
MODA Secondary Drain Kits offer a seamless connection from inlet pipe to drain (including air gap) and are available in 1/2-inch and 3/4-inch sizes for F1807 PEX, F1960 PEX, copper, and CPVC connections. Rated for high-flow applications, the secondary drain kit includes a quarter-turn drainage funnel with an umbrella and a pre-installed inlet adapter for connection to condensate, water-softener, or other auxiliary drain lines. A drainage funnel and umbrella provide a 1-inch air gap while permitting the use of a washing machine hose in the same drain line.
AAV Adapter Boxes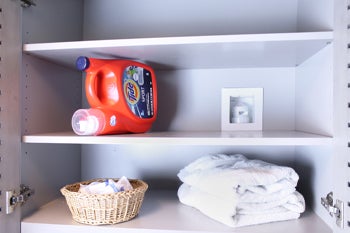 For customers using Air Admittance Valves (AAV) that need to remain accessible, Oatey offers Sure-Vent® Adapters. The quarter-turn adapter with gasket maintains an air-tight seal and can be retrofitted on any drain box. These adapters allow easy installation of AAVs and offer different faceplate options, including a louvered OR a semi-cover. Note: The adapter boxes do not include a Sure-Vent® AAV.
Fire-Rated Options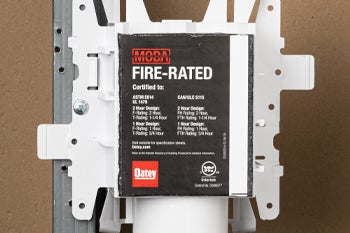 Oatey's MODA supply boxes also include fire-rated versions for commercial projects and other instances where fire-rated products are required. These boxes feature an intumescent pad that provides the necessary fire rating, ensuring compliance with safety regulations.
MODA Fire-Rated supply boxes come with metal side and L-shape brackets to provide support under extreme temperatures.
MODA Valves and Accessories
Oatey offers a range of replacement parts and components designed for use with the MODA® Supply Box System, including faceplates, brackets, tailpiece adapters and more. All valves are available with and without hammer arrestors.
Here is a breakdown of MODA valves and accessories
Valve Connections: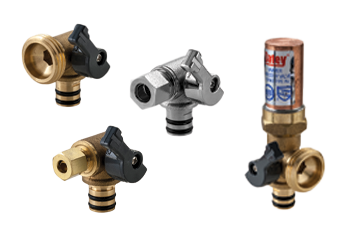 3/4-inch Male Thread Outlet (Washing Machine)

1/4-inch OD (outer diameter) Compression Outlet (Ice Maker)

3/8-inch OD Compression Outlet (Lavatory, Toilet, Dishwasher)
Valve Tops:
Valve Tailpieces:
Copper Sweat

F1807 PEX (Brass)

F1960 PEX (Brass)

CPVC

Push Connect
Please visit our supply boxes page for more information about Oatey's MODA supply boxes and benefits.