When it comes to plumbing projects, having a reliable and adaptable plumbing supply box can be a game-changer. That's why we developed the innovative MODA Modular Supply Box System. This outlet box streamlines water supply and drainage connections, meeting the needs of various applications.
The MODA box combines the best features of traditional supply boxes, offering plumbing professionals a convenient, all-in-one solution for washing machines, dishwashers, ice makers, kitchens, and air admittance valves. This single-box system allows residential and commercial plumbers to save valuable time and avoid frustration during supply box installations.
The MODA box system is designed with multiple mounting configurations and fitting options, providing a sleek and compact solution that is quick and easy to install.
Key features of this innovative supply box system include:
Modular, flexible design
Comprehensive connections, accommodating both hammer and no-hammer specifications
Extensive configuration options, such as side-by-side, over-and-under, upright, and inverted, to fit a variety of wall locations
Ability to be separated for rear-drain and side-water applications, making it ideal for stackable washer and dryer setups
Optional use as a condensation drain
With the Oatey MODA Modular Supply Box System, plumbing contractors can enjoy efficient and hassle-free installations, ensuring their projects run smoothly.
Let's dive into a Q&A session with Master Plumber Doug Buchan to get his expert insights and answers to common questions about Oatey's MODA Supply Box System.
What makes the Oatey MODA box system so innovative?
Our team of plumbers and industrial engineers collaborated to design the MODA box, drawing from their extensive knowledge of plumbing problems that commonly arise on job sites. By identifying the root causes of these issues, we were able to develop a supply box installation that addresses them head-on.
No matter the application — washing machines, ice makers, lavatories, kitchen sinks, dishwashers, or toilets — MODA Supply Box Systems have the same footprint. This uniformity ensures a consistent look throughout the entire building or home.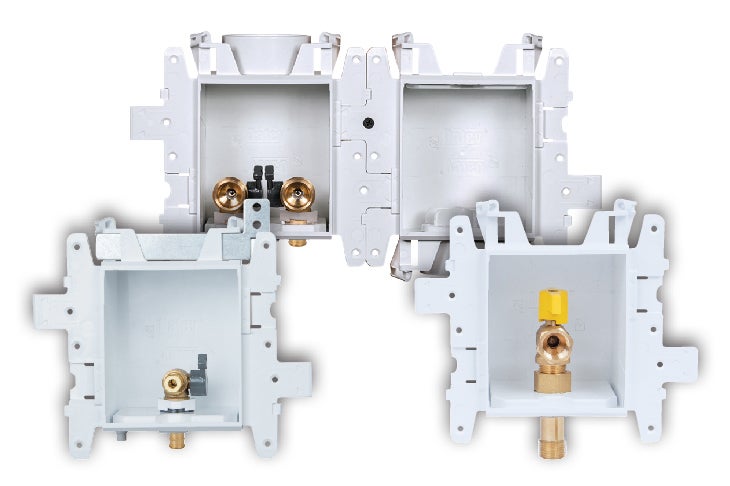 So, if you're dealing with any plumbing issues, the MODA box system could be the ultimate fix-all solution for you. Don't let plumbing problems stand in your way when the perfect solution is within reach.
How does a MODA box make a contractor's job easier?
MODA is designed to make life easier for plumbing contractors in every way possible.
Versatile Installation: The MODA box features incredibly sturdy wing flanges that snap together in any configuration, providing endless installation options. The plumbing contractor can mount the boxes side-by-side, over-and-under, upright, inverted, or separately for multi-wall installations. The flexibility is unmatched.
Easy Orientation: The MODA box allows for simple and flexible orientation. You can use a single box for a washing machine installation with an inverted valve. No matter how you turn it, the interior dimensions are spacious enough for comfortable work, and it can effortlessly accommodate components like hammer arresters. It's all about convenience.
Quick and Easy Installation: Installing and repositioning the MODA box takes minimum effort, thanks to the nail guides and center support that add support to metal studs in commercial applications, ensuring a secure fit. The two-piece valve replacement can be completed in under 30 seconds without cutting into drywall — efficiency at its finest.
Saves Time and Money: The MODA box minimizes inventory management since it requires only one faceplate for all box types. Contractors don't need to worry about stocking different faceplates for different installations.
All these benefits help contractors reduce insurance claims, minimize drywall work, and avoid unnecessary repainting. The MODA box system streamlines the contractor's workflow, making their job more efficient and hassle-free. To see how easy it is to install the MODA box, check out this video.
What are some features exclusive to the MODA® box system?
The MODA box system comes with a range of exclusive features that set it apart from other options on the market. Here are some of its unique features:
Modular, Flexible Design: The MODA box system allows for easy customization and adaptation to different plumbing requirements. It offers comprehensive connections and options for hammer/no-hammer usage, accommodating various job-site specifications.
Innovative Drain Box: The MODA box system includes an innovative drain box that features a convenient emergency drain port for connecting a runoff tube. This feature enables quick identification and addressing of water-connection leaks, preventing further damage and reducing insurance claims and labor.
Versatile Water Supply Connections: The water-supply connections of the MODA box system can accommodate all required job-site specifications. They also come equipped with a quarter-turn test plug, eliminating the need for additional tools during testing.
Universal Single Box Platform: The MODA box system utilizes a universal single box platform, providing maximum versatility, ease of installation, and reliable performance. Additionally, there are Fire-Rated platform options, enhancing safety and compliance.
Universal Faceplate: The MODA box system features a universal faceplate with a white finish compatible with all box types. This provides a clean and compact look, seamlessly blending with any design.
Additionally, the system offers three inserts (partial coverage, full coverage, and louvered) that can be snapped into the standard faceplate. These inserts can be painted or wallpapered over, allowing for ultimate customization and discretion.
With its unique features, the MODA box system delivers functionality, convenience, and aesthetics for a range of plumbing applications.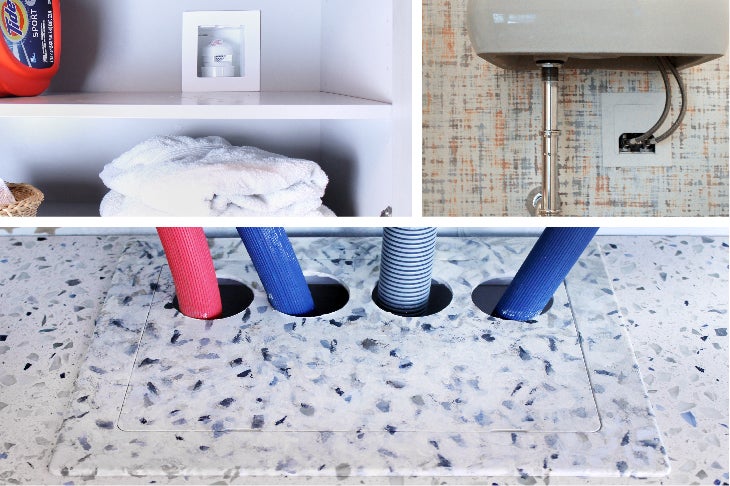 Are there any other products on the market that can compete with the versatility and flexibility of the MODA box system? If so, how does the MODA box stack up against them?
While a few other products on the market aim to offer versatility and flexibility, the MODA box system truly stands out. Here's how the MODA box system compares to other options: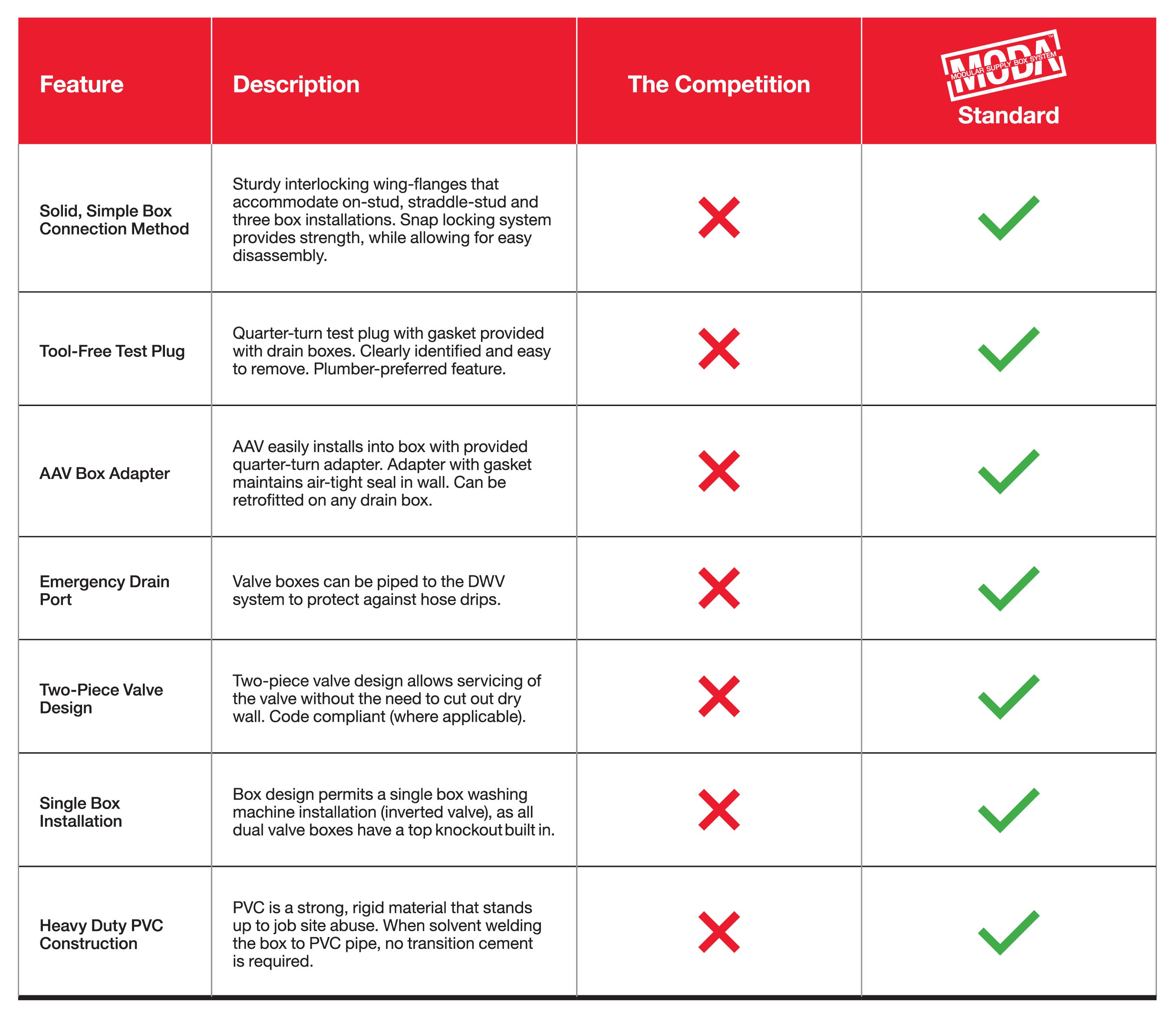 Overall, the MODA box system not only matches but exceeds the versatility and flexibility offered by other products in the market. Its unique design, innovative features, universal faceplate, and Fire-Rated performance make it the top choice for plumbing contractors looking for a solution that can easily handle a wide range of installations.