What is caulk and sealant?
With an abundance of different caulks and sealants on the market, it's not uncommon to feel overwhelmed when choosing the right product for your next bathroom or kitchen project. A great place to begin is to understand what exactly separates caulks from sealants.
You've probably noticed the terms 'caulk' and 'sealant' are often used interchangeably, even among industry professionals. The two products serve a similar purpose, which is to act as sealing agents to fill gaps and cracks, as well as bonding agents between building materials, such as joining countertops to sink bases. They are both applied to surfaces to prevent leaks using a caulking gun, which likely explains why a sealant is technically categorized as a type of caulk.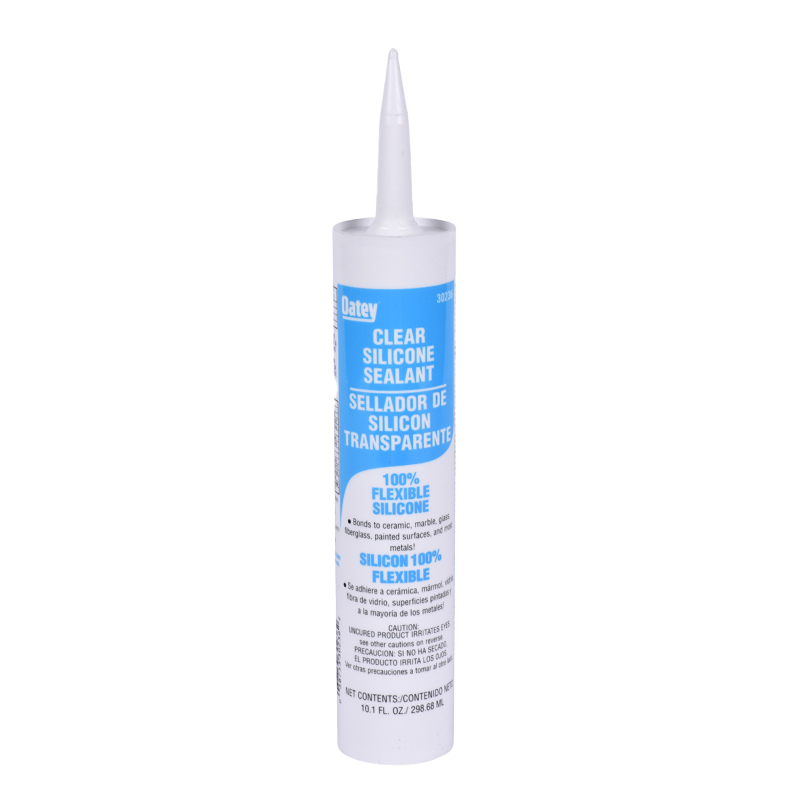 What is the difference between caulk and sealant?
The key distinction between a caulk and sealant? Elasticity. Caulk is typically made from a mixture of latex and acrylic materials, which make it more rigid and prone to shrinking when cured. A sealant offers superior elasticity and water resistance because it primarily contains silicone. The silicone material allows a sealant to easily expand and contract during changing temperatures without losing its airtight/watertight seal. Therefore, sealants are a smart choice for areas that experience frequent weather fluctuation and high moisture levels, such as kitchens, bathrooms, as well as around doors and windows.
The two most important factors to keep in mind when selecting a caulk or sealant are the temperature range and moisture level at the site of application. Let's explore the unique properties and benefits of some of the most common products to ensure you find the best fit for a variety of indoor and outdoor projects.
When would you use a silicone sealant?
A 100% silicone sealant bonds to porcelain, ceramic, marble, fiberglass and most metals. It's ideal for wet, exterior applications because it's extremely weather-resistant and contains antimicrobial properties that will inhibit the growth of mold and mildew. The sealant is also UV-resistant, which protects against yellowing and allows a seal to last longer when exposed to direct sunlight.
Silicone sealant is fast drying, fully curing within 24 hours.
Due to a silicone sealant's strong adhesiveness, elasticity and water-resistant properties, it's an excellent choice for kitchen and bath applications including:
Bonding top mount and undermount sinks to countertops

Bathtub/shower surrounds, doors and drains

Sealing gaps and seams in gutters

Filling exterior holes made by nails or screws

HVAC applications
When would you use an acrylic-latex caulk?
Acrylic-latex caulk, also known as latex or general purpose caulk, is water-based and provides excellent adhesion to most common building materials, including wood. Unlike a silicone sealant, it is paintable once cured, produces less fumes and can be cleaned up with mild soap and water rather than a chemical solvent.
This type of caulk is also easier to apply, ideal for hard-to-reach and time-sensitive applications. However, it's important to keep in mind that acrylic-latex caulks only provide a moderate level of water resistance, making them better suited for interior applications without repeated exposure to water. Acrylic-latex caulks can take up to 72 hours to reach full cure.
Tub-N-Tile caulk, a specialty acrylic-latex caulk, also includes an advanced mildewcide, defending against mildew growth in damp areas.
Common plumbing applications for regular and specialty acrylic-latex caulk include:
Securing loose tiles

Caulking bathtubs, showers, sinks and toilets

Sealing crown molding and baseboards

Sealing gaps around plumbing fixtures
When would you use a hybrid caulk, like siliconized acrylic-latex?

If you're looking to combine the strong sealing properties of a silicone sealant, as well as the ease of application and clean up that an acrylic-latex caulk offers, opt for a siliconized acrylic-latex caulk. The hybrid caulk provides a waterproof seal that will not crumble or shrink when changes in temperature occur, making it both flexible and durable. It is also made to dry quickly (only 24 hours) and glide smoothly on surfaces for frustration-free shaping and blending perfect for:
Bathtub and shower surrounds

Backsplashes

Sealing exterior siding

Reducing window and door drafts
Pro Tip: Please read manufacturer instructions and recommendations on products to ensure best practices for safe and effective use.