The bathroom is easily one of the most visited places in a home, so why not make it one of the best-looking places in your home? Using trending bathroom colors can instantly take your bathroom from mediocre to modern and on-trend.
A cohesive, well-thought-out color palette creates a space that feels connected and put together. Focusing on the color of the tile and the walls easily creates this feeling. To determine which colors suit your ideal bathroom, let's take a look at these trending bathroom colors and aesthetics; monochromatic and organic.
These unique and well-loved aesthetics are recognized for their simplicity and ability to fit within various homes.
Monochromatic bathroom color scheme
A monochromatic color scheme is a one-color scheme created using different tones and textures of that one color; i.e., a few different hues, tints, and shades of a particular color.
To keep this one-color scheme interesting, use a contrasting color when decorating to add pops of color.
For example, a bathroom with a black monochromatic color scheme can benefit from a touch of greenery or even colorful towels with an exciting print. Intense hues such as black and charcoal gray are showing up in more and more bathrooms.
Additionally, today's tile manufacturers have developed technologies that give you the opportunity to create a genuinely unique shower and bathroom. Personalize your finishes with a multitude of colors, graphics and tones, and choose from tile shapes that include fish scale, chevron and hexagon.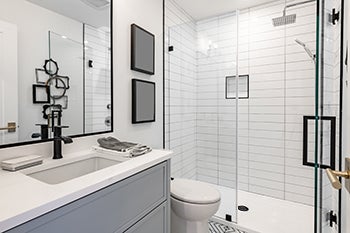 Using a white palate on the tiles and walls in the bathroom could also perfectly highlight another contrasting fixture and finish. For example, the timeless look of subway tile in the shower allows a strong, eye-catching contrast between white tiles and matte black faucet and drain finishes. There are many interesting new finishes to consider for your faucets and fixtures, but don't overlook the potential of your drains to make a statement.
You can choose from a wide variety of shower drains, including different types and styles. The drain is an often overlooked feature in a shower renovation. But if you want your shower to really stand out, you need to factor its drain into your plans. Some exciting new trends in shower drains include installing linear drains, nearly invisible tile insert grates, and different sizes of the more traditional square and circular drains.
Oatey's 130 series drains in a matte black strainer finish will create the perfect contrast in a white monochromatic bath color scheme.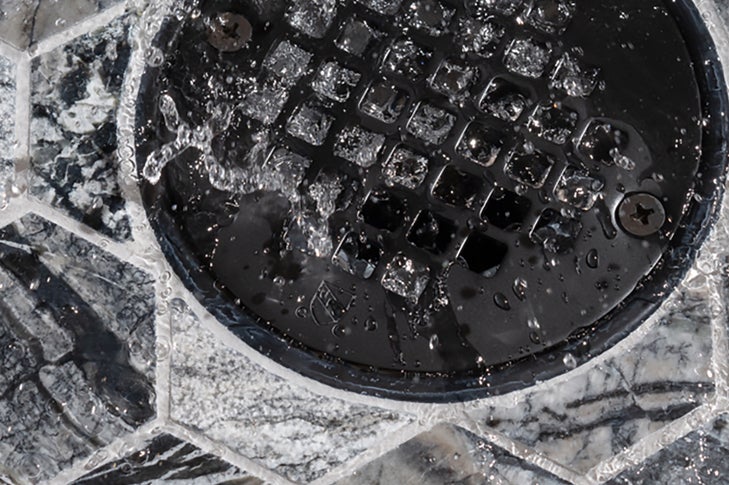 The sleek, neutral finish is also highly versatile and pairs well with any bathroom wall, tile, hardware, or fixture color/pattern. Versatility makes it simple to mix and match with existing décor elements. The simple, clean lines of black matte fixtures – when coupled with faucets and lighting fixtures bearing the same finish – create a modern and luxurious feel.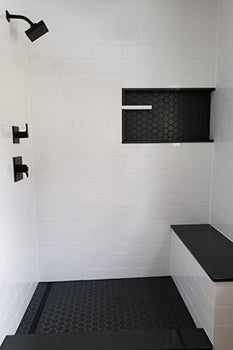 White, glossy cabinetry will further draw the eye to the stand-out black fixtures.
Installing a wet room is the way to go for an immersive monochromatic style. With the shower and tub both encased behind a see-through glass wall and door, the white tile will surely highlight the black drain, shower head, and other small fixtures. While it's a more comprehensive project, it yields an expensive, spa-like look that will impress each bathroom visitor.
Create a modern, functional wet room using QuickDrain's ShowerLine for superior flexibility, especially if you want to convert a tub into a curbless shower. Crafted with plumbing and design professionals in mind, ShowerLine can be customized to fit nearly all shower-enclosure sizes and conditions quickly and affordably. QuickDrain offers stylish shower drain cover designs and finishes, including Brushed and Polished Gold, Polished Rose Gold; Oil Rubbed Bronze; and Matte and Polished Black.
To create a modern bathroom with stand-out fixtures, choose the monochromatic aesthetic for your bathroom.
Organic bathroom color scheme
The organic aesthetic is all about bringing the outdoors in. The easiest way to capture the outdoor, organic feel is by adopting earthy tones in the tiles and walls surrounding your fixtures. Some common organic colors are olive green, adobe brick brown, and Hubbard squash yellow. Pairing these colors with carefully placed plants guarantees your bathroom will feel bright and youthful.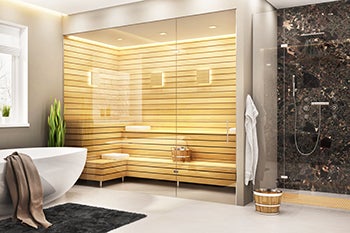 Think the common stainless steel faucet and shower drain finish will ruin the desired aesthetic? Oil rubbed bronze finishes will perfectly complement an organic color scheme, while adding a traditional feel to your space. The beauty of oil-rubbed bronze fixtures is that they exude the traditional warmth of bronze, but with a more nuanced and romantic finish. Unlike the yellowish tone of regular bronze, oil-rubbed bronze is highlighted by tumbled light and dark accents that give it a more antiqued look
Opt for Dearborn's True Blue Bath Waste kits in oil-rubbed bronze to add this color element to a new built-in tub.
Or take your shower to the next level with one of QuickDrain's designer cover finishes. The QuickDrain stone drain cover in an oil-rubbed bronze will beautifully blend into an organic bathroom.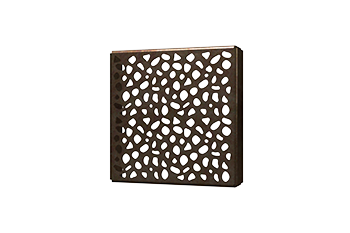 Additionally, finding bathroom rugs of various sizes that bring in the current colors of the cabinetry and tiles can give it a unique, organic look. Adding plants with pots that complement the other colors can also quickly make your bathroom feel more organic or natural.
Choose the organic aesthetic to build your at-home oasis for a truly unique and earthy feel.