In the hustle and bustle of everyday life, we want to use our bathrooms as a much-needed sanctuary from the madness. Sometimes we want to relax after a long day, turn on some music, light some candles, and take a refreshing bath or shower. However, reality may set in, and you realize that your bathroom space isn't exactly your envisioned environment.
Thanks to social media, we find ourselves gaining inspiration from (and maybe becoming envious of) those who depict their lives in their dream homes. The spa bathroom tag on Tik Tok has over 13.6 billion views, which further demonstrates our need to dive deep into social media platforms to seek out that clean and fresh space that will foster a sense of comfort and help manage stress.
If you feel ready to take the next step in renovating your bathroom, look no further. Below we share five ways you can revamp your bathroom space to ensure a spa-like experience:
1. Create a Wet Room with the Unique WallDrain
Wet rooms in high-end bathrooms continue to grow in popularity because of the flexibility, accessibility and luxurious feel they provide. As a space fully constructed of materials designed to get wet, a wet room allows you to utilize different surfaces and flooring, such as large-format tiling from floor-to-ceiling or polished plaster. You can also add a freestanding tub to your wet room or install a unique wall drain to improve the room's flow. The overall goal is to play with the illusion of space.
If you want to create a cutting-edge look that perfectly complements the wet room trend, consider installing an "invisible" linear drain. WallDrain from QuickDrain USA brings truly unique innovation to the modern bathroom shower.
This radically different concept in shower drains features an elegant linear design, but with no decorative metal components. Concealed behind the base of the wall, WallDrain allows water to gracefully exit via the downward slope of the shower pan into a drain channel. A contractor can install QuickDrain shower systems in a matter of hours, using pre-sloped PET panel kits.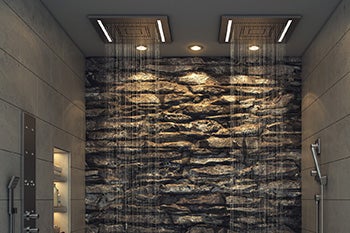 QuickDrain's ShowerLine linear drain is another drain option that can elevate your wet room space. The drain offers minimalist style, impeccable performance and ease-of-installation to help interior designers and remodeling contractors create jaw-dropping, zero-entry showers and wet areas.
Decorative linear drain covers and finishes, also from QuickDrain, allow you to truly customize your shower space. Choose from eight finish styles, ranging from matte black to brushed gold. Additionally, 12 drain cover designs help fit the drain into a specific theme you desire, including mid-century modern, industrial, contemporary and modern farmhouse.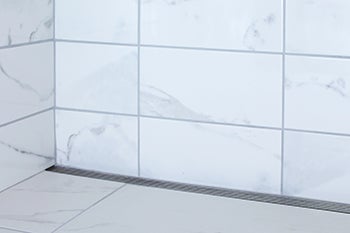 This variety allows homeowners to use these cover designs and finish styles to mirror their unique style. You can elevate your wet room and make a bold statement with your linear drain using either a striking metallic drain cover, sleek stainless steel cover, or barely-there materials, such as a tile-in cover.
2. Convert Your Shower Into a Steaming Sauna
It may seem like an afterthought for most people, but a showerhead in a bathroom can instantly change the everyday shower experience. There are many types to choose from, ranging from a simple single-spray to dual showerheads. However, try a home steam shower if you want to elevate your showerhead experience to an entirely different and luxurious level.
According to Healthline, a steam room can improve your health in several ways:
Improves circulation
Reduces stress
Loosens stiff joints
Boosts the immune system
There are many ways to accessorize your home steam shower based on your daily routine. Try using multiple steam heads to mimic a sauna-like experience. Add in color-changing lights so you can adjust colors depending on your mood. Utilize newer technologies like a sound system that will make you never want to leave the bathroom. Set aside therapeutic oils and fragrances you can add to your steam shower to further add to the spa-like experience.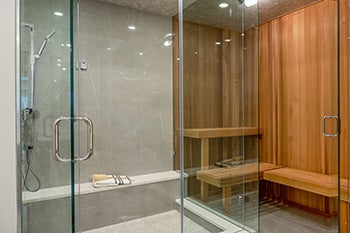 These customizations for a home steam shower allow you to create the epitome of a spa steam room without having to leave the comfort of your own home.
3. Relax With a Freestanding Tub
Any master bathroom can benefit from adding another luxurious element like a freestanding tub to enhance both the form and the function of the bathing experience. Aesthetically pleasing in its different shapes and sizes, freestanding tubs have grown in popularity in the past decade. Their flexibility allows you to adjust the space as needed and make the open area around the tub seem bigger.
According to Remodelista, homeowners can install a freestanding tub as long as the plumbing is adjacent. But that's not always possible, especially in home renovations. The 1916 Collection solves this problem with a drain that removes the guesswork and complexity of installing freestanding or island tubs, thus allowing for fast, easy and less expensive installation.
The 1916 Collection Freestanding Tub Drain provides simple installation between the P-trap and tub when installed during the rough-in stage in a new construction application. The drain fits inside 8 in., 10 in. and 12 in. joists and even inside 4 in. hole saw opening. Its compact size and the fact that it installs from above, not below, eliminates the need for access by the plumber from the lower floor. Removing that disruption makes this drain ideal for remodels, saving time, hassle and cost.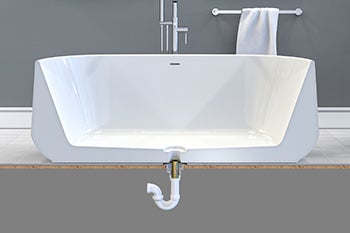 Available in ABS, PVC or cast iron with a plastic or stainless steel flange, the Freestanding Tub Drain is compatible with brass or Schedule 40 tailpieces.
It comes job-site ready, with a pre-installed tool-free test plug, a drain hub with adapter, and a protective cap that helps shield the drain while the tile sets.
4. Bring the Heat to Warm Your Space
A great way to create that spa-like feel right at home is to enhance your space with radiant heated floors. Heated flooring consists of placing heating mats that contain wiring or heating cables under your flooring surface. There are plenty of benefits to installing heated flooring in your bathroom:
Mimicking the hotel spa-like experience
Making your bathroom feel warm and cozy
Guaranteeing that you'll be able to make it through cold winter months
Bring in heated towel racks if you find that heated floors are not enough. They will ensure a fresh warm towel every single time you step out of the tub or shower. Additionally, various towel rack designs will offer a stylish look.
If you're already installing heated flooring and towel racks, why not create a trifecta of heated fixtures with heated toilet seats? Having a heated toilet seat can help relax the muscles and increase blood flow.
Homeowners can customize a heated toilet seat by using a remote or a control panel attached to the seat to modulate its temperature. Besides the obvious comfort and health benefits, heated seats allow homeowners to have more luxurious options when outfitting their new bathrooms.
5. Finish Off Your Space With Décor
After making some of these larger updates, you should finish your spa-like bath by adding decorative elements. Think about the finer details, such as the mirror, shelving, storage, and any additional features you think will fill up a clean area.
Look into adding some greenery that makes your bathroom homier. Or add dramatic lighting for a more elegant look. Try to cohesively bring the theme of your bathroom together by incorporating the drain finishes you added or the freestanding tub you installed.
Research the tips mentioned above to see where you are with your dream bathroom process. Having a headstart on your makeover will allow you to further research products that will best fit your needs. Combining elements like the unique WallDrain, a freestanding tub, a steam shower, and heated towel racks and toilet seats will make the renovations even more worthwhile.
No longer will you need to turn to social media and be envious of other people's bathrooms. Instead, you'll have created your own spa-like, dream bathroom that will seem impossible to leave.