Looking for an easy way to reduce water waste? Oatey's Mystic Rainwater Collection System quick and simple way to do so. With the environmental and cost-saving benefits of rainwater collection, the Mystic is a great addition to your home and garden routine.
The Mystic's unique built-in reservoir channels rainwater flow from the sides of the downspout while allowing debris such as leaves and dirt to go down the center. The result is more collected rainwater without the unwanted sediment. Oatey's Mystic Rainwater Collection System fits standard 2 in. x 3 in. residential downspouts.
1.

Measure

Measure a 6 in. section of the existing downspout at least 24 in. above the top of the preferred collection container or ground if redirecting rainwater directly into a garden or flower bed. The section must be square and perpendicular to the downspout.

Tip: The Mystic Rainwater System is made of UV-resistant material and can be painted to match existing hardware.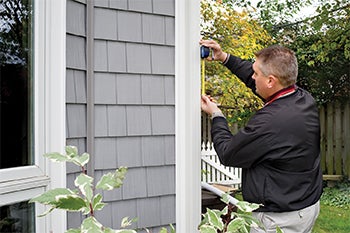 2.

Cut measured section

Cut out the measured section using a hand saw or rotary cutting power tool.

Tip: To avoid possible damage to the siding, place cardboard or protective material between the downspout and siding.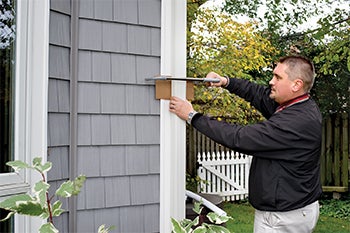 3.

Attach top half of the mystic

Place the Mystic into the downspout section. Be sure the gutter edges are free from burrs. You can do this by using a file.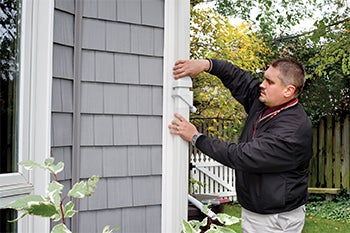 4.

Attach bottom portion and attach hose

Slide the top portion of the Mystic and nest it into the bottom reservoir, attaching the hose to the outlet port. The hose can be cut to length if necessary.