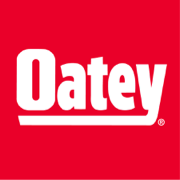 Oatey® Fix-It™ Stick Epoxy Putty is a multi-purpose sealing, patching and mending compound for repairing leaks, holes or cracks in a wide range of materials.
Key Features
May be drilled, tapped, filed, sanded, sealed and painted when hardened
Non-toxic material contains no solvents
Steel-filled material, mixes in your hand and hardens in minutes
Suitable for plastics, metals, fiberglass, concrete and ceramics
Will not shrink
Specifications
[UPC] 038753312705

·

[Part #] 31270
Brand:
Oatey
Color:
Gray
Product Type:
Epoxy Putty
Set Speed:
20 Min.
Size:
4 Oz.
FAQs
Is Epoxy Putty NSF approved?
If I drill and screw into epoxy putty, will it be strong enough?
---
Yes. Epoxy Putty can be drilled, tapped and machined while maintaining its integrity.
Can I use epoxy putty to repair my wood cabinets?
---
Yes. You must prep the surface first. This means that all finishes must be removed and the surface roughed up to allow the Epoxy Putty a good surface for bonding.
Looking For More Resources?
---