When it comes to durability in plumbing products, the ability to withstand harsh conditions and elements cannot be overestimated. Specifically, installers must use an appropriate PVC cement for piping applications in less-than-desirable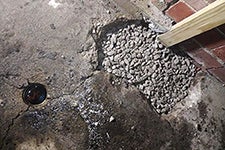 conditions, such as rainstorms, flooding, under water, etc. With so many types of cement on the market, it can take time for a
professional installer to determine which is the best product for these conditions.
Matt Budaji of KJM Emergency HVAC Plumbing in Parma, Ohio, feels fortunate to have found his solution in Oatey's Blue Lava PVC Cement. It is now the only product he reaches for, thanks to its formulation to accommodate wet conditions, wet pressurization, and fast installation.
As the primary owner of KJM Emergency HVAC Plumbing, Matt and his team of four serve homeowners and businesses situated within a two-hour driving radius of Greater Cleveland. As a 25-year veteran of the plumbing trades, Matt has learned to use the best products in the market for his installation and service jobs.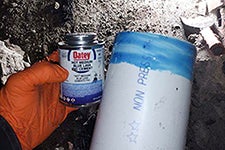 Looking for a new PVC Cement he could depend on, Matt discovered Blue Lava through Oatey's Instagram page, where he also saw other trades people posting about the product. He then bought the cement at his local Lowe's, where he purchases other Oatey items.
To Matt, Oatey equals quality. He has been using Oatey products for his entire professional career. Matt also displays Oatey products on his Instagram and says, "Oatey is one of the few brands I am willing to associate my name with."
On a recent basement flooding project, Matt had to dig out a collapsed drain pipe and tie it into an existing PVC line. Matt knew he had a PVC cement that could withstand the unavoidably wet conditions — both in the present and in the future.
Matt recalls another, equally wet project in which he had to do an outdoor excavation to repair a pipe line. It happened to be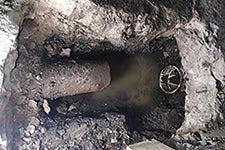 raining very hard that day, but Blue Lava "worked phenomenally," he says. "It is absolutely stunning how well it works in harsh conditions."
Which is why, since discovering the product, Matt has never considered any other cements, confident he would never feel any buyer's remorse:
"I absolutely love it," he says. "For me, Oatey's Blue Lava PVC Cement is the Hail Mary or 911 of plumbing products."