Plumber and Owner of

T&T Plumbing, LLC

Tim Traylor: "I am a loyal customer because Haymaker gets the job done"
Plumbing veteran and Owner of

T&T Plumbing, LLC

continues to choose Haymaker to provide an efficient solution for cleaning his clients' tankless water heaters. After over 300 flushes in the last three years alone, Traylor remains loyal to Haymaker and its benefits.
WINTER 2021 | Tim Traylor, owner of T&T Plumbing and a successful plumbing-focused Instagram page, is a loyal customer of Hercules Haymaker®, the tankless water heater descaler kit that's part of the Oatey family of brands. Offering everything needed (solution, pump, hoses, bucket) to remove scale and maintain optimal performance of a tankless water heater, the solution quickly and easily dissolves inorganic deposits that restrict flow. In the process, Haymaker restores circulation and heat-transfer efficiency.
We sat down with Tim to learn the full scope of his experience as a plumber and his use of Haymaker for his customers in Oxford, Mississippi.
---
Question: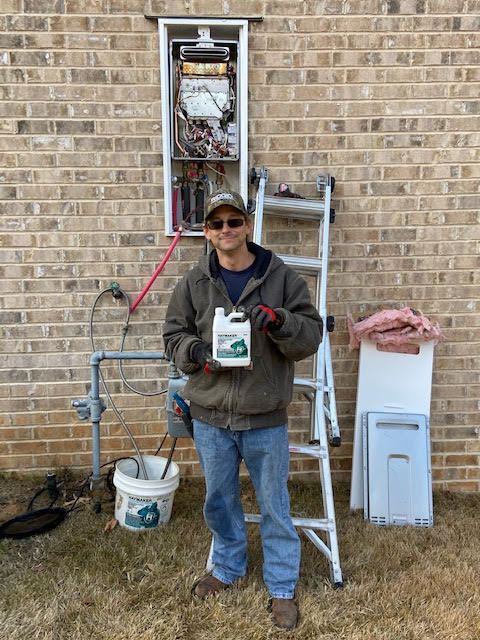 Tell us about your experience as a plumber as well as your company.
Tim Traylor:
I have been in the plumbing industry since 1993. For the first 11 years, I worked with a plumbing and electrical company as well as a plumbing and gas company, where I gained valuable residential and commercial experience.
In 2004, I started my own contracting company, called T&T Plumbing, doing mostly new construction, but also remodels and service work. The last four to five years, I have transitioned into mostly service and repair work.
I'll do a bath or kitchen remodel once in a while, but I focus on service and repairs primarily, such as water heater change-outs. I found my current niche in tankless water heaters. This year alone, I've installed over 20, either change-outs or retrofits.
Q: You run a very successful Instagram account that captures your day-to-day as a plumber. Why did you first get involved with that social media platform? How do you share content with your followers?
Traylor: I have been using a Facebook business page for several years now, and a very good friend of mine said I needed to get on Instagram. He talked me into it, and I am so thankful that he did. It's such a fun platform. I have interacted with manufacturers and other plumbers all over the world. I would have never had that opportunity without Instagram.
I enjoy using the channel as a way to educate others. If I come across an image of a job done incorrectly or that could be improved, I will comment or make my own post, politely saying: "This was done this way, but it's not really the correct way. It should have been done like this."
Never will I post simply to post. I always want to have an educational or unique motive behind my social media content.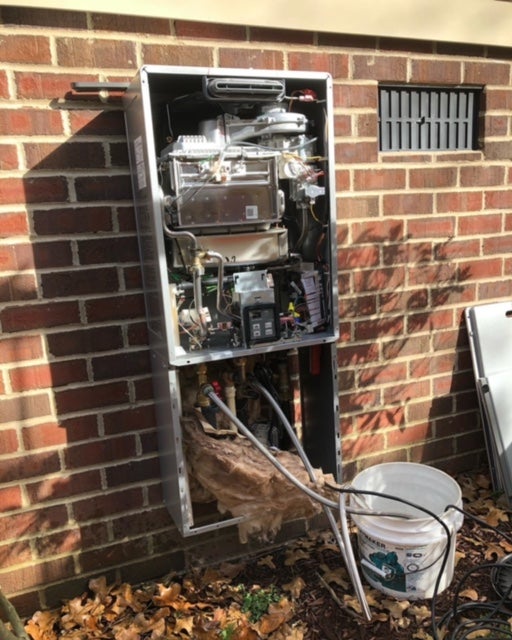 Q: Scale buildup is one of those problems that often discourages homeowners from choosing tankless water heaters, and sometimes plumbers can encourage that negativity. Do you often promote tankless water heaters to your clients? Why?
Traylor: I do promote tankless water heaters. They're a big part of my business. If someone asks me about them, I'm going to try my best to sell the benefits. However, if the inquirer lives where I know the water quality isn't that great, I will explain that they have to stay on top of maintenance to avoid the water heater failing
Q: Where are tankless water heaters primarily found in your area?
Traylor: In the last ten years, we have been seeing more tankless water heaters go into new construction versus a retrofit. I've done 12 retrofits in 2020, and I have another one this week, but that's certainly a smaller number compared to newer homes.
Q: How routine is descaling in your area? Do homeowners often ask about it?
Traylor: I get a lot of calls from homeowners telling me they didn't know descaling needed to be done, but I wouldn't consider it a high priority for them. I have been providing the descaling service for almost 10 years to differentiate myself from other plumbers. I do my best to keep track, so the responsibility does not rest with the homeowner.
Q: How did you first learn about Haymaker? On how many projects have you used it?
Traylor: Our Oatey rep brought the product to the local wholesaler about five years ago. Honestly, I have been using Haymaker since it hit that supply house counter. In 2018, I used it for flushing about 90 units. Last year about 100, and 116 so far this year.
You can see it's a little more every year because I'm installing more and more tankless water heaters. Once a year has passed since installation, I flush every new or retrofit install. As I mentioned, I keep up on the one-year maintenance of each unit.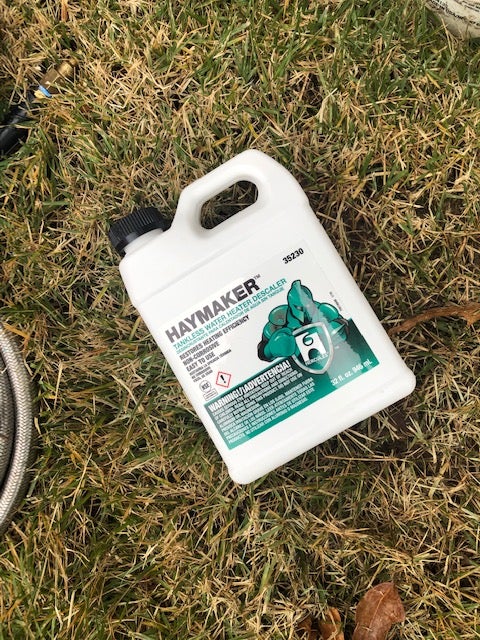 Q: What do you like about Haymaker that keeps you loyal? How does this compare to similar products that you have used in the past?
Traylor: I am a very loyal customer because, simply put, Haymaker does everything it is advertised to do. It lives up to its expectations and cleans heat exchangers very well. In fact, compared with the product I had used previously, I could see a significant difference in the way Haymaker cleaned the heat exchanger.
The previous product took a bit of time before you could see the scale buildup in the bucket. It also didn't dissolve in the water. With Haymaker, depending on the water quality, a minute passes and the water begins changing color.
Sometimes, like with a unit that has never been flushed before, it's immediate. The moment the Haymaker hits the heat exchanger, the water will change color. Although both products were biodegradable, Haymaker left no traces behind.
Also, many plumbers use vinegar, and there are a few problems with it. First, you're going to smell it for days, even on yourself! It is also too difficult to buy multiple cases of vinegar at one time and find space on my truck for it all.
For these reasons, I sought out a better product. Haymaker is great because it's in a small container that's easy to carry on the truck. I can buy two cases at a time and be good to go.
Q: How critical is descaling to system reliability?
Traylor: I think it's very critical, especially if you're worried about water quality, which plays a big part. In my opinion, it's vital to descale your tankless water heater every year — every other year at the very least. Different areas of the United States differ in water quality, though, and some places may require twice a year.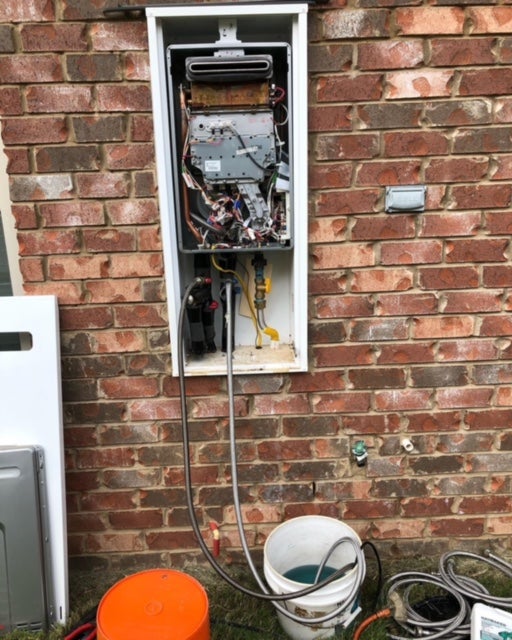 Q: Do your customers typically have good quality water? How does that impact the water heaters you work on?
Traylor: No, we have really hard water here, not the best quality, and it does impact the water heaters. For example, three subdivisions I work in have separate community well systems and the same, not-great water quality. That's where I see most of my issues with water heater heat exchangers failing.
In July, I flushed a unit for a customer and, just four months later, the heat exchanger started leaking. This can very well be blamed on the water quality.
Q: Have you received any feedback from your clients after using the Haymaker descaler kit?
Traylor: Yes! Clients call me and note the differences they see in their water after the flushing. One recently told me: "Before you descaled my unit, our water would come out yellow and would just never get hot enough. Now, the water is clear, and the hot water is coming out much faster."