Problem
BELLEVILLE, NEW JERSEY — Whether you need to solvent-weld one pipe joint or one thousand, choosing the right solvent cement for the job is imperative for secure pipe connections.
Plumbers choose their cement based on a couple of factors: the pipe material, pipe size, local codes, and application conditions. When working with pipes in cold weather conditions, it's important to switch out your primers and cement based on temperature changes.
Solvent welding in a cold environment presents challenges that have to be counterbalanced, because piping and fittings take longer to soften in colder weather. The pipe is also more resistant to solvent attack, so softening it with an aggressive primer is important during cold weather.
Victor Trentacost, owner of Trent Plumbing Heating and Cooling, was experiencing just that — cold temperatures during a recent new-construction project. Based in Northern New Jersey, Trentacost knew he needed a product to keep his joints safe from freezing temperatures during winter.
The new-construction project was a four-unit apartment building in Belleville. He and his team worked on the under-slab plumbing where they installed 100 feet of 4-inch PVC, 100 feet of 3-inch PVC, 200 feet of 2-inch PVC, and 100 feet of 1.5-inch PVC, before the concrete was poured.
Trentacost had used Oatey's regular body cement for years on previous projects. The problem was, it did not hold up to the low temperatures. He needed a more aggressive solution that would handle temperatures ranging from 20-30 degrees Fahrenheit.
"I just wanted to make sure that I had a good, aggressive enough solution for this project," says Trentacost.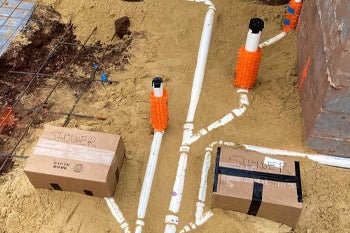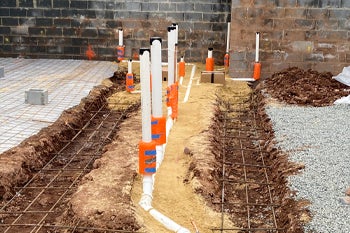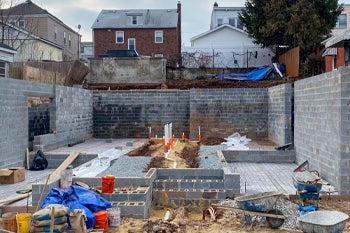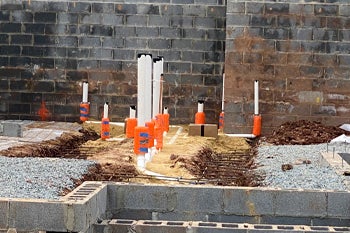 Solution
Trentacost switched out his regular body cement with all-weather cement, because of the latter's strength and versatility. He also liked that he could use it on all schedules and classes of PVC pipe and fittings up to 6 in. diameter with interference fit — and that it had a much longer working time than his previous solution.
Oatey® PVC All Weather Medium Bodied Cement is a fast-setting cement formulated to solvent-weld all schedules and classes of PVC pipe and fittings up to 6 inches in diameter with interference fit. This cement goes on clear and is recommended to use with primer. Formulated to perform in all weather conditions from -15°F to 110°F, it applies easily with the in-lid dauber included.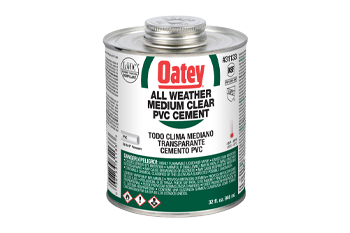 To create a good solvent weld, Trentacost says he takes several steps to prepare the pipe. After wiping the ends of the pipe to remove any moisture, he cleans off the pipe ends and fittings before applying primer. He then aggressively applies primer and re-dips between each application.
He uses Oatey Purple Primer because it has always worked for him and he likes being able to see the coating on his pipes. Oatey® Purple Primer is an NSF-listed primer for use on all schedules and classes of PVC and CPVC pipe and fittings. It removes contaminants such as surface dirt, grease and grime, and it softens the pipe surface to allow for a fast, secure solvent weld.
This primer's purple tint provides visible verification that a primer has been used, making it ideal for areas where plumbing code requires this proof. It also applies easily with an included in-lid dauber.
It's also important not to leave solvent cement outside in the cold for an extended period of time, because it will freeze and affect the quality of the cement. In fact, Oatey recommends not using any cement that freezes more than once. Solvent cement should remain fluid.
Results
"We use Oatey primer and cement all the time and are very happy with them," says Trentacost, "I never have issues with popped joints or anything like that."
He also mentioned that the products are easy to source. When he goes into his local supply house, he knows he'll always be able to grab a can of Oatey cement and primer.
The rough-in aspects of the installation in Belleville were completed on schedule and all of the pipes passed inspection. After that came the sheetrocking and the plumbing finishes. Trentacost used other Oatey products throughout the project, such as toilet and shower flanges, PVC Shower Pan Liner, and Megaloc® Multi-Purpose Thread Sealant to dope fixtures and PVC traps.
"We have used Oatey products since our company started four years ago," says Trentacost, "and we are very happy with their performance and results for our clients."