Hotel Renovation Trends Guests Love
Tub-to-shower conversions have become a standard in modern luxury and the hospitality industry; as a matter of fact, hotels can't get rid of bathtubs fast enough. Hotel bathrooms are getting more spacious, and shower footprints are increasing. In 2021, the curbless walk-in shower will take center stage, and because showers are gaining space, built-in bathtubs are being removed.
There are several other reasons why tub-to-shower conversions have become the new standard. Many of these factors are in line with growing hospitality design trends to elevate the guest experience.
But before we dive into the reasoning, it is important to note that finding a cost-effective and efficient way to convert a large number of hotel bathtubs remains an all-too-common challenge for commercial building contractors.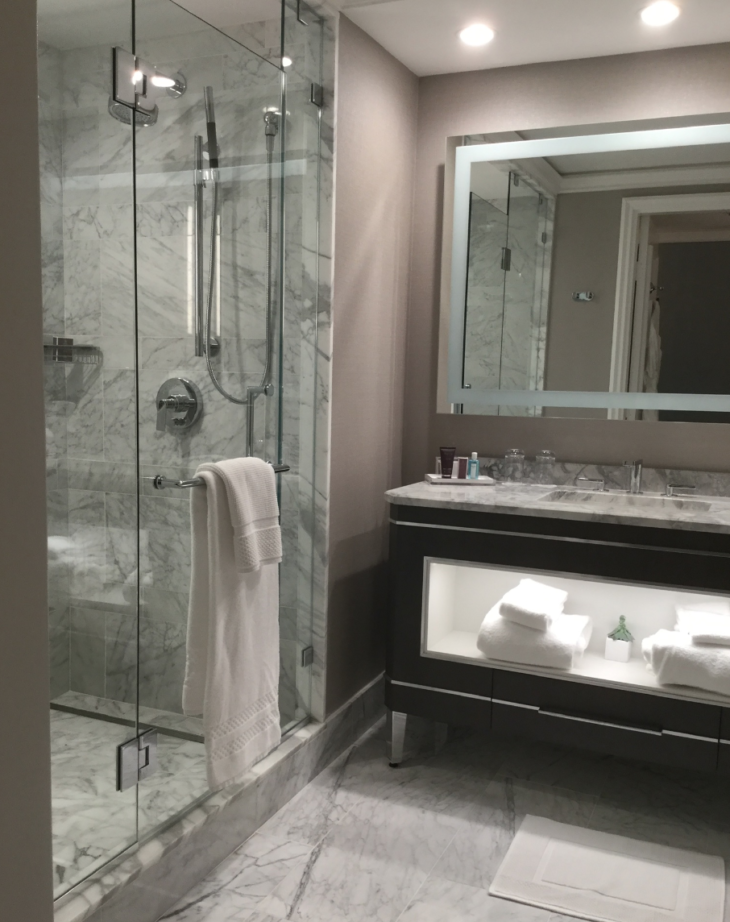 The best option is to find a complete shower solution, like QuickDrain USA tub-to-shower conversion kits, that can streamline the process in hospitality applications. The key is to find a product that has on-site, customizable components that will fit nearly any shower enclosure's size and conditions. The QuickDrain kit, for example, contains a site-customizable linear drain body, a waterproofing system, on-site adjustable pre-sloped PET (polyethylene terephthalate) plastic foam shower panels, and design-matched drain covers.
Popular design trends are enhanced by replacing older, built-in tubs with large showers. Let's take a look at why replacing tubs with showers complements other growing trends, such as luxurious design, accessibility and cleanliness.
Luxurious design
In the months and years to come, hotel bathroom design will be all about helping people forget the devastating impact of the COVID-19 pandemic. Certain features and design styles are already becoming more prevalent to foster a sense of comfort and to help hotel guests manage stress.
Such features might include steam showers, heated towel racks, and digital mirrors. To further enhance this feeling of luxury, old tubs are converted to showers. The ultimate goal is to create upscale, luxurious, spa-like bathrooms.
One of the biggest trends of 2020 — one that will stick around for 2021 — is rose gold and matte black finishes for fixtures and shower drains. These finishes made a big comeback in 2020 and have taken a new direction, adding a luxurious look to showers. QuickDrain offers a range of linear drain covers in various finishes, including brushed stainless steel, matte black and rose gold.
Why do hotel bath designers prefer the look and design flexibility of linear drains? For one, a wall-to-wall linear drain, from a design perspective, maximizes drainage and offers a clean look that enhances the guest's showering experience.
In addition, bath designers appreciate not being handcuffed to certain tile sizes that best work with a center-point drain that slopes in all directions. In sharp contrast, linear drains open up new tile opportunities, especially large-format tile or even mosaic tile sheets.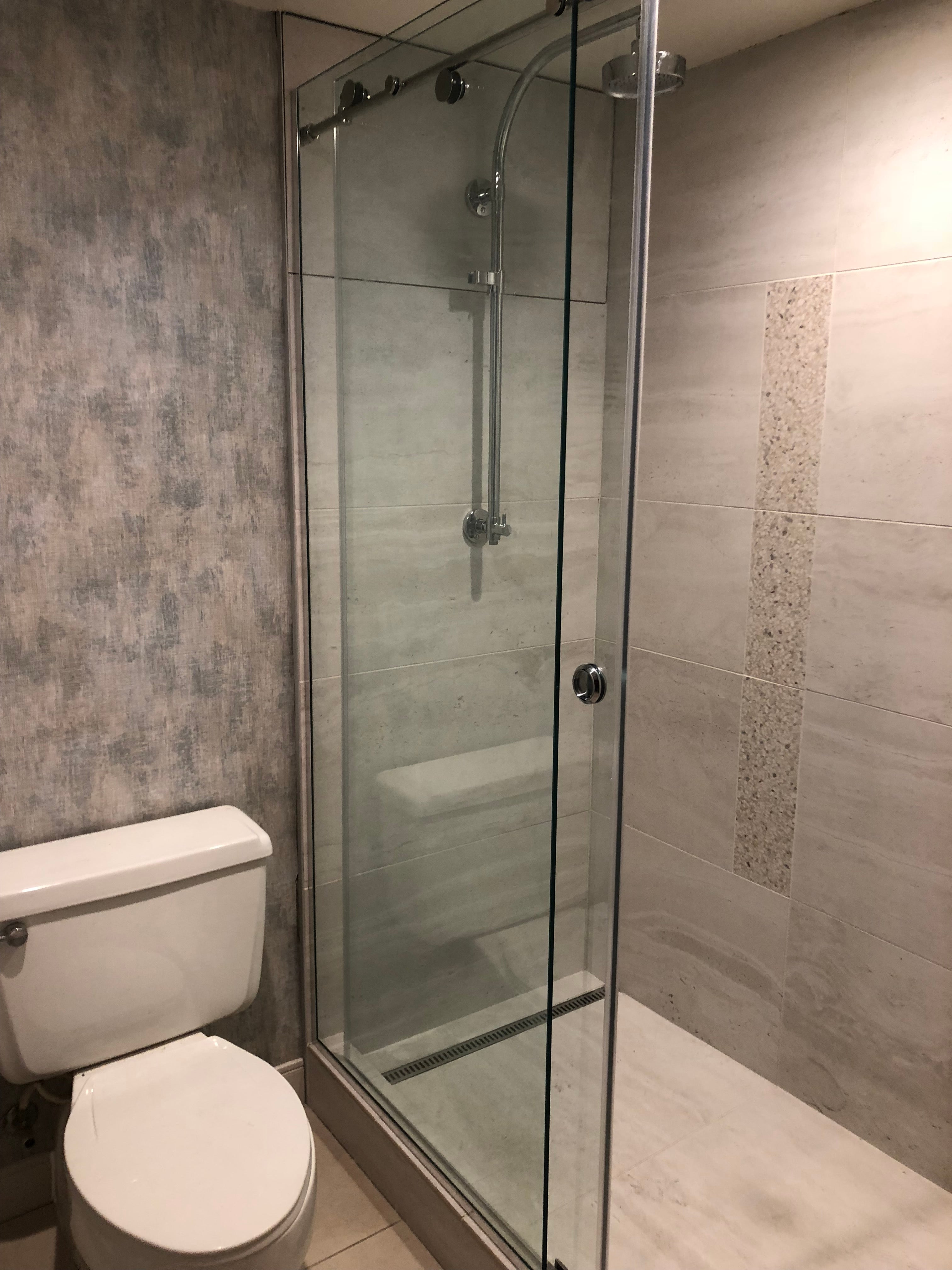 That was certainly the case at the recently renovated Renaissance Phoenix Downtown Hotel. Pursuit Builders Inc. converted nearly 250 bathtubs to showers, using QuickDrain linear shower drains and on-site adjustable, pre-sloped PET shower pans. The linear drains generated new design opportunities, featuring rectangular, 18-by-36-inch tiles that created an uninterrupted flow from the rest of the bathroom to the shower.
Increased accessibility
The hospitality industry prides itself on providing the very best experience for hotel guests, including maximizing accessibility for visitors with disabilities. To that end, the industry is increasingly prioritizing universal bathroom design.
Hotel operators want to create larger showers that can also be made ADA-accessible with a quick and simple modification; for example, if someone needed a bench, it can be easily brought in. As a consequence, older bathtubs are converted into larger and more accessible showers.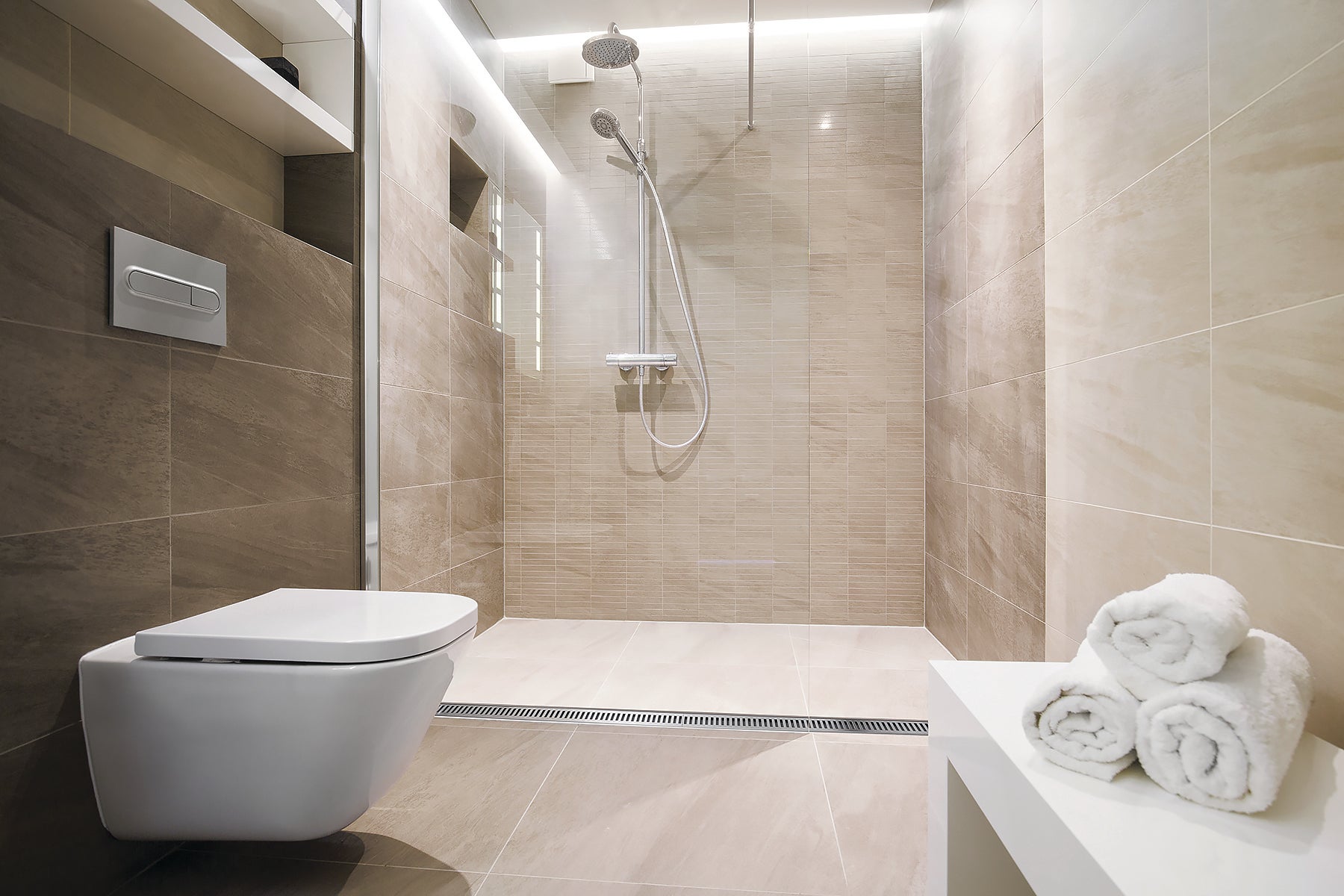 Cleanliness and maintenance
Maintenance is significantly reduced with showers instead of bathtubs. Labor savings and work satisfaction of employees is a significant consideration for hotel ownership groups.
Cleaning showers vs. bathtubs decreases the risk from a safety and insurability perspective. Hotel employees not having to lean over a wet tub to clean it saves a considerable amount of time while reducing the risk of injury. Curbless showers with a linear drain make for easier maintenance and cleaning by directing the water towards a drain that slopes in a single direction.
Ease of maintenance within hotel showers is crucial to enhanced cleanliness. A linear drain offers lower maintenance because it can be integrated with larger-format tiles. The latter have fewer grout joints and seams where mold, mildew and grime can occur.
Key considerations when converting tubs to showers in hospitality applications.
Converting tubs to showers in commercial buildings can present a unique set of challenges. Here are several crucial aspects hotel ownership and commercial contractors will want to consider when planning to convert tubs to showers.
Time savings: When tiling a shower, if the installer were to lay a mortar bed, they would have to let it dry, do the waterproofing and then come back the next day to do the flood test — taking up to three days to complete one shower. The QuickDrain system subtracts an entire day from the equation. With an on-site customizable shower solution, like the QuickDrain tub-to-shower conversion kit, contractors can convert a hotel floor's worth of tubs in one day instead of two or three.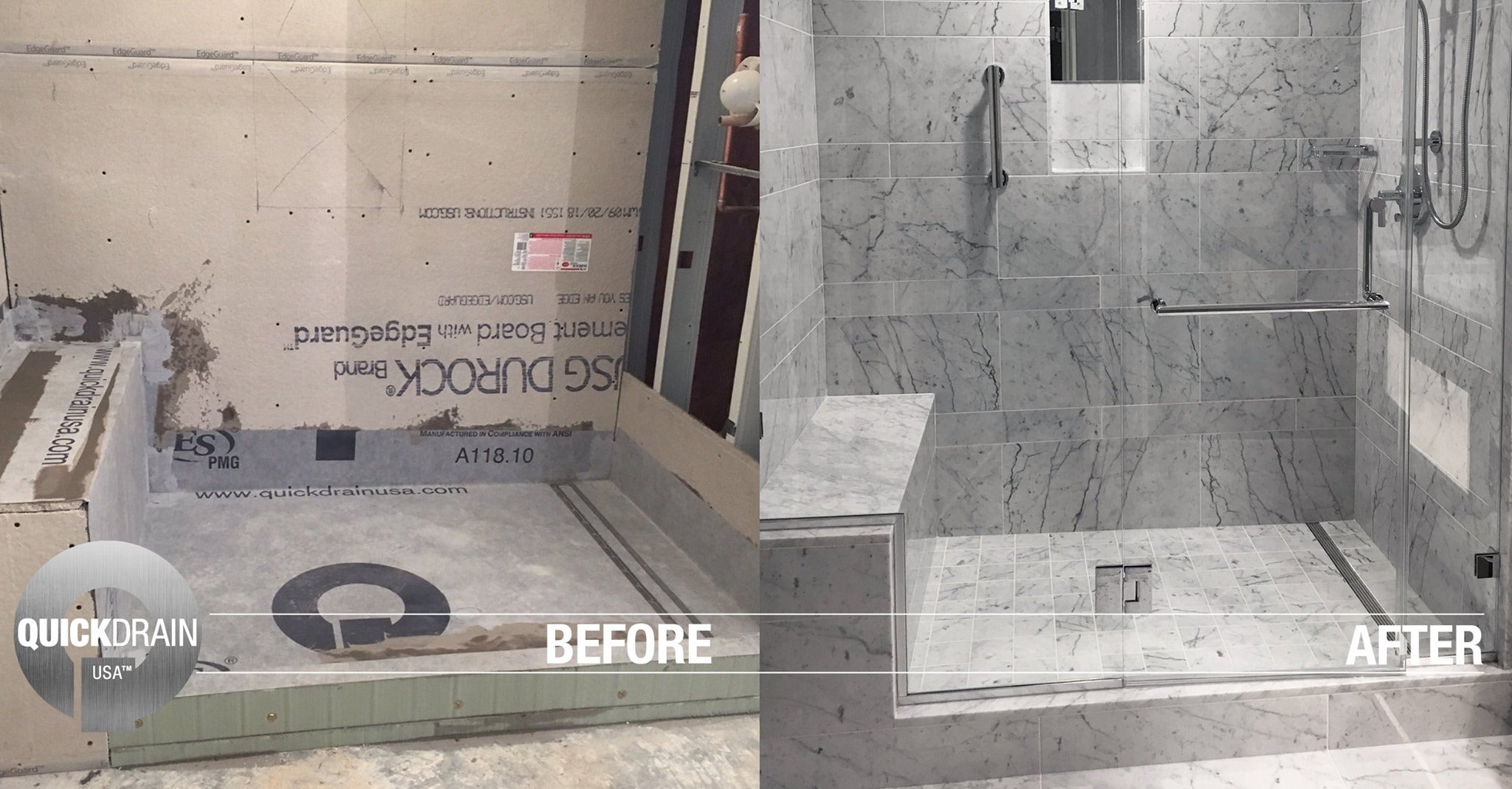 On-site customization: More often than not, when contractors demo out tubs, they run into different conditions in practically every bathroom. Rarely will they take out a tub and have a space that is exactly 30 by 60 inches, as it says on the construction plans.
This was the case at the Four Seasons Hotel in Houston, where the construction team encountered numerous job-site irregularities. The team had to find a solution that would allow them to adapt to unexpected plumbing rough-in configurations and various shower enclosure sizes.
What was needed was a tile-ready and site-sizable pan to contend with a full-range of rough-in configurations. Made of extruded rigid PET (polyethylene terephthalate) plastic foam, QuickDrain's pre-sloped shower panels can be easily cut and pieced together without costly customization. QuickDrain linear drains can be adjusted on the jobsite after the drain body is installed to accommodate changes in height (via stackable leveling spacers) and in width (via drain trough extensions.)
Avoiding core drilling: Often times when removing older tubs, the drains are set at different positions and often off-center, but jack-hammering or core-drilling through the concrete to adjust drain positioning is usually not an option for multi-story buildings. Since many hotels are constructed with post-tensioned slabs, core-drilling would compromise the building's integrity.
Therefore, it is essential to find a solution that will accommodate off-center drains. Offset or off-center waste-outlet drain bodies are particularly helpful when working in buildings constructed via post-tensioned slabs. A solution like QuickDrain USA's site-sizable linear drain bodies solves the "off-center drain" challenge, because it can be customized to adapt to existing drain locations, while also covering the fact that the drain is off-center.
QuickDrain's drain trough extensions enable installers to move the linear drain body from side-to-side to avoid any site obstructions, while still providing the wall-to-wall coverage recommended for efficient drainage.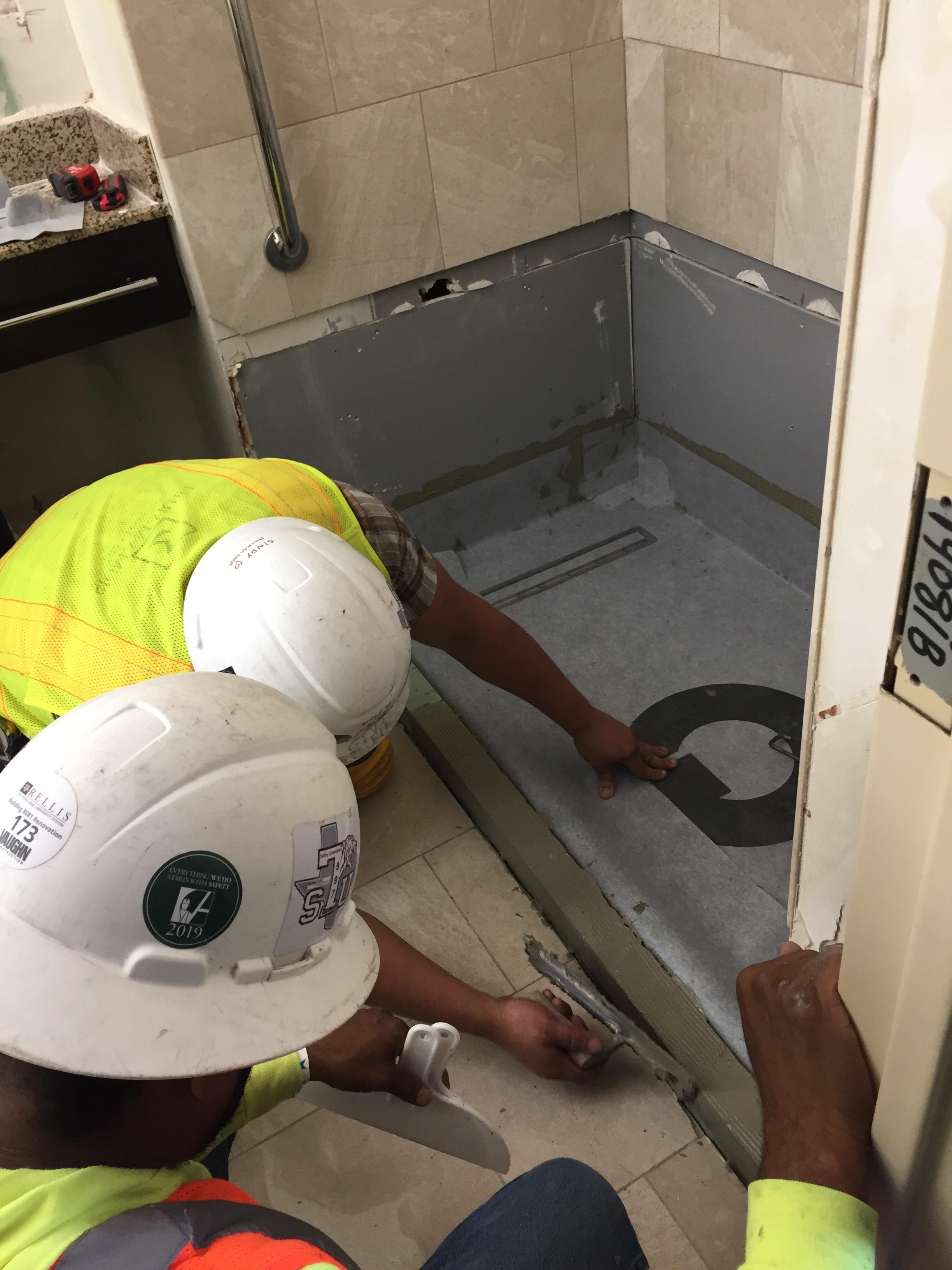 Conclusion
Rising hospitality design trends, such as luxury, accessibility and cleanliness, are greatly enhanced when older bathtubs are converted into large, modern showers. A cost-effective, efficient and customizable shower solution, like QuickDrain's linear drain system, helps contractors adapt to common commercial jobsite irregularities — unexpected plumbing configurations and structural constraints — when converting conventional tubs into spa-like, curbless or curbed shower retreats.