Your number one priority in a plumbing system is to keep its pipelines running efficiently. For this, sink strainers are the first line of defense.
Filtering solid debris from entering your plumbing system with a mesh screen, strainers prevent clogging that can lead to system malfunction. When water and liquids pass through a strainer, the debris basket blocks troublesome items from going down the drain, offering an easy way for scraps to be discarded.
Although there are a variety of strainers, the sink basket strainer is popular for its effectiveness and affordability. With several types of basket strainers on the market today, there are a few variables to keep in mind when installing or replacing one.
Before we review these variables, let's look at some popular, current sink basket strainers.
Double Cup Strainer: Consisting of two cups, the bottom holder cup stays affixed to the drain opening, while the top can be removed for easy cleaning. The Dearborn® DB1120 Locking Cup Sink Basket Strainer provides an economical duo strainer that is not only easy to install, but also easy to clean.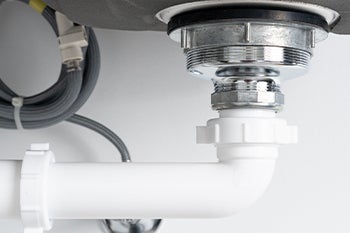 Flange Strainer: The protective rim of a flange strainer is connected to the sink with a rubber rim that stops water. The Dearborn® 12 Locking Cup Sink Basket Strainer offers a rubber and fiber washer to provide that leak resistance, with a stainless steel basket that can easily be removed for cleaning.
Back Nut Strainer: Affixed to the plumbing system by a back nut, a rubber seal is used to secure the space between the sink and the strainer to prevent leakage. The Dearborn® 15 Snap-N-Tite Sink Basket Strainer offers a brass back nut with a locking cup.
Stopper Strainer: Acting as both a strainer and a stopper, the stopper strainer can easily switch between both with a simple turn of a switch.
Drain Strainer: The simplest strainer, a drain strainer, is placed on the drain to filter debris. The Dearborn® 3BN Easy Mount Sink Basket Strainer is easy to install with a triangular flange with three thumbscrews.
Much like sinks, there's no such thing as a one-size-fits-all sink basket strainer. Let's explore five variables that can help you decide which strainer best suits your needs.
1. Size and Body of Sink
Your choice of sink strainer relies heavily on the drain opening and depth of your sink. The most commonly used strainers typically range between 3-½ inches to 4-½-inches in diameter. Make sure to size the strainer appropriately to prevent leaks and malfunction.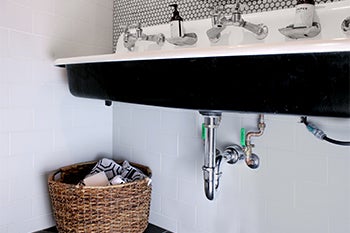 Most sink depths range between ⅛ inch to ⅜ inches. While standard strainers fit stainless steel sinks, cast iron sinks are thicker and require a strainer like the Dearborn Deep Locking Cup Sink Basket Strainer. Research product specifications to ensure the appropriate strainer is chosen for your style sink.
2. End Connection Types
End connections refer to connection from the strainer to tailpipe, with the most common types as flanged and threaded.
Flanged: As the most regularly used end connection type, flanged ends are secured with nuts at the connection site, sealing the joints while using a flanged washer between two pieces to prevent leaks.
Threaded: Opposite the flange end connection, threaded connections use grooves to screw two sections together, negating the need for multiple parts, such as nuts and washers. The least costly of the two end connections, threaded end connections are best suited for low-pressure environments.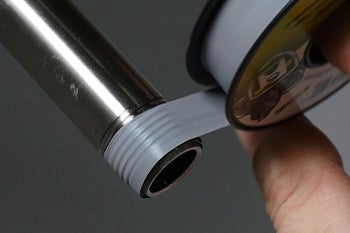 To achieve a water-tight seal, use thread sealant like Hercules® MegaTape to ensure that any remaining voids are filled, providing a tight seal.
3. Tailpieces
Tailpieces refer to the section of piping that connects to the bottom of the sink drain fitting. Similar to end connection types, tailpieces are available in flanged or threaded options.
Flanged: Offered with one or double flanged ends, this tailpiece uses multiple parts, such as a nut and gasket, to create a connection. Flanged tailpieces, such as the Dearborn® Double Flanged Strainer Tailpiece, are commonly used to connect a sink drain to a P-trap or S-trap.
Threaded: This tailpiece uses grooves to screw different sections together and offers one or both ends for a threaded connection. As stated with end connections, utilizing thread sealants like Hercules® Pro Dope® ensures a secure, leak-proof seal.
4. Stoppers
Drain stoppers offer various options to plug and unplug your drain setup.
Push-Pull: To activate, push down on the stopper to close; pull up to open.
Lift-and-Turn: With a similar concept to the push and pull, turn the plug until fully sealed to activate the stopper. To release, lift and turn the stopper in the opposite direction.
Sink Rod: Installed in the drain tailpiece, the sink rod is located behind the faucet. The drain stopper shifts down when pulled up until it seals the drain. When pressed downwards, the sink rod lifts the plug as an opposite effect, allowing water to drain.
Rubber: Slightly larger in diameter than your drain, a rubber stopper creates pressure against the drain and secures the stopper until no longer needed. To release, pull the top of the stopper until the suction releases. The Dearborn® 10 Standard Threaded Body Sink Basket Strainer comes equipped with a neoprene stopper with a metal post.
5. Body Material
Whether you approach your choice based on affordability or functionality, sink strainers come in various materials.
ABS Plastic: Otherwise known as Acrylonitrile Butadiene Styrene, ABS is a versatile thermoplastic material that thrives in high- and low-temperature environments, withstanding high water pressure.
Brass: The combination of zinc and copper creates durability and strength in this alloy metal. Brass offers resistance to rust and corrosion, which makes the Dearborn® L7 Sink Strainers the perfect choice for brass strainers. This premium strainer has a chrome-plated brass body that is corrosion-resistant.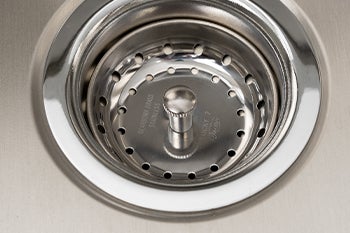 Stainless Steel: Known for its strength and durability, heavy-duty stainless steel offers rust and corrosion-resistant properties.
This breakdown of sink basket strainer variables will help you choose a product that will best fit your plumbing needs, complementing the efficiency of your plumbing system. As the main point of entry into your system, your strainer's durability and productivity help maintain the health of your pipes, delivering both ease of mind and cost savings.