As a plumbing or mechanical contractor, you understand the importance of ensuring your residential and commercial projects are built to last. One critical aspect of any plumbing project is the installation of water supply lines and shut-off valves.
Water supply lines are responsible for delivering clean water to your clients' homes or businesses. These lines must be installed correctly to avoid issues such as low water pressure and leaks. On the other hand, water shut-off valves are critical components that allow you or your customer to quickly and easily turn off the water supply in case of an emergency. This can help prevent water damage and minimize the impact of any problems that may arise.
Whether you're working on a small residential project or a large commercial one, the importance of water shut-off valves and supply lines cannot be overstated. Proper installation and maintenance of these components can help prevent costly repairs, water damage, and other issues that may arise.
In this blog post, we'll break down the different types of water shut-off valves and supply lines, as well as best practices for installation and maintenance to help you better serve your customers.
What to consider when choosing water shut-off valves
Valve Configuration
Oatey water shut-off valves provide easy on/off operation for controlling the flow of water to residential and commercial faucets, water coolers, refrigerators, ice makers, dishwashers, and hot water dispensers. They are available in multiple inlet and outlet connection types to match your application and water supply line connection requirements.
Oatey stop valves are made of solid brass that meets lead-free requirements. PTFE seats allow for easy valve operation, while the internal corrosion-resistant brass ball ensures durability.
Stop valves are found close to the fixture they control, such as under the sink or behind the toilet. Choosing the best valve for your needs depends on several factors, including the inlet and outlet diameter and the valve's operation.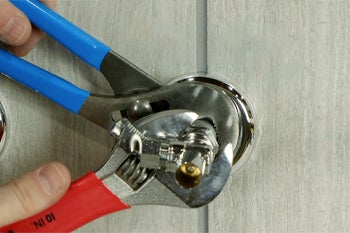 Valve Operation
Shut-off valves differ by operation. Two of the most widely used types are:
Multi-turn valves have a handle that tightens to force a rubber gasket onto a seat in the valve's middle, restricting water flow. Loosening the handle allows water to flow through the valve.
Quarter-turn valves have a handle on the valve stem that pivots a steel ball with a hole drilled through its center. Water flows through the hole in the open position, parallel to the supply line, but it stops when the handle makes a quarter-turn in the other direction. Quarter-turn valves are more reliable than other valves due to their modern technology, which can help prevent issues in the future.
Shut-off valves also differ by configuration.
Straight stop valves have an aligned inlet and outlet and are typically found where the supply line comes through the floor.
Angle stop valves have an outlet at a 90-degree angle from the supply line and are used on supply lines that come from the wall.
Dual outlet stop valves are used for water lines that service more than one fixture.
Shut-off Valve Connections
Water shut-off valves can connect to supply lines in various ways, primarily determined by the material of the connecting pipe. The chart below shows the available Oatey water stop valves for different pipe materials: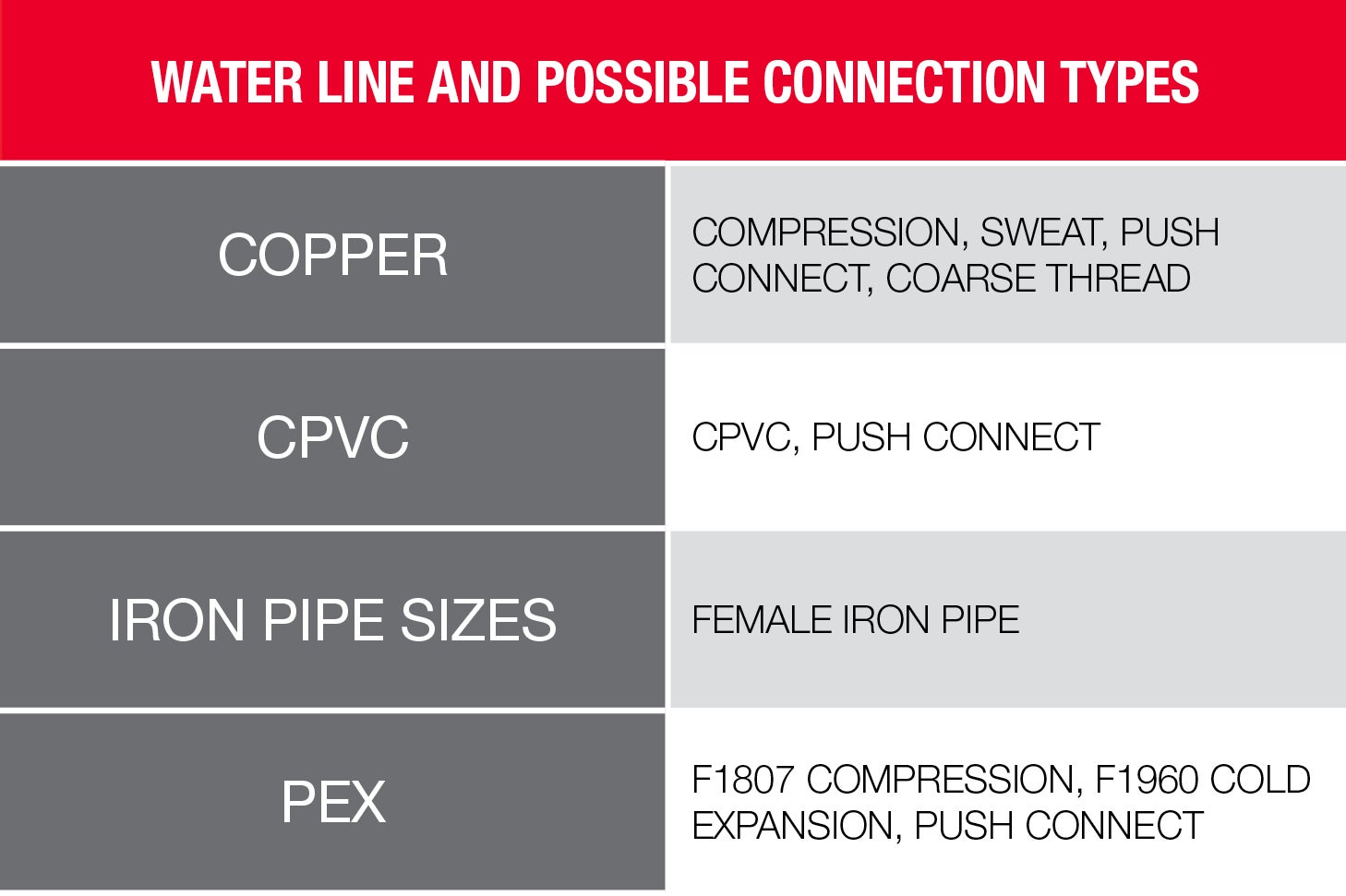 Here's a further breakdown of water stop valves used for different pipe materials:
Copper supply lines can use compression, push-to-connect (PTC), and sweat fittings. Sweat fittings require soldering onto copper pipes.
CPVC supply lines can use valves with solvent weld or PTC connections.
PEX supply lines can use shut-off valves with barbed, compression, or PTC fittings. Barbed fittings require a crimp ring and a crimping tool for a secure seal. For cold expansion, an expansion tool is needed. Compression fittings can be connected using common homeowner tools, while push-to-connect fittings require no special installation tools.
Galvanized steel pipes can use valves with FIP (female iron pipe) connections that screw onto the supply line easily.
For more detailed, step-by-step instructions on the connection method, check out our video to learn more.
How to Install a Water Shut-off Valve
1. Before beginning installation, shut off your main water valve, drain your pipes, and gather all the necessary tools. Depending on the type of connection and whether you're removing and installing or just installing, you may need a pipe wrench, small bucket, rag, basin wrench, and a torch and flux if the connection requires soldering.
2. Once you have removed the old valve, installing the new one will be a familiar process. Attach the new valve to the pipe and, using a wrench (depending on the type of valve you have), ensure it is seated correctly and securely.
3. After installing the valve, reattach the supply line. Use a wrench to check that the fittings are snug, then turn on the main water valve. Turn on a faucet to remove air from the pipes and restore normal water flow.
4. Check the newly installed valve for any leaks and ensure it functions correctly.
For those who prefer visual learning, you can watch this video to learn tips on choosing and installing a stop valve.
What to consider when choosing supply lines
Oatey Supply Lines are designed to quickly and easily connect the water supply to a fixture, such as a toilet, faucet, dishwasher, water heater, ice maker, or washing machine. They are crafted from durable and corrosion-resistant materials and come in various sizes and connection types to suit your specific requirements.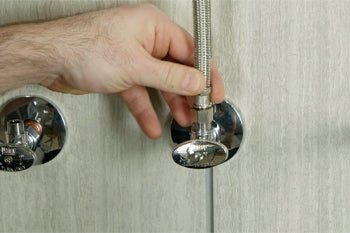 Choosing a Connector
Select a connector based on its material, stop valve outlet, fixtures inlet, and connector length.
Material: Oatey offers water supply lines made of high-quality, flexible braided stainless steel or vinyl. You can choose the material based on your personal preference or to match existing fixtures. Both materials are constructed with a durable, corrosion-resistant, double-walled PVC tube. Oatey also offers a rigid supply for exposed applications. These water supply risers are made of copper with a chrome finish and can connect faucets or toilets to shut-off valves.
Stop Valves Outlet: Make sure that the inlet of your water supply line matches the outlet of the stop valve. The chart below shows connectors with eight different inlet options that match Oatey's stop valve outlets.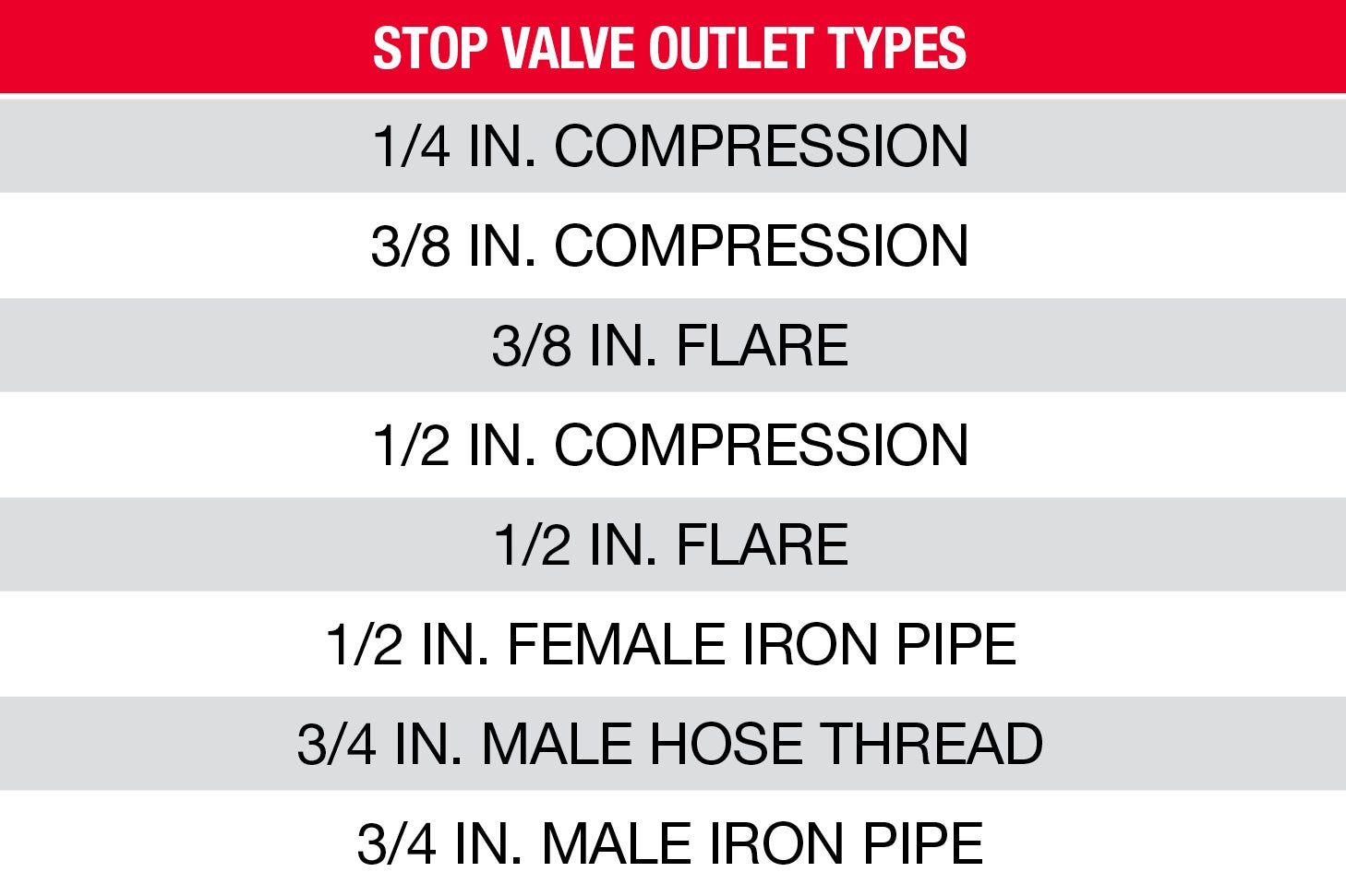 Fixtures Inlet: Again, your water supply lines outlet must match your fixtures inlet. Based on the chart below, most fixtures have a standard inlet, but faucets can vary.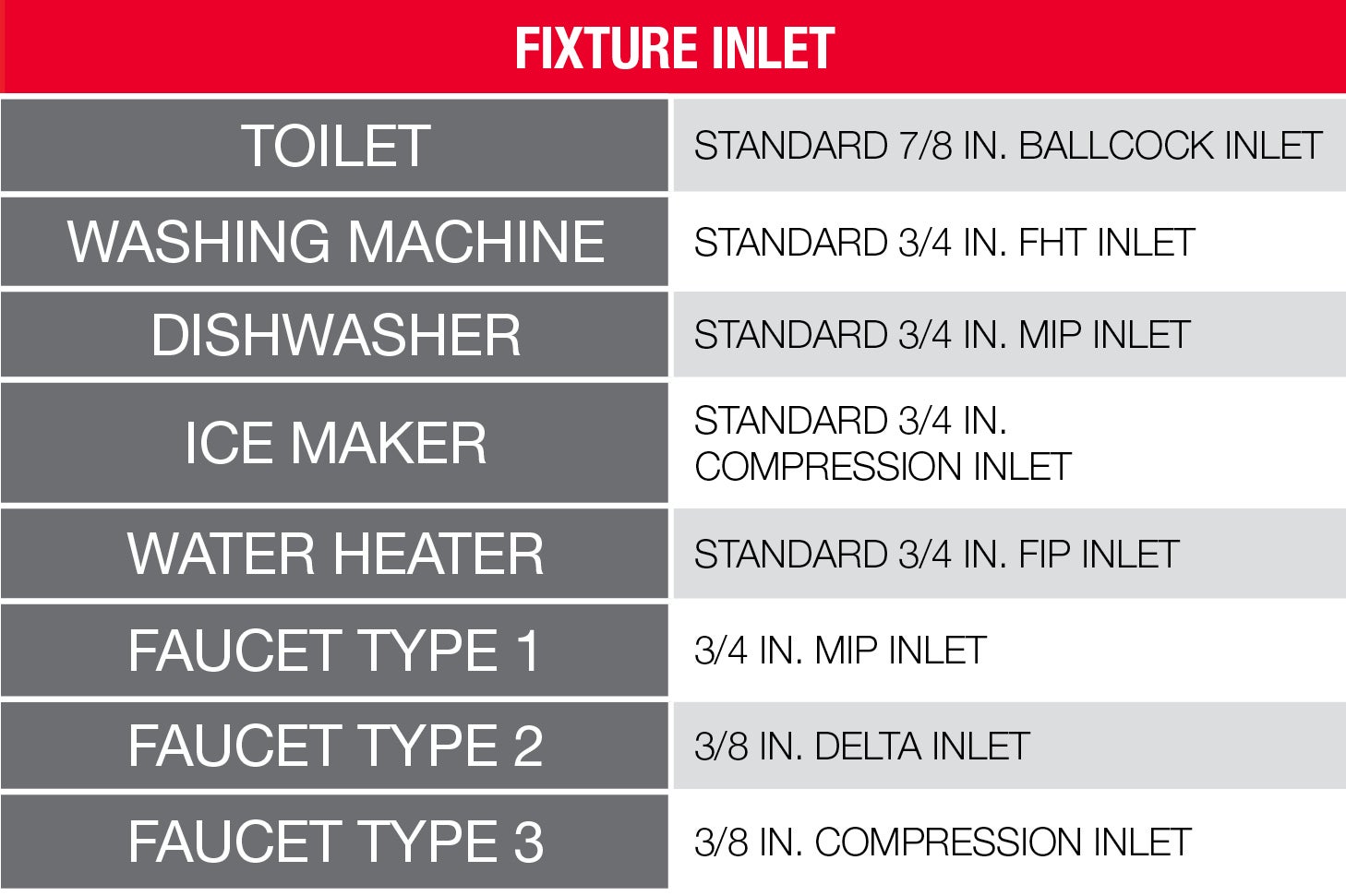 Length: Measure the distance between the water supply line stub out and the fixture's water inlet. Add a few extra inches to determine the minimum length required for your connector. Oatey Supply Lines are available in the following lengths: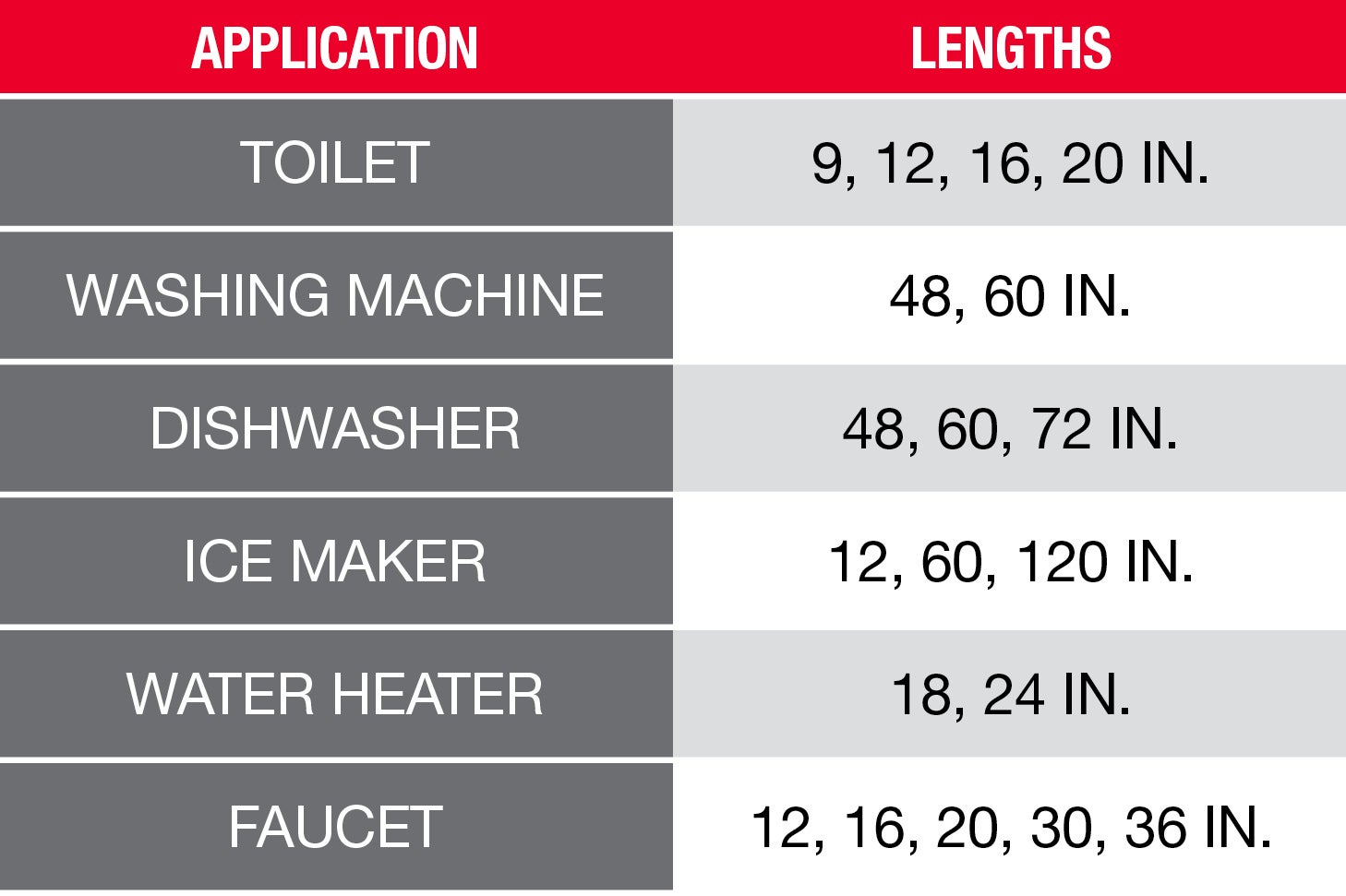 How to Install and Maintain Oatey Supply Lines
Align the threads of the supply line with the valve outlet.
Tighten the nut by hand until it is watertight.
Test for leaks.
If you notice a leak, tighten the nut an additional quarter of a turn by hand.
If the leak persists, disassemble the connection and check that the supply line is properly aligned and the correct length.
We recommend inspecting the supply line annually.
For a more detailed guide on how to install a water supply line, you can watch this video.
FAQs
How far does the stop valve fitting need to be inserted on the pipe to create a successful seal?
To create a successful seal, the pipe should always be fully inserted into the stop valve hub, regardless of the pipe material or configuration.
Do I need to maintain my stop valve?
While maintenance is not necessary, Oatey recommends exercising the valve handle annually by moving it between the open and closed positions a few times. This can help prevent excess mineral deposit buildup inside the valve, which could impair its ability to achieve a watertight seal or cause external leaks.
Do I need to use thread sealant when connecting a supply line to the plumbing fixture or valve?
No, thread sealants are not necessary for installation.