You have to install a plumbing-supply or outlet box in a fire-rated wall, so surely you need to install a metal box, because metal doesn't burn, right? WRONG. Believe it or not, a common misconception is that a metal supply box is fire-rated.
While a metal outlet box won't burn, what it doesn't do is slow down a fire, which is basically what a firewall is intended to do. Most fire-rated outlet boxes are actually constructed of plastic (PVC for example).
You may be thinking, "But plastic will melt." True, but many of us don't know that PVC fire-rated outlet boxes contain intumescent padding. This padding is designed to expand in a fire and seal the back of the outlet box, thus slowing the spread of fire.
With that said, we'd like to dispel the myth that metal equals fire-rated. However, before we can fully address this common knowledge gap, it's important to understand the function of a firewall and fire-resistance rating.
What is a fire-rated wall?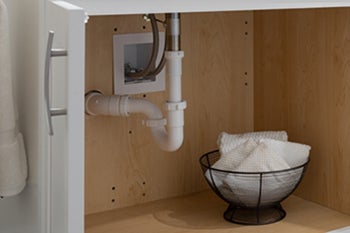 A firewall, most commonly found within commercial buildings, restricts and slows the spread of a fire between structures or sections of a building for a certain period. These firewalls allow buildings to limit the impact of a fire, preventing it from spreading too quickly, thus providing occupants adequate time to exit a building safely.
Used to separate structures or large buildings, a firewall extends from the foundation through the roof with a prescribed fire-resistance duration and independent structural stability. This allows a building to be subdivided into smaller sections. If an area becomes structurally unstable due to fire, that section can break or fall away from the other sections in the building.
Section 706 of the International Building Code states firewalls shall be constructed in accordance with Sections 706.2 through 706.11. The extent and location of such firewalls shall provide complete separation.
What is a fire-resistance rating?
According to Building Code Trainer, firewalls are constructed in such a way as to achieve a code-determined fire-resistance rating. The Building Code Trainer website is run and maintained by a Certified Building Official, Plans Examiner, and Inspector. A fire-resistance rating is a duration for which a firewall can withstand a standard fire-resistance test; i.e., the amount of time it can maintain the ability to withstand a fire while also continuing to perform its given structural function.
Section 706.4 of the International Building Code states that firewalls must have a minimum fire-resistance rating, as shown in Table 706.4 below.

Table 706.4 Fire Wall Fire-Resistance Ratings

| Group | Fire Resistance Ratings (Hours) |
| --- | --- |
| A, B, E, H-4, I, R-1, R-2, U | 3a |
| F-1, H-3b, H-5, M, S-1 | 3 |
| H-1, H-2 | 4b |
| F-2, S-2, R-3, R-4 | 2 |

Regarding materials, Section 706.2 of the International Building Code requires that firewalls be constructed of approved noncombustible materials. This is where outlet boxes come into play.
A metal outlet box is not fire-rated
The misconception that a metal outlet box is automatically fire-rated is based on the fact that metal doesn't burn. But, again, that characteristic doesn't make it fire-rated.
If a fire reaches a metal box on one side of the wall, it will quickly spread to the next section of a wall or structure. That's because the box doesn't have intumescent pads or caulking to seal the penetration on the one side of the wall.
As noted, once fire or a certain amount of heat hits an intumescent pad, the pad will expand and encapsulate the entire outlet box, thus preventing the spread of fire.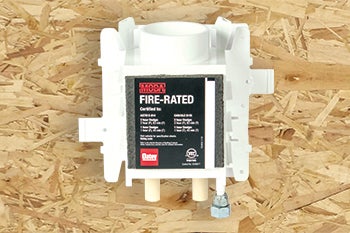 To be fire-rated, Oatey's fire-rated outlet boxes are made of a UL 94 listed thermoplastic material, referred to as Bulk Molding Compound (BMC) with UL-classified intumescent pads and UL-classified insulating material. Designed for commercial and multi-family applications, Oatey fire-rated outlet boxes are Warnock Hersey-certified to meet ASTM E-814 and UL 1479 for 1-hour and 2-hour fire-rated walls. The fire rated boxes also have additional metal bracketing in addition to the intumescent padding to add support.
Oatey offers a standard fire-rated Washing Machine and Ice Maker box, as well as a complete offering in the MODA® Fire-Rated Supply Box line.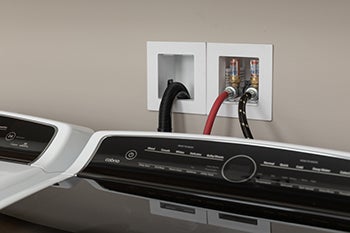 The Oatey MODA® Supply Box System is designed to meet the needs of plumbing contractors for washing machines, ice makers, lavatories, toilets, dishwashers, SureVent® Air Admittance Valve, and gas applications. The universal, single-box platform provides maximum versatility, installation simplicity and rugged reliability, offering speed and flexibility.
Using a single box platform provides significant convenience to installers. One universal faceplate and common metal brackets can be used on any MODA®Fire-Rated Supply Box.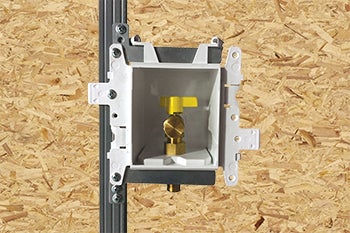 The MODA®fire-rated line includes:
Oatey® MODA® Fire-Rated, Gas Supply Boxes
Oatey® MODA® Fire-Rated Toilet / Dishwasher Boxes
Oatey® MODA® Fire-Rated Ice Maker Boxes
Oatey® MODA® Fire-Rated Lavatory Boxes
Oatey® MODA® Fire-Rated Kitchen Boxes
Oatey® MODA® Fire-Rated Washing Machine Boxes
To purchase an Oatey fire-rated supply box, visit your local hardware store or the nearest plumbing supply house.