Bathrooms are typically exposed to water, moisture, and soap scum. This exposure increases the chances of mold and mildew growth and damaging water leaks. Replacing old caulk or sealing new areas in your bathroom is an easy DIY project that can help protect against water damage in this space.
Let's look at how to caulk your bathroom fixtures to give them a fresh, clean look.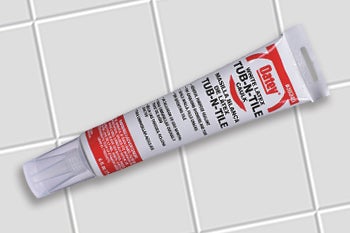 What is caulk?
Caulk is a sealing agent that fills gaps and cracks between building materials, such as sinks or toilet bases. It is applied to surfaces to prevent leaks, using a caulking gun or the applicator itself. Caulk is typically made from a mixture of latex and acrylic materials that make it more rigid and prone to shrinking when cured.
You can choose from three different types of caulk, depending on the application:
1. Silicone Sealant
A 100%-silicone sealant is used to bond top-mount and undermount sinks to countertops, bathtub/shower doors, and drains. It's ideal for wet, exterior applications because it's extremely weather-resistant and contains antimicrobial properties that will inhibit the growth of mold and mildew.
2. Acrylic-latex Caulk
An acrylic-latex caulk is known for its general-purpose qualities. This white, flexible, latex sealant is recommended for use on bathtubs, sinks, showers, and lavatories. It's also commonly used to fill and seal cracks and joints.
Tub-N-Tile, a specialty acrylic-latex caulk, includes an advanced mildewcide, defending against mildew growth in damp areas.
3. Hybrid Caulk
A hybrid caulk like a silicone acrylic-latex is best suited for bathtub and shower surrounds. It provides a waterproof seal that will not crumble or shrink when temperature changes occur, making it both flexible and durable.
Oatey Tip: Please read manufacturer instructions and recommendations on products to ensure best practices for safe and effective use.
How to apply caulk
Whatever fixture you are working with, the project will entail the same steps for application:
1. Prep the area: Wipe the surface down with a rag and a disinfecting spray. You'll want to create a completely clean and dry surface. Make sure to remove completely any old caulk before reapplying it. New caulk will not adhere to any remnants.
2. Mask the gap: If you're not comfortable with free-handing the caulk line, apply blue painter's tape on both sides of the area where you will be applying, leaving the gap you want.
3. Cut the nozzle at a 45-degree angle: You should cut the tip of the caulk tube ⅛-inch wider than the bead of the caulk you want.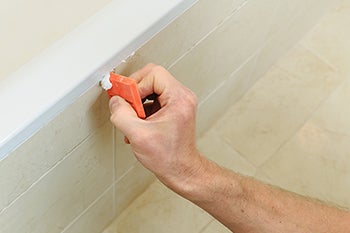 4. Apply the caulk: If using a caulk gun, use both hands and put your dominant hand on the trigger, while the other hand holds the caulking gun in place. Hold the tube at a 45-degree angle and work from top to bottom. If you're using the tube by hand, hold it at the same angle and follow the steps. Choose whatever method you prefer to gain easier control.
5. Smooth the bead of caulk: Use a smoothing tool or your finger to push the caulk into the gap and create a straight line all the way across. Caulk in and smooth small sections, one at a time, and be sure to wipe the smoothing tool off after a couple of uses.
6. Wait until the caulk has cured: Typically most types of caulk need approximately 24 hours to cure completely or a minimum of eight hours before exposing it to water or moisture.
How to remove caulk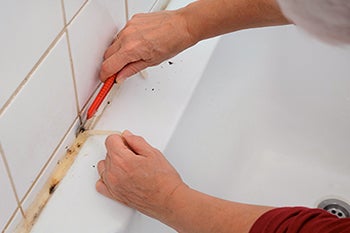 When caulk starts to show discoloration and visible mold, or begins to crack and peel away, you'll know it's time to recaulk. This will be the messiest part of your DIY project, and tends to be tedious work.
The best way to remove old caulk is with a putty knife, razor knife, or scraper. Anything with a sharp edge does the job. You'll want to be careful not to damage the finish.
Once you scrape off the old caulk, you can rub the surface with rubbing alcohol to remove any remaining residue. Then follow the instructions above for reapplying.
Sealing your bathroom will likely take a little bit of work and a steady hand, but it's worth it to protect against mold, mildew, and water damage. Guarantee long lasting results with Oatey sealants, which have a 25-year life expectancy. Conditions may vary.