While some bathroom fixtures are used more than others, certain ones will inevitably deteriorate over time. However, there are ways to increase the lifespan of your bathroom to avoid part replacements or a complete gut job down the line.
If you are planning to remain in your home for the rest of your life, renovating your bathroom with accessibility in mind will also help you avoid renovations as you age in place.
If you're looking to save money and increase the longevity of your bathroom, consider these tips during your bathroom renovation.
Use high-quality, durable materials.
High-quality materials will last longer, making the cost well worth it. That's because a bathroom fixture made with quality material could last three or four times longer than a less expensive one.
Let's take a look at the most durable bathroom construction materials to choose from today:
Tile: When it comes to tile, ceramic and porcelain are known to be the most durable. Opt for waterproof, mold-resistant, and glazed ceramic or porcelain tile. According to HGTV, porcelain is a denser, less porous option that offers greater stain and water resistance than ceramic tile. However, ceramic tile is still durable, offering low maintenance and easy installation.
Shower: A grouted, tiled shower will likely last longer than a fiberglass or acrylic shower — up to 20 years, as long as it is properly cleaned and maintained. Showers made of prefabricated fiberglass or acrylic usually last up to 10 years. Also, prefabricated pans tend to develop stubborn, yellow stains over time.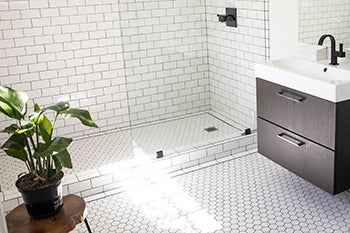 Tubs: Cast iron remains one of the most durable, robust bathtub materials today. While it is the best option for longevity, cast iron is extremely heavy and expensive. When shopping for more affordable tubs, look for the following features; crack, stain, and heat resistance, easy maintenance, and weight. For example, porcelain-enameled cast iron tubs are crack-, stain-, and scratch-resistant, and easy to clean.
Sinks: It's easy to pick the most stylish sink on the market, but remember to keep durability and maintenance in mind. There are many sink-material options to choose from today: stainless steel, cast iron, quartz, granite, fireclay, copper, acrylic, and porcelain.
But be sure to look for the following features when picking your sink; warranty or lifespan; scratch, stain, crack and water resistance; dent and chip resistance; ease of maintenance; and, finally, antimicrobial properties. Porcelain sinks are the most durable option for bathroom sinks, as they are made of the hardest clay.
Shower fixtures: When choosing a shower fixture or system, look for options that offer a lifetime warranty while also offering functionality that will be helpful in the future. For example, a shower system with a hand shower will increase accessibility, which may come in handy later in life.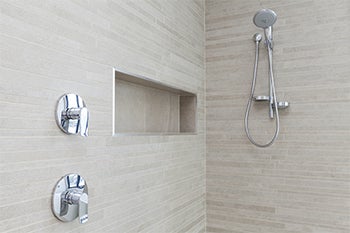 Toilet: When searching for the best toilet for longevity, keep the following features in mind: brand reliability, water efficiency, dual-flush technology, flushing performance, and height. Here is a helpful article to read before you buy a toilet.
Renovate to age-in-place.
Another way to increase the longevity of your bathroom is to create a safe and worry-free environment for the future you. As you build or renovate your home, aging-in-place improvements will allow you to remain independent longer. Below we share bathroom features that will help you age in place with style and comfort. You will benefit any time safety measures can be taken into consideration within an upgraded bathroom design.
Shower bench: A shower bench can greatly enhance the look and functionality of your shower. It can serve as a necessary place to sit, a retreat to relaxation, or simply a place to store hygiene products, while also offering accessibility and style.
The QuickDrain BenchSeat offers three PET (polyethylene terephthalate) bench configurations to meet differing needs, depending on bench placement and overall shower size. These multiple configurations are suitable for newly constructed or renovated tile showers. Not only do these shower benches meet the ADA standard guidelines for height, but they also exceed the weight requirement, promoting a universal design for all.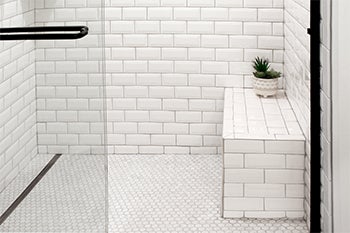 Grab bars: Grab bars will offer added stability and convenience to your shower and bathroom. Contrary to popular belief, grab bars aren't just meant for healthcare or senior living facilities. They can also increase safety and convenience in your home for children, pregnant women, and anyone dealing with health issues or recovering from an injury.
Dearborn Grab Bars are ADA-compliant and available in 1-1/4" and 1-1/2" diameters with concealed or open flanges. Available in peened or satin finishes, these grab bars can be ordered in whatever length is needed.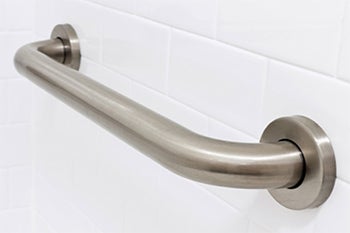 Curbless shower: A curbless shower is an ideal solution to create an age-proof, ADA-compliant shower or wet space that is universally accessible. With only one slope and no barrier to cross, the floor more easily accommodates a freestanding bench, a wheelchair, or some other mobility aid. Used in curbless showers, QuickDrain's complete shower solution and linear drains provide a universal design to improve accessibility. An "invisible" linear drain like WallDrain offers a cutting-edge look that perfectly complements the current trend of curbless showers.
Image: WallDrain in curbless shower
ADA-compliant toilet: A universal toilet will provide safety and comfort for years to come. When shopping for a toilet look for comfort or universal height that will create a union of practicality and style. Opting for an ADA toilet doesn't mean you have to sacrifice style. There are toilets available that feature sleek, modern designs while still offering accessibility.
Choose timeless features and finishes.
Before investing in your bathroom remodel, you want to make sure the features and finishes you choose remain in style, especially if you want to sell your home eventually.
Tub versus shower: Tub-to-shower conversions have become a new standard when remodeling or renovating residential bathrooms; as a matter of fact, most homeowners can't get rid of old bathtubs fast enough. Bathrooms are getting more spacious, and shower footprints are increasing. There are several reasons to replace your tub with a larger walk-in shower, including luxurious design, increased accessibility, and easier maintenance. Many of these factors align with growing residential design trends and significantly impact the longevity of your bathroom.
Timeless colors: It may be tempting to join the latest trend, but when it comes to longevity, you are better off avoiding trendy colors. Whites and grays are timeless colors and will remain relevant. If you want to incorporate trending colors, do so with your bathroom décor or hardware that can be easily replaced or painted. The same applies to fixture colors; chrome or brushed nickel have always been in style, while also effortlessly matching with most fixtures and finishes.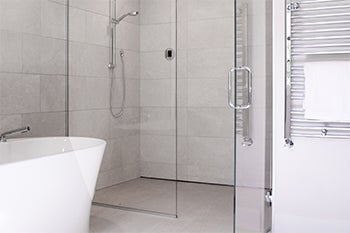 Timeless tile color and pattern choices: Your tile choice could be the difference between a beautifully stylish bath or a completely outdated esthetic down the line. One tile pattern that has remained relevant over the years is subway tile. Its monochromatic design makes it easy to build upon.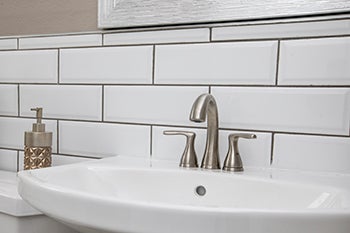 Be sure to stick to easily matched neutral tile colors, as trendy colors like pastels quickly go out of style. Other timeless options include natural materials like stone for versatility or glossy whites and grays that never go out of style.
As you choose your bathroom materials, tile, layout, fixtures and finishes, be sure to think beyond current trends and pay attention to the longevity of your choices.