There are many benefits to including a washing machine outlet box in your new laundry room construction or renovation. Some of the benefits include:
Quick, safe access to water shut off valves in case of an emergency

Freeing up floor space by eliminating the need for a laundry sink for your washer to drain

A crisp and clean finished appearance for your project
But with so many options available, how do you pick the right box for your laundry room project?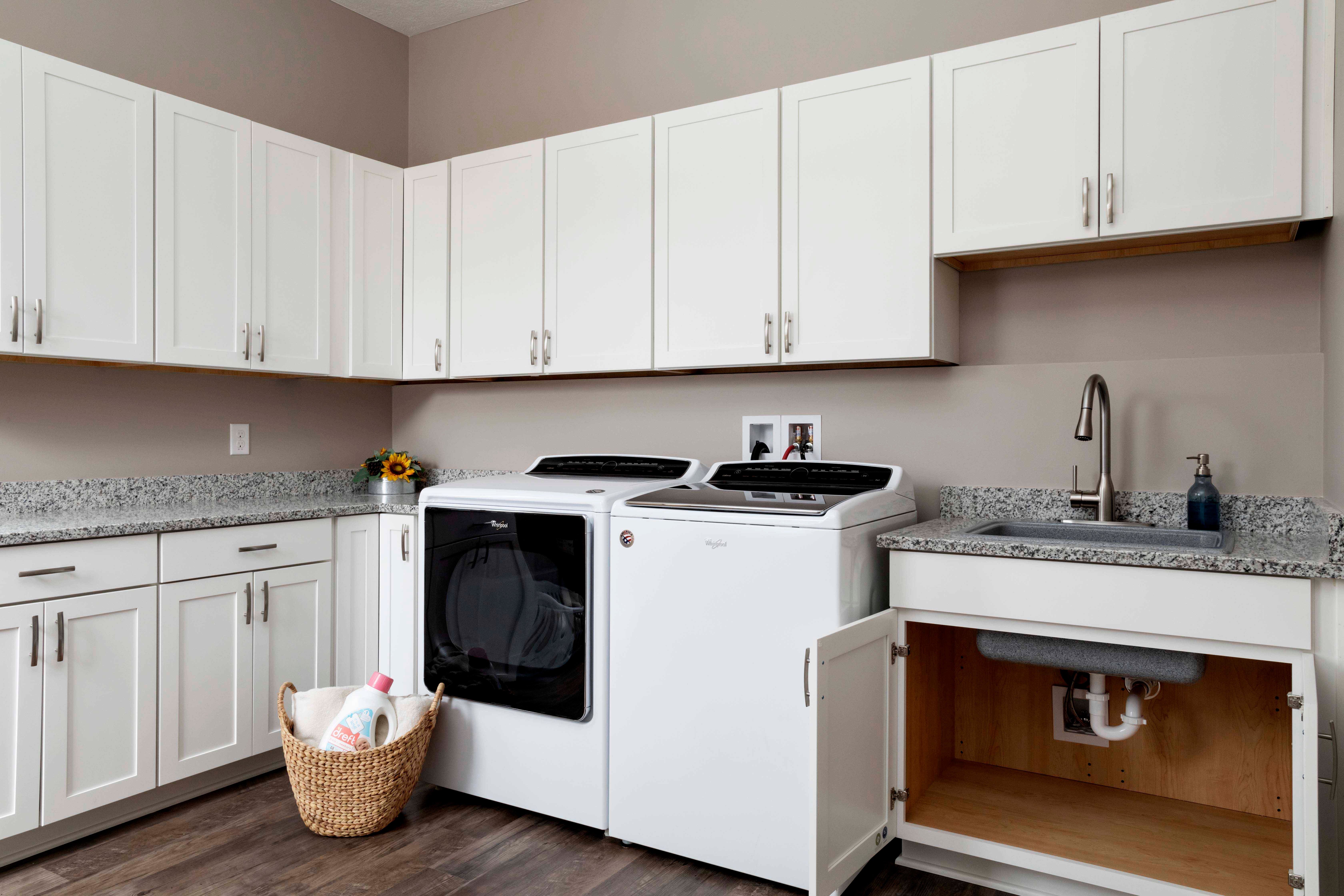 Here are a few things to consider when selecting a washing machine outlet box:
1. Water Supply and Drainage Configuration
When selecting a washing machine outlet box, be sure to be sure to determine if there are any restrictions that would create issues for your application (e.g. pipe material, pipe location, wall cavity space, etc). While all Oatey washing machine outlet boxes support a wide range of connections to select based on pipe material and with or without water hammer arrestors, not every washing machine outlet box will be compatible with the layout. If water will be supplied from above, pick a box that can be installed inverted and have space to accommodate the water supply valves from above and drainage at the bottom. With the exception of the Eliminator and the MODA fire-rated boxes, Oatey washing machine outlet boxes can be installed inverted to support this configuration.
Along with the water supply, how and where the washing machine box will drain must be considered. If an arrangement is needed that can accommodate additional drainage, such as a condensate line, consider a laundry washing machine box with extra options for drainage. Oatey's Eliminator features a single point of connection with separate knockouts to support two drain lines. Another option for a WMOB that can support additional drainage is Oatey's 2 x 4 box. With the ability to be installed inverted, the 2x4 features knockouts in all 4 corners for extra flexibility when installing drain lines.
One of the most versatile boxes to support varying drainage and supply configuration is the Oatey Quadtro WMOB. With the Oatey Quadtro box, the valves can be moved to support layouts that require the drains to be left, right or straddle the drain, or even come from above.
2. Structural Considerations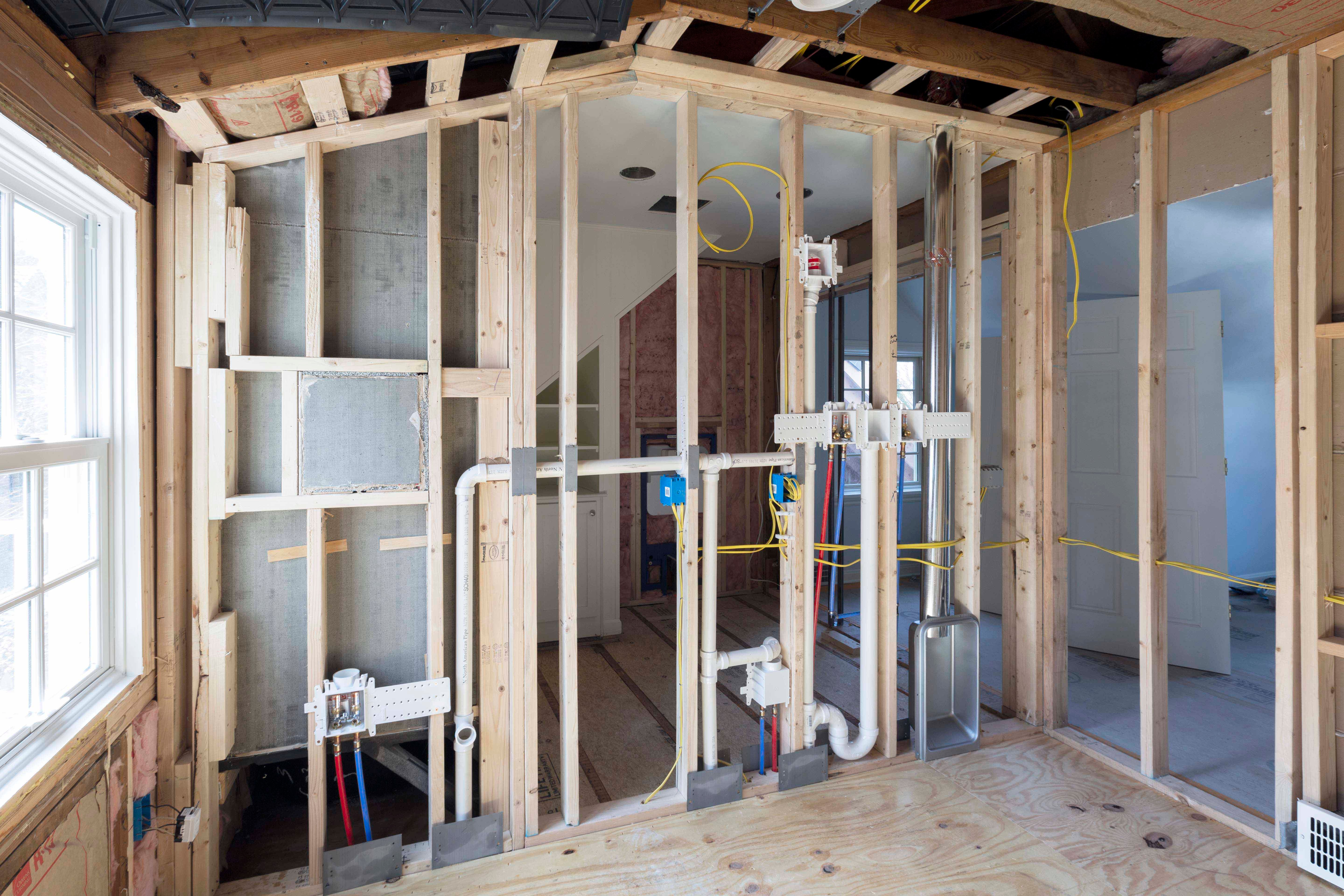 Aside from the plumbing configuration, the structural configuration of the space where you're installing may need to be taken into account. For this we have a series of WMOBs that offer extra versatility for installation. The modular design of MODA boxes allows you to add outlet boxes in whatever configuration works best for your project, including straddling the studs with the water supply on one side and drainage on the other, or even separate walls.
For situations where you're limited for space, the Oatey Centro II features a compact design to fit into tight locations while still offering durability and flexibility.
3. Special Applications
Depending on the application, specialized boxes may be needed. Most Oatey washing machine outlet boxes are constructed from PVC or HIPS (high impact polystyrene), but some situations may require other materials. For situations where the WMOB needs to be recessed in a fire-rated wall, Oatey offers a fire-rated WMOB constructed on Bulk Molding Compound (BMC) with UL-classified intumescent pads and UL-classified insulating material.
Once you've selected the right washing machine outlet box for your situation, it should be installed at a height where the flood level rim (or the top of the drainage outlet) is 32" to 34" above the finished floor. While the are many things to consider while finishing a laundry room project, with Oatey's wide range of washing machine outlet boxes, there is an option for any needed configuration.
WMOB
Can be installed inverted?
Material?
Feature to Consider
Centro II

✓

PVC
Compact design to take up less space
2 x 4
✓
PVC
4 knockout drain caps for extra flexibility in layout
Metal
✓
20-gauge steel
Constructed of heavy duty 20-gauge steel
Fire-Rated
X
Bulk Molding Compound (BMC) w/ UL-classified intumescent pads & UL-classified insulating material
For situations that warrant a fire-rated washing machine box
Quadtro
✓
HIPS
Adjustable positioning for valves and drainage
MODA
✓
PVC
Modular design for installation flexibility
Eliminator
X
HIPS
Single point of connection w/separate knockouts to support 2 drain lines
All Oatey WMOB are available with connections for copper solder and press, CPVC male and female, Viega, 1807 PEX (crimp), 1960 Uponor (cold expansion), compression, or male iron pipe (MIP) and with or without water hammer arrestors