5 Things to Consider Before Hiring a Plumbing Pro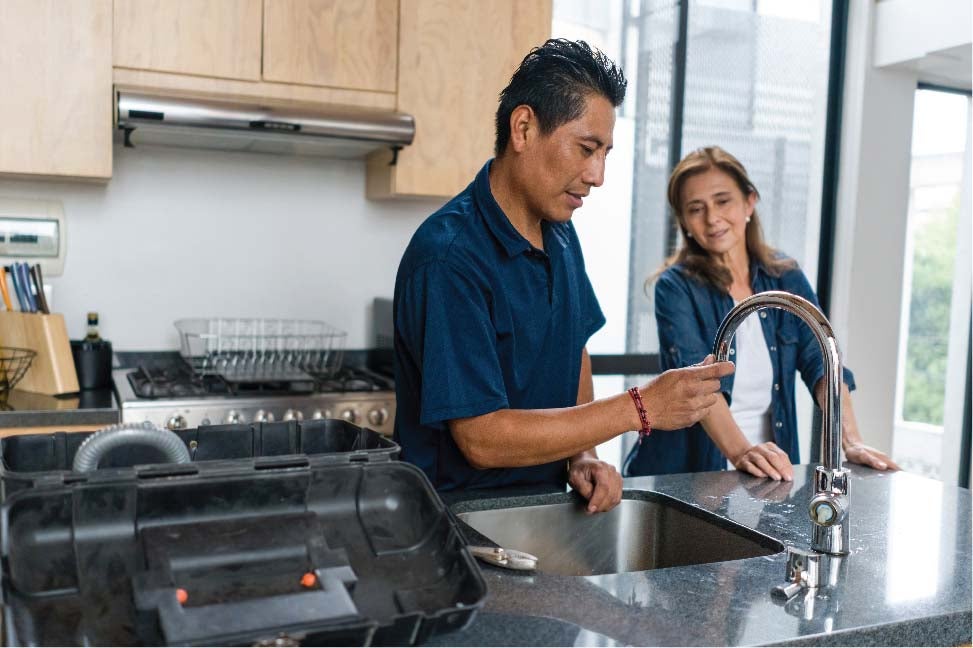 No two plumbers are the same, and it can be quite exhausting and time-consuming searching for the right one who is equipped to handle your unique project. Whether you're looking for a full bathroom remodel or are simply in need of a new toilet, there are several variables to consider before hiring a professional plumber – because let's face it, you don't want to risk any unpleasant surprises, such as an improper installation, damage to your home or being forced to overpay for a routine service.
Read our five tips to help guide your quest for a qualified, trustworthy and reliable plumber in your preferred price point.
1. Do your research and read reviews.
A great place to begin your search for the perfect plumber is by sourcing opinions from local family and friends whom you trust. It's a great way to gather a few options quickly. However, it's important to keep in mind that just because one of your loved ones had a positive experience, doesn't mean that plumber is qualified for your particular plumbing problem.
It's best to do your own research and ask thorough questions (more on that later…) that will vet a plumber and determine if they're the right person for the job. Most plumbers have a strong professional network and can point you in the right direction of another local individual more suited for your application, as well.
In addition to word-of-mouth referrals, you can visit websites, like Angi, HomeAdvisor and Better Business Bureau (BBB), that connect you to a variety of pre-screened professional services (plumbing, electrical, HVAC, pest control and more). You can instantly find verified reviews for companies and trade pros listed on these sites, making it very simple to find top-rated plumbers in your local area.
2. Inquire about credentials.
It's imperative to look at a potential hire's state licensures and years of experience in the industry. Most states require a license to practice plumbing; however, it's a good idea to always verify with the individual. Additionally, most licensing jurisdictions require licensed plumbers to complete a mandatory number of continuing education credit hours to maintain an active license. Licensed journeyman and Master Plumbers will have the most technical training and experience. Additional questions worth asking as you interview a potential plumber include:
Do you have bonding and/or proof of insurance?
Do you specialize in a certain type of plumbing? (residential, repair/service, water supply, commercial, etc.)
Have you performed this type of project before? How often?
Do you guarantee your work and provide a warranty?
Can I have list of professional references or previous customer testimonials?
Additionally, a plumber's affiliation with an accredited trade association can speak to his or her credibility. Through these organizations, plumbers will learn the latest industry standards, codes and trends, as well as continue to evolve their skills through continuing education, hands-on training and networking. Some of these associations may include the International Code Council (ICC); National Kitchen and Bath Association (NKBA); Plumbing, Heating, Cooling Contractors Association of America (PHCC); International Association of Plumbing and Mechanical Officials (IAPMO); National Association of Home Builders (NAHB) and your local BBB.
3. Pay attention to communication skills.
Effective communication between the plumber and customer is imperative. In the earliest stages of the hiring process, pay particular attention to a plumber's ability to answer and return your calls in a consistent and timely manner.
How easy is it to reach them – especially when you have an urgent question or need immediate assistance during an emergency? Does he/she leave you waiting for days or follow-up within hours? Did he/she show up to your house on time to provide an estimate? Additionally, take into consideration the channels in which he or she likes to communicate – you may prefer someone who picks up the phone versus a texter.
Your potential plumber's personality is another factor that should not be overlooked – after all, they're going to be spending a decent amount of time in your home and around your family. During an estimate, be open to getting to know your plumber on a more personal level. Ask yourself these questions:
Is he/she polite, personable and easy to get along with?
Does my personality mesh with this individual?
Will he/she be able to answer my questions and explain the plumbing work being done in ways that are easy for me to understand?
4. Understand scope of work and pricing structure.
You'll want to ensure you don't get slapped with any surprise fees that you weren't aware of and didn't budget for at the start of the project. First, ask the plumber what his or her pricing structure looks like. In other words, does he or she charge an hourly or flat rate? If hourly, inquire about how long the project will take to complete. A plumber with more experience will usually be able to provide a more accurate estimate, pending any unanticipated jobsite obstructions or inaccessible pipes.
To avoid unforeseen fees, require a written estimate that details any expected costs, including new parts/products that may be needed, as well as extra fees for additional labor (second plumber, subcontractor, etc.). Product and labor costs will also vary based on cost of living for your area of residence. Therefore, you may want to take the extra step to gather a couple more estimates as different points of comparison. But remember, the lowest priced plumber is not necessarily the most qualified or appropriate person for your job – price, qualifications and reputation should all be balanced and weighed equally.
5. Keep an eye out for professionalism and consistency.
A plumber's consistency for professionalism should also be considered, especially when determining if you're going to rehire the individual. Your chosen plumber should always be respectful of your home, which includes taking off his/her boots or wearing shoe covers when entering the house, as well as diligently cleaning up any messes (leftover debris, water, tools, wrappers from lunch, etc.) every day until the job is completed.