As the winter months approach, it's crucial to ensure that heating systems are operating at peak performance. Routine maintenance is necessary to achieve this. By using chemical system cleaners, you can extend the lifetime of heating systems in a cost-effective way. To help take the guesswork out of what system cleaner to use, we've created a comprehensive guide to help you choose the right system cleaner.
What are heating system cleaners?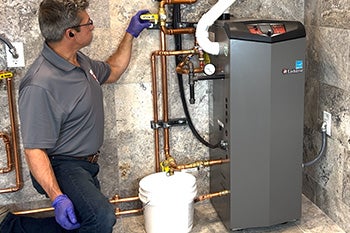 Heating system cleaners are chemicals formulated to clean and condition steam and hot-water (hydronic) boilers. Once introduced into the heating system, these cleaners remove sludge and prevent clogging and corrosion — extending the life and efficiency of the boiler and the entire heating system.
Over time, hydronic heating systems tend to accumulate rust, scale, lime, and other non-organic matter, which can negatively affect their efficiency. Chemical cleaners are introduced into the system to help remove the buildup and protect the pumps by lubricating the seals with silicones to address this issue.
Just like any complex system, wear and tear is inevitable with use, but by using a heating system cleaner, you can extend the lifespan of your heating system and reduce the likelihood of premature wear.
How often should you use heating system cleaners?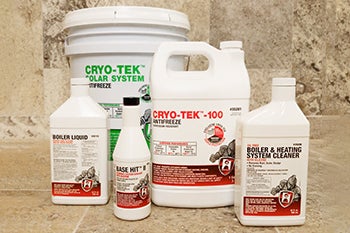 Frequency of use of a chemical cleaner depends on the health of the heating system, so testing should be a part of your annual boiler maintenance routine. To test the system, collect a water sample and inspect its color and clarity. If the water is discolored or contains particles, a system cleaner is needed. Testing your heating system during preliminary winterization checks can help you detect problems before periods of heavy use.
Homeowners should introduce heating system cleaners annually, especially before adding antifreeze products to their boiler system in preparation for winter.
Choosing your heating system cleaner
When choosing a heating system cleaner, consider the following factors:
#1 — The Type of Heating System
Depending on the type of heating system in your home, you may need to use a specifically formulated system cleaner to ensure it is compatible with your heating system.
Hydronic heating system: A radiant heating system, or hydronic system, heats the liquid (usually water) and then distributes it through pipes, radiating the heat throughout your home. They can be installed using baseboard hydronic heaters or in flooring.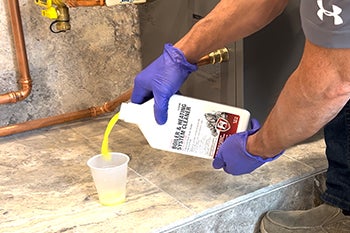 Steam boiler system: Similar to a hydronic boiler, steam boilers use heated water to circulate heat throughout your home. However, the water is warmed to a temperature that fills the piping with steam, as opposed to water. If your home uses steam for heating, specialty system cleaners are designed to target issues particular to this model. Hercules® Scout™ Steam Boiler Cleaner cleans pressure vessels, steam kettles, heat exchangers, steam generators, and tanks to remove rust, scale, oil, foam, and impurities without needing to drain or flush the system.
#2 — The Problem
Decide if your heating system could benefit from a specialized product to target one of the following issues:
General maintenance: If you are conducting only routine maintenance, a general heating system cleaner will do the trick. Oatey's Hercules® Boiler and Heating System Cleaner is formulated to clean both steam and hydronic heating systems. It also contains silicone to help maintain pump seals.
Sludge: By definition, sludge is the black, gooey substance composed of dissolved and rusted metal from the pipework of your central heating system. Homeowners should opt for heating cleaners specifically formulated to target this issue. Hercules® Sludgehammer™ System Restorer & Noise Reducer effectively removes sludge and corrosion and restores efficiency to all hydronic systems. However, this product must be flushed from the system after use. Picture of Pipe w/ Sludge or Scale buildup
Scale: Also referred to as limescale, this is a white, chalky deposit that restricts the flow and circulation of heat. Hercules® Haymaker® Tankless Water Heater Descaler dissolves carbonates, sulfates, phosphates, rust, oxides, and other mineral deposits.
What are the benefits of using a heating system cleaner?
There are several reasons to include a heating system cleaner in your annual maintenance routine. When deciding if the system can benefit from introducing a system cleaner, consider the following advantages:
Lubricates valves and pumps
Maximizes boiler efficiency
Prevents corrosion
Breaks down sludge, scale, and rust
Saves expensive repairs
Now that you know which heating system cleaner to use, it's time to get to work! Check out our project guide on how to keep a well-maintained hydronic heating system with a step-by-step guide on cleaning your heating system, giving yourself peace of mind knowing your heating system is ready to keep you warm through the winter months.