Whether you are using a plug for testing, maintenance or repair, it's important to use a high-quality product you can rely on. When using pipe plugs, understanding equipment and job conditions are vital to contractor safety.
Cherne pipe plugs are used by residential and commercial contractors as well as industrial and municipal engineers to get the job done safely and efficiently. These plugs are typically used in either plumbing or waterworks applications. Cherne offers blocking, bypassing, air testing plugs and testing equipment for plumbing and waterworks applications.
Let's take a close look at waterworks applications and the different types of pipe-plug options available.
Waterworks Pipe Plugs
1. Waterworks Blocking/Test Ball Plugs
Waterworks blocking plugs are pneumatic plugs used for blocking the flow during new construction, maintenance, or testing in fresh water, storm water, or wastewater and sewer systems. They can also be used as back plugs for sewer air tests. A test ball doesn't have a bypass and is designed to do one job, blocking (sealing) a pipe. Cherne's waterworks blocking plugs are available in a variety of sizes up to 96 inches in diameter.
Below are some of Cherne's most popular waterworks blocking plug options:
● I-Series Test Plugs provide improved performance and safety through their optimized design. Manufactured robotically, each plug's natural rubber core is mechanically bonded to its aluminum endplate, ensuring precision and consistency while eliminating failures resulting from chemical-bonding processes. In addition, I-Series plugs feature corrosion-resistant aluminum end-plates with laser-etched identifiers, replacing the use of raised rubber markings that eventually wear away with usage. The plugs are lightweight, short and flexible while offering superior back pressure to accommodate the range of plug sizes offered. Protective sleeves are also available for the full range of I-Series plugs, helping further preserve the plugs for extended use.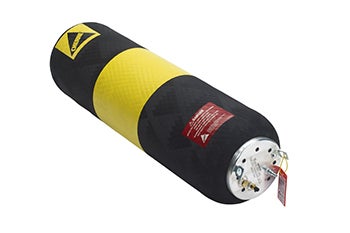 ● Multi-Size Underground Test-Ball Plugs are an economical pneumatic plug option for blocking flow or as a back plug for sewer air testing. The plug is made of natural rubber, allowing for expansion and memory. One plug fits multiple pipe diameters and can seal both round and out-of-round pipe. Each plug has a removable inflation valve that can be replaced if damaged; or it can be replaced with a quick-disconnect fitting.
● T-Handle Gripper Plugs without Bypass include a zinc-plated steel handle, aluminum body, and a chemical-resistant neoprene O-ring that makes the gripper ideal for long-term plug applications. The 6-1/2 inch plugs are sized for concrete, clay, SDR 26 and 35 pipes, while the 15- and 18-inch plugs are sized for concrete and clay pipes.
Waterworks Bypass/muni ball plugs are used for bypassing effluent, and testing pipe systems. Some bypass plugs are designed to handle high back pressure in applications such as water mains, force mains, and industrial lines. A Muni Ball has a bypass tube running through the plug that allows the user to bypass effluent through the tube. With an adapter cap, it can be converted to complete an air test. Muni Balls can also be used for blocking pipes.
● I-Series Muni Ball Plugs are designed to meet the needs of U.S. and international markets in terms of size and expansion range. The plugs have full-body cording for added durability, with small deflated diameters. These plugs have mechanical bonding of premium natural rubber and aluminum end plates that eliminate rust and failures from chemical bonding. Optimized design ensures improved performance with superior back pressure and premium safety. The plugs are lightweight, short and flexible. Cherne I-Series Muni Ball Plugs sized 4-8-inches to 24-60-inches can easily fit through a 24-inch manhole frame.
The 48-72 inch and 54-96 inch plugs fit through a 36-inch opening. Pressure relief valves and eye bolts on 15-32 inches and larger plugs protect them from overinflation. I-Series Muni Ball Plugs offer flexible bypass hoses and multiple variations of nominal size ranges.
● Multi-Size Big Mouth Plugs are ideal for gravity bypassing or bypass pumping. Their removable tire valve allows for easy replacement, with an optional quick disconnect. Cherne Multi-Size Big-Mouth offers a greater expansion range and has five variations, ranging from six to 10 inches with a four inch bypass; to 12 to 18 inches with 8-inch bypass.
● T-Handle Gripper Plugs With Bypass include a zinc-plated steel handle, aluminum body, and a chemical-resistant neoprene O-ring that makes the gripper plugs ideal for long-term plug or bypass applications. The 6-12 inch plugs are sized for concrete, clay, SDR 26 and 35 pipes, while the 15-inch and 18-inch plugs are sized for concrete and clay pipes.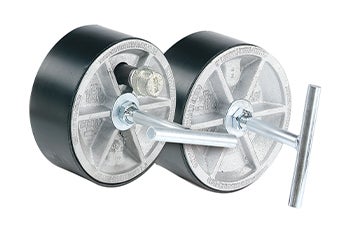 Choosing the right plug for your application is as simple as asking yourself the following questions:
● What is the inside diameter of the pipe that needs to be plugged?
● What does the plug need to do? Would it be for blocking a pipeline or an opening, bypassing effluent running through a live pipeline, conducting a pressure test of a new pipeline before placing it into service, or testing a pipeline already in service for leaks?
● What is the point-of-access size into which the plug must be installed? What is the maximum back pressure the plug must withstand?
Take a look at this blog to dive deeper into answering these questions. If you have any questions about which plug is appropriate for your application, please call Cherne technical sales at 1-800-321-9532 / 1-800-THE PLUG.